Search Countertop Advisor
Kitchen Countertops
Countertop Advisor is THE MOST up to date general countertop resource website online. We create content that will help you with your kitchen countertop and bathroom countertop projects as well as other aspects of the rooms from kitchen appliances sinks and faucets. 
We showcase various kitchen designs for your inspiration as well as various
granite colors
like
white granite
, cream granite,
black granite
and more.. Countertop Advisor was created by an ex countertop business owner who spent most of his time in the industry as a granite and quartz fabricator. His knowledge and experience all in one place.
Looking for content on countertop materials most know nothing about like glass countertops or even 
Nano Stone countertops
? You found it!
MOST POPULAR BLOG CONTENT
COUNTERTOP MATERIAL
I have created resource pages for every countertop material available. Choose your countertop material of interest and learn more about it. It is important to understand what is all involved in owning any specific type of countertop material. When to apply a sealer, how often to clean your countertops and what not to do.

Follow our countertop material guides to protect your investment and enjoy your beautiful kitchen countertops for years to come.

If you want to see how much sq ft your countertop project is then check out our new countertop calculator here.
Quartz Countertops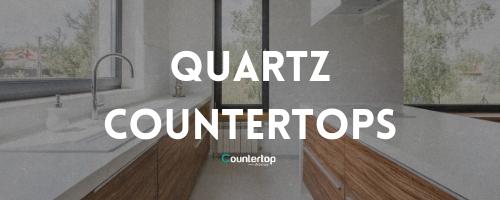 Quartz is a man-made material formed with high heat and resin. The veining is typically created with coloring machines that can mimic marble or other natural materials. These characteristics can be repeated giving the same patterns which are great for countertops and attractive to homeowners.

There are many quartz brands available with different colors and patterns available. Check out our quartz brands and color library.
Wood Countertops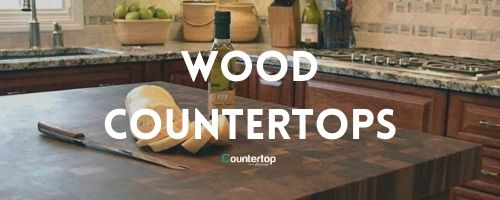 Wood countertops are typically 1.5″ thick and laminated. This type of countertop will keep a rustic feel in your kitchen or bathrooms. A lot of projects use a natural stone perimeter and a wood countertop for the island.

Wood countertops are also known as butcher block. This countertop material is very popular in many areas of the USA.
Granite Countertops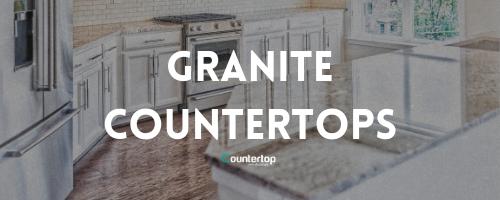 Granite is a light-colored igneous rock with patterns and veining. Granite is mostly white or light background with patterns or veining stretching throughout the rock giving the stone character and its natural beauty.

Granite is an igneous rock with between 20% and 60% quartz by volume and at least 35% of the total feldspar consisting of alkali feldspar. Check out our granite color library.
Quartzite Countertops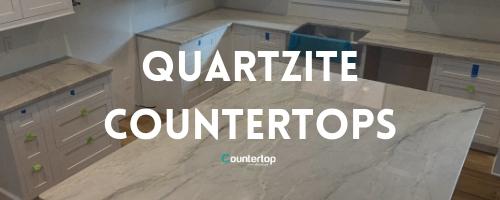 Quartzite is a very hard material in many beautiful creamy white and exotic colors. This material is excellent for many different applications especially kitchen countertops. Quartzite countertops are a popular choice for higher-end projects due to the higher price.

Quartzite is a great material because it is very hard to scratch and is extremely durable just like granite or man-made quartz countertops. 

Quartzite does need to be sealed and cleaned daily with a recommended quartzite cleaner.
Marble Countertops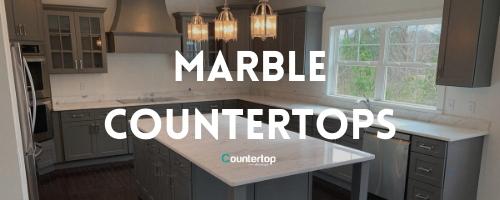 Marble is a soft material used in many building applications. It is mostly sought after for its unique beauty and brilliant characteristics. Marble is a metamorphic rock composed of recrystallized carbonate minerals, most commonly calcite or dolomite. Marble is mostly white with beautiful gray or cream colors throughout the stone.

Marble countertops are a great choice for a bathroom vanity or shower curbs. Check out our marble color library. 
Stainless Steel Countertops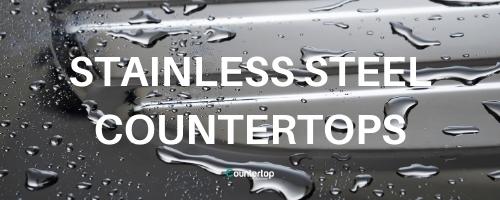 Stainless steel countertops are very popular among chefs and people with a very industrial type of style. 

Stainless steel can be used to chop foods, prep foods but most importantly it is the most sanitary of all surfaces. That is the reason most restaurants use stainless steel.

People opt for stainless steel countertops for their homes also. It can look just as good as any other type of countertop.
Travertine Countertops
Travertine countertops are very durable and offer a wide variety of characteristics and features. A lot of quarries offer cross-cut or vein-cut options which add even more character.

Most people use travertine countertops in their bathrooms due to the fact that it will soak up water and moisture.
Solid Surface Countertops
Solid surface countertops are man-made material used commonly in new construction homes. This material is good for homeowners on a budget. Lately, the price of solid surface countertops has gone up and is almost comparable to low-cost granite options.

Some homeowners choose a solid surface for the simple fact that you will not see or feel the seam where the pieces are joined together. There are many solid surface brands offering variations in color options.
Soapstone Countertops
Soapstone is a beautiful material commonly used in higher-end countertop projects. Soapstone is usually a gray to black color with veins that give it so much beauty and character.

Soapstone countertops are very soft and can scratch easily. Soapstone also requires more maintenance than granite or quartz countertops.