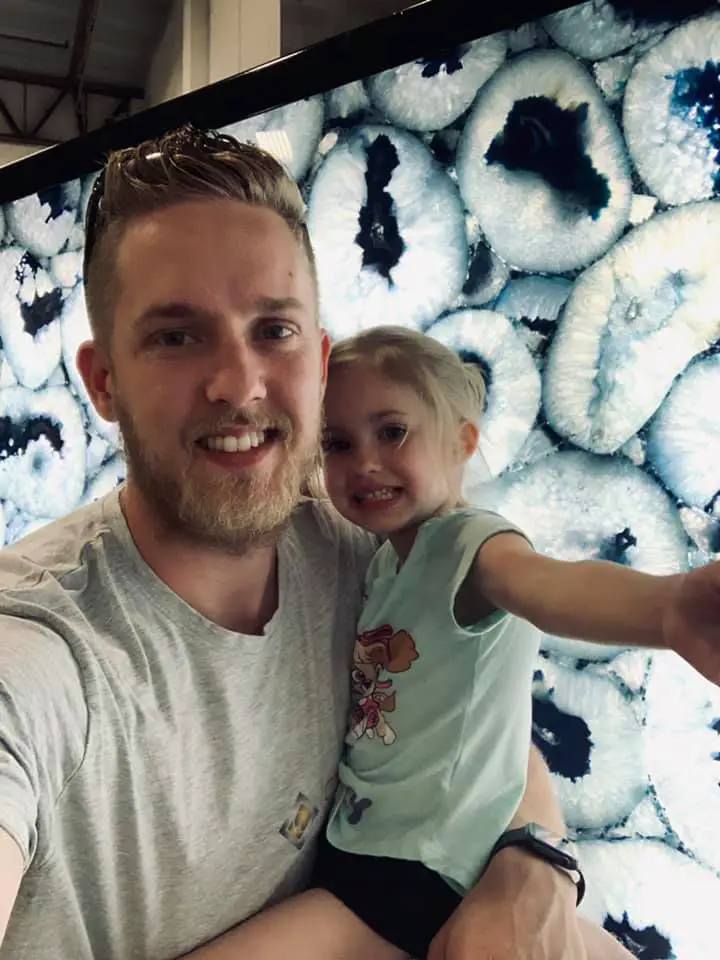 Welcome to CountertopAdvisor.com
Hey there! My name is Jonathan Smith and in the picture to your left, that is myself and my daughter Kylee who is almost 4 years old at the time of this photo. We took a selfie in front of a beautiful Agate slab in Atlanta Georgia.
I created this website to serve as a resource for people asking questions about countertops. I write about granite, marble, quartz, wood, stainless steel and so much more. These topics will help you better understand what you are using in your home or for your project and make better-educated countertop material and design decisions.
I started this website as a hobby because of the lack of quality resources (there are a ton of countertop websites giving the wrong information) for countertops and materials used for countertops. As an industry professional serving the public offering countertops as a business owner I have learned so much over the years. Most of the photos you see on my website were all taken by me showcasing my experience and knowledge of the countertop industry.
My goal is simple…to become the #1 countertop resource online. By continuously providing exceptional content, product reviews, and expert advice I will accomplish this goal a little each day.
Please consider sharing some pages that you found resourceful. This will help us to spread the word about our countertop resource website. Your engagement is absolutely encouraged as this is how we grow and reach the goals that I have set.
Recently this website project has turned into a business venture. I am creating other resources in other categories like pet fish which our brand PetsOfWater.com is producing content for as well as other categories. Check them out below.
Pets of Water was created to become a resource for people looking for information on keeping fish or other water pets in their home or property. I have a lot of knowledge and information to share in this industry so I decided to share on this website. Feel free to check it out here.
Bed bugs are disgusting pets and require a lot of know-how in order to get rid of them. I created this website because of a friend of mine who traveled for a few months and came back only to bring bed bugs home with her. She is the cleanest person I know but had the most disgusting pets cling to her and infest her home. We both researched a ton and came up with the best solutions. Feel free to check it out here.