All of the trivets mentioned in this article were purchased and tested by me personally on different countertop materials. If you make a purchase using the links included below, we may earn a commission.
We spent over $1,000 purchasing various trivets to test out for this article. We tested each product and here is what we came up with.
The best trivets for countertops are the ones that actually protect your countertop and don't end up getting damaged due to heat. That is why there are many trivet material options.
Trivets are used to protect countertops from heat damage as well as to soak up liquids that could cause staining especially in white countertop materials of white marble. Using trivets with marble is especially important even if your marble is sealed. It will help prevent etching and staining.
These cool little products will protect your kitchen investment and prevent heat, chipping, or cracking issues. Trivets come in all shapes, designs, and colors. You can find some fantastic trivet options on Amazon. We have rounded up some of the coolest and best trivets on the market. Learn why you need to use trivets, and then check out our trivet recommendations.
Kitchen Countertop Heat Protectors
Protecting your countertop investment should be important to you, but we understand that life gets busy, and mistakes are made. It is best to purchase these before you actually need them; so that when you do need them, they will be there for you. Below are the best trivets for almost every style of home.
The Best Trivets for Granite, Marble, and Quartz Countertops
Trivets come in all different types of materials, shapes, and sizes. Although metal trivets are sold, they are not recommended for natural stone countertops. The best trivet materials for granite, quartz, and marble countertops include silicone, cork, and wood which is what we strongly recommend for all countertop materials. That is because these trivet materials will soak up any liquid preventing it from getting on your countertop. It is also great for heat protection.
Below are some great options for your kitchen countertops and decorating style.
The Best Wood Trivets for Countertop Protection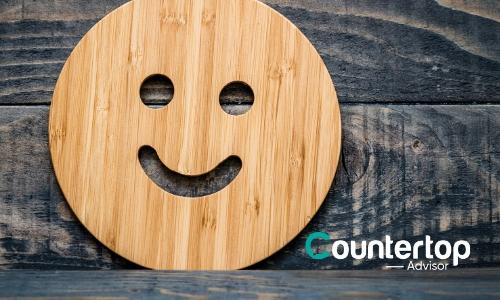 You can literally cut a slice of wood from a tree and create a wood trivet. Wood trivets will always be a popular choice among homeowners. There are many different wood trivets on Amazon. Here are our favorites:
The Best Cork Trivets for Countertop Protection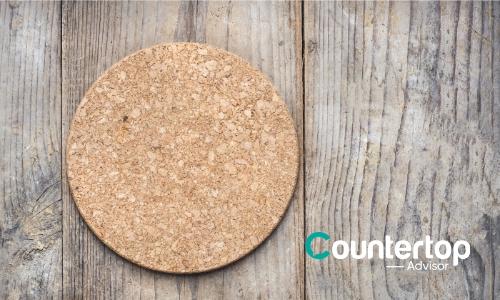 Cork is always really unique, and it looks great with certain styles. Check out the cork trivets we have found on Amazon. They will make you smile…
The Best Ceramic Trivets for Countertop Protection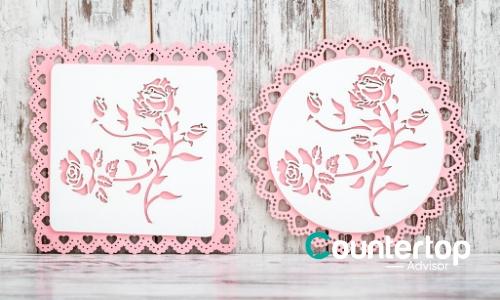 Ceramic trivets have been used for years. These beauties can help keep your food warm while preventing damage to your countertops. Check out our favorite ceramic trivets on Amazon.
The Best Bamboo Trivets for Countertop Protection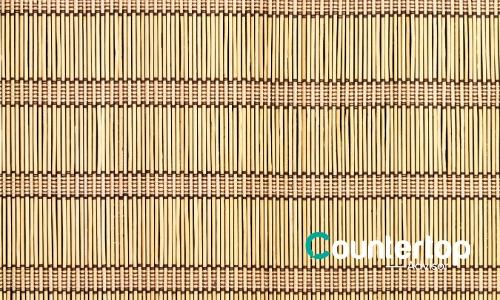 We are huge fans of bamboo. It looks great and has a ton of terrific features. Bamboo looks perfect in almost any style of kitchen. Check out these awesome bamboo trivets we found on Amazon.
Cast Iron Trivets - Not Recommended for Countertops
Although we do not recommend cast iron trivets, we have found several on Amazon that will not mar your natural stone countertops. Each of these cast iron metal trivets features rubber foot caps to prevent scratches.
The Best Rattan Trivets for Countertop Protection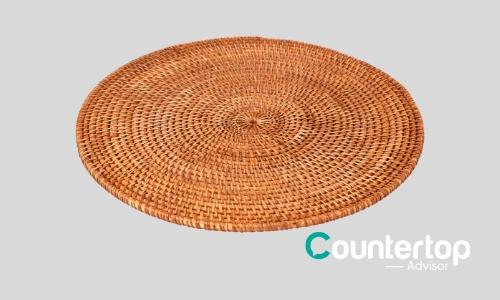 Rattan trivets are made from natural materials that are woven together. Rattan is exceptionally durable and can withstand high temperatures safely. Rattan trivets prevent heat, steam, and moisture from damaging your countertop. We have found the best rattan trivets Amazon has to offer.
The Best Silicone Trivets for Countertop Protection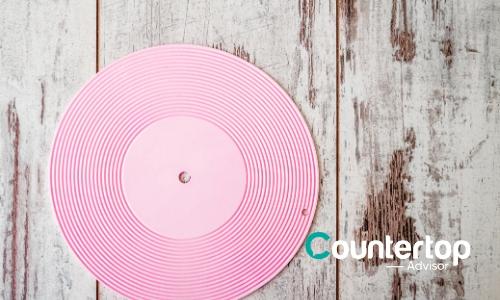 Silicone is one of the latest materials used for trivets. This lightweight, yet durable trivet can handle temperatures up to 450 degrees. Trivets made from silicone are food safe, soft, and odor-free. The silicone is soft and prevents damage to your teapot, coffeepot, or countertops. We have found several excellent silicone trivets on Amazon.
Can You Set Hot Pans on Granite Countertops?
When cooking and preparing a family dinner, you may be tempted to set your pan directly on your countertop. If you have granite countertops or any other natural stone countertops, then it is probably ok to set hot pans on the countertop.
However, we still recommend that you use a trivet for your hot pots and pans. If it is absolutely necessary to set a hot pan down on an unprotected countertop, then, by all means, set that pan on your granite or other natural stone countertops.
A trivet will also prevent you from cracking or chipping your granite by having something soft to lay a heavy pot or pan on.
Can You Set Hot Pans on Quartz Countertops?
You should not set your hot pots and pans directly on a quartz countertop. Over time, it will cause your quartz countertop to turn yellow or melt.
If you are risking burning yourself, then you should definitely set that hot pan down on your countertop to protect yourself. However, as soon as possible, remove the hot pan from your countertop and place it on a trivet.
Setting a hot pan on your countertop for a few seconds typically will not harm your quartz countertop, but who really cares about the countertop when it comes to burning yourself or someone else?
Quartz is a man-made material created by mixing quartz with resin. The resin in your quartz countertops can melt when it is exposed to high temperatures. All hot pots and pans should be placed on a trivet if you have quartz countertops.
Trivets are also recommended for other countertop materials like wood, granite, marble, and quartzite. If the temperature inside of your home is cool, your countertops will be cool to the touch. If a hot pan is set on the countertop, the temperature shift can cause your countertops to fracture. Although this is highly unlikely, we have been able to reproduce this with sample countertops.
A great way to prevent any damage to your quartz countertops is to use a cutting board as a trivet. Check out this article with the best cutting board material for you.
Large Trivets For Countertops
I am a huge fan of larger trivets that I can lay on my countertops for different countertop appliances. This will protect the countertop from heat damage if you have quartz and staining if you have a porous countertop.
Larger silicone trivets will help protect heat while large cork, ceramic, and wood trivets will both protect against heat and staining. These materials will soak up any liquid minimizing any risk of staining. Silicone trivets can help with stains also if they prevent liquid from dripping on the countertop.
Best Trivet Material
All trivets really can serve a purpose but some work best against staining and some for heat. As mentioned above cork, wood, and ceramic trivets can help prevent stains.
If you want an answer as to what the best trivet material is then there is no answer. It all depends on your needs. This is why I suggest searching for several styles of trivets to best meet your needs.
Purchase silicone trivets, wood trivets, cork trivets, and any other trivet material you can find to ensure that you have the best trivet material for the needs of your home at any particular time. An ounce of prevention is worth a pound of cure.
Conclusion
Natural stone, quartz, and wood countertops make your kitchen look amazing. Yes, they are expensive, but they add value to your home. To make sure your countertops stay looking great, always set hot pots and pans on trivets. Check out the ones listed above to find the perfect trivet for your interior design. Also, be sure to seal your granite using the best granite sealer listed in this review.