Valle Nevado Granite [PICTURES AND PRICING]
Scroll to the bottom of this page for more real-life examples of Valle Nevado Granite used in kitchens and bathrooms. Valle Nevado granite is a great granite for rental properties or even your personal home. This material is not a great material to photograph so check out your local granite yard for a better in-person view.
Country of Origin: Brazil
Color Features: White, Gray, Black – Fleck
Slab Size: 130 x 75
Thickness: 2cm & 3cm
Average Price: $29 to $33 per sq ft.
Other Names for Valle Nevado: Nevado Granite, Bella White, Valle Nevada, Nevada White Granite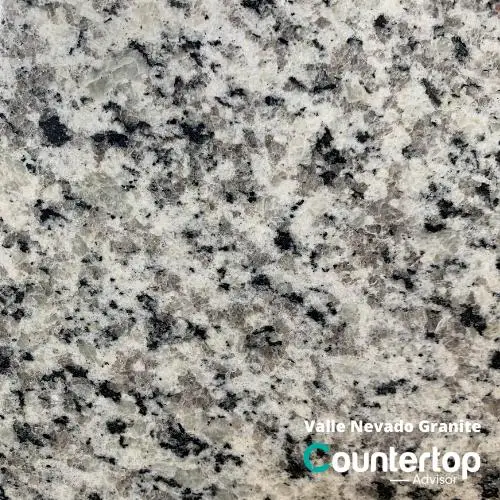 Valle Nevado Granite Detailed Information
Valle Nevado Granite is a beautiful granite color with a consistent pattern of white, gray, and black colors. The colors on this countertop material will be flecks and blotches. Valle Nevado granite features an earthy color which is quite a bit different in color than it's sister granite called Luna Pearl which is extremely similar just different color variances.
How Much Does Valle Nevado Granite Cost?
Valle Nevado granite cost/price can vary. If you go with a slab that is honed, flamed, leathered the cost will typically increase. A standard polished slab of Valle Nevado granite will cost a couple of dollars less. Other finishes are not really common for this material.
Valle Nevado will typically start about $30 per sq. ft. and up to $32 per sq. ft. in some areas.
The total project price will depend on how much material you need or your square footage needed to install your countertops. Valle Nevado Granite is one of the least expensive granite options available.
Valle Nevado Granite is among the most popular choices for builders and homeowners looking for something cheaper but stylish at the same time. Valle Nevado is definitely a unique granite color.
Valle Nevado Granite Origin is from Brazil. This material will need to be sealed every year to prevent staining. Sealing Valle Nevado granite will keep your countertops looking new and prevent etching or color fading.
Valle Nevado Durability
You can place hot pans directly on the surface of your Valle Nevado granite countertops. Cleaning up after each meal is highly recommended with any natural stone countertop especially light-colored granites like this one.
Valle Nevado Honed Problems
There are no issues with Valle Nevado being honed. This material is very durable and no matter the finish you choose for your countertop you will have the same durable material. This finish not seen very often.
Valle Nevado Granite Kitchen
Valle Nevado Granite is an excellent choice for your kitchen. It is especially good for kitchens with a warm and earthy look and feel.
How Thick is Valle Nevado Granite
Valle Nevado Granite comes in two thicknesses. 2cm which is about 3/4″ thick and 3cm which is 1 -1/4 thick.
Valle Nevado Video Example
Valle Nevado Granite Slab
This is a great picture of a Valle Nevado granite slab. This is how the process starts from slab to countertops. This slab is standing on an a-frame for customer viewing.
Valle Nevado Granite Vanity
Valle Nevado granite vanity with a white rectangle vanity sink. This vanity features a dark gray cabinet with 4″ backsplash.
Valle Nevado Granite Kitchen
Beautiful Valle Nevado granite kitchen with an island on white cabinets featuring a stainless steel in the island.
Valle Nevado Granite Honed Kitchen
Valle Nevado granite honed in a kitchen with a farmhouse sink.
Valle Nevado Leathered Kitchen Countertops
Beautiful Valle Nevado granite on wood cabinets. This cut out section is for the cooktop.