One of the most widespread questions asked by homeowners is, "Which granite countertops are the cheapest?" or "What is the cheapest granite color?".
Unfortunately, there are many things that should be considered when choosing granite countertops. You will need to consider your current color scheme in your kitchen and bathroom, your preferred finish of your granite countertops, and your budget.
Granite countertops offer numerous benefits; however, they can be expensive unless you follow these money-saving tips. You must know which granite countertop colors you should be looking at when you visit an online granite retailer, a granite yard, or a big box home improvement retailer. Check out these five budget-friendly granite colors.
When it comes to choosing budget-friendly granite countertops, certain colors are more expensive than other colors. Typically, black and tan granite countertops are the least expensive, while white granite countertops being the most expensive. The difference in price is due to the demands of homeowners as well as the supplies available.
The most available colors of granite countertops are black and tan because most granite that is mined tends to be darker in color. Conversely, white granite is less abundant. The cost of white granite is higher than other colors of granite. Therefore, to save money, choose a darker colored granite.
Cheapest Granite Colors
The cheapest granite countertops often include designs that are speckled and very busy. Most of the cheapest granite colors also include brown busy colors and tend to come from quarries that have plenty of specific colors.
Azul Platino – A Budget Friendly Cheap Granite Countertop Option
Azul Platino is a beautiful and affordable granite quarried near Vigo, Spain. This granite has been used for hundreds of years. This granite features an off-white background with small bluish-gray specks. Additionally, black spots are scattered throughout the slab. Black or white veining may also be found on a slab of Azul Platino. The slab size of Azul Platino is typically large, making this granite an excellent choice for kitchen islands and other large-sized countertop needs.
Azul Platino provides a neutral background for contemporary kitchens and baths. When the granite is inspected closely, you will notice unexpected colors on the countertop. The granite may have flecks of brown, green, and pink. Additionally, amethyst quartz crystals can be found and can provide brilliant flecks of violet throughout the slab. The average price of Azul Platino is $55.00 per square foot, installed.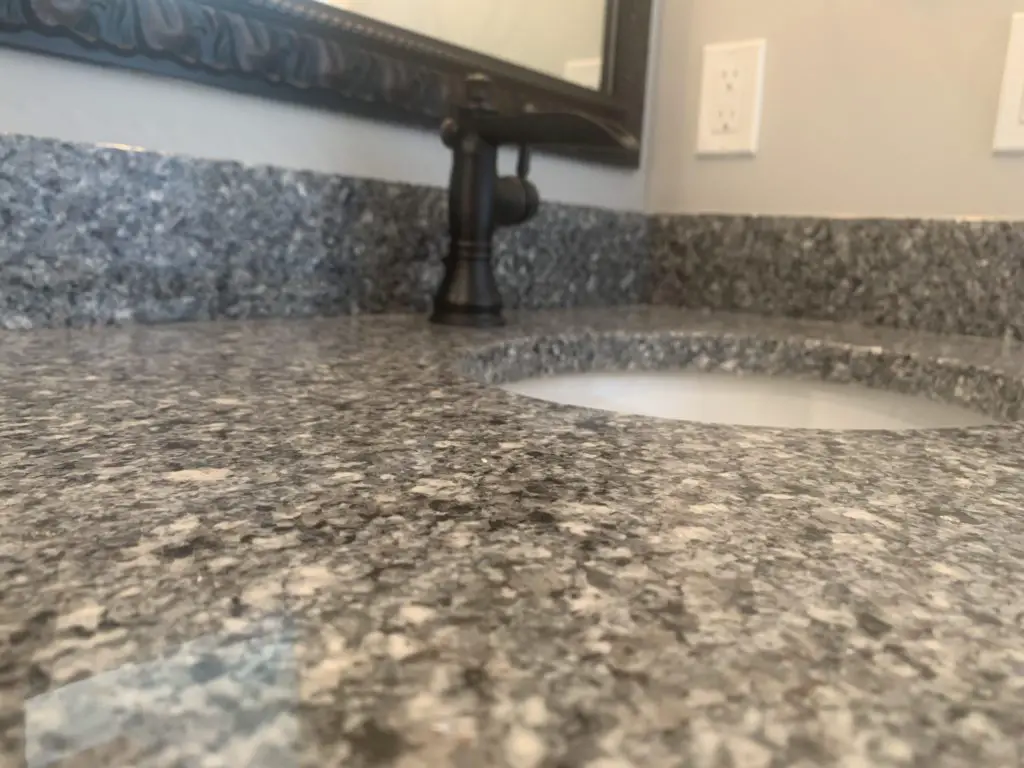 The above image is a close up of Azul Platino granite being used as a vanity top.
Dallas White – A Cheap Granite Countertop Option
Dallas White granite is an affordable white granite quarried in Aguia Branca, Brazil. This granite has low water absorption and low porosity, making it an excellent choice for kitchens and bathrooms. With its white background that has dark crystals scattered throughout, the stone offers a neutral granite for your home. Dallas White may also have slight veining throughout the countertop.
Dallas White's uniform flecking works beautifully in traditional kitchens. The granite's golden cream, brown veins, and lavender flecks blend beautifully to create a countertop that is reminiscent of an abstract art painting. Dallas White pairs well with white cabinetry thanks to its blue and gray streaks that traverse the slab. Dallas White can also be paired with dark wood cabinetry like dark walnut.
Unlike many of the other white granites on the market, Dallas White does not need a face resin thanks to the tight grain structure found in the stone. The lack of resin means that the hot pots can be placed on the countertop without worrying about damaging the surface of the granite. Although hot pans can be placed on the countertop, experts still recommend using a hot pad or trivet. The average price of Dallas White is $33 per square foot, installed depending on your location and market.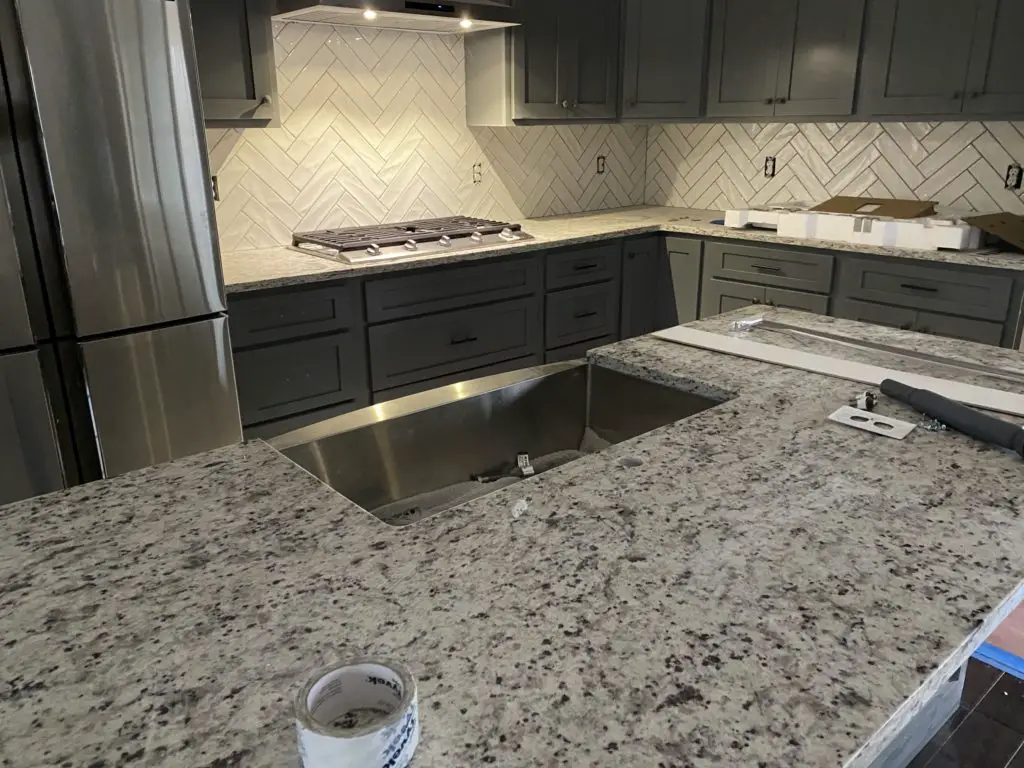 The above photo is Dallas White Granite used on an island and perimeter. It also shows a stainless steel farmhouse sink. I installed this job about 6 weeks ago.
New Caledonia – An Inexpensive Granite Countertop
New Caledonia in an expensive granite quarried in Espirito Santo, Brazil. The granite features a uniform appearance, which means that two slabs will look very similar. The natural stone countertop features a white background with browns and gray speckles running uniformly throughout the slab. Thanks to the heavy grain pattern, it can hide any stains that do occur.
New Caledonia's uniform appearance is created thanks to the various crystals and minerals found throughout the stone. From a distance, New Caledonia will appear to be comprised of shades of gray ranging from light gray to deep charcoal with patches of black and white throughout the slab. However, upon closer examination, you will notice shades of browns and sparkling crystals running throughout. The flecking almost completely hides the white background in this granite throughout the stone.
New Caledonia is a versatile granite that looks great in both contemporary and traditional kitchens and bathrooms. When combined with dark wood-stained cabinetry, the bedrock and the brown minerals come to the forefront. Conversely, when paired with light cabinetry, the charcoal flecking found in the granite stands out. The average cost of New Caledonia countertops is $33 per square foot, installed depending on your location and market.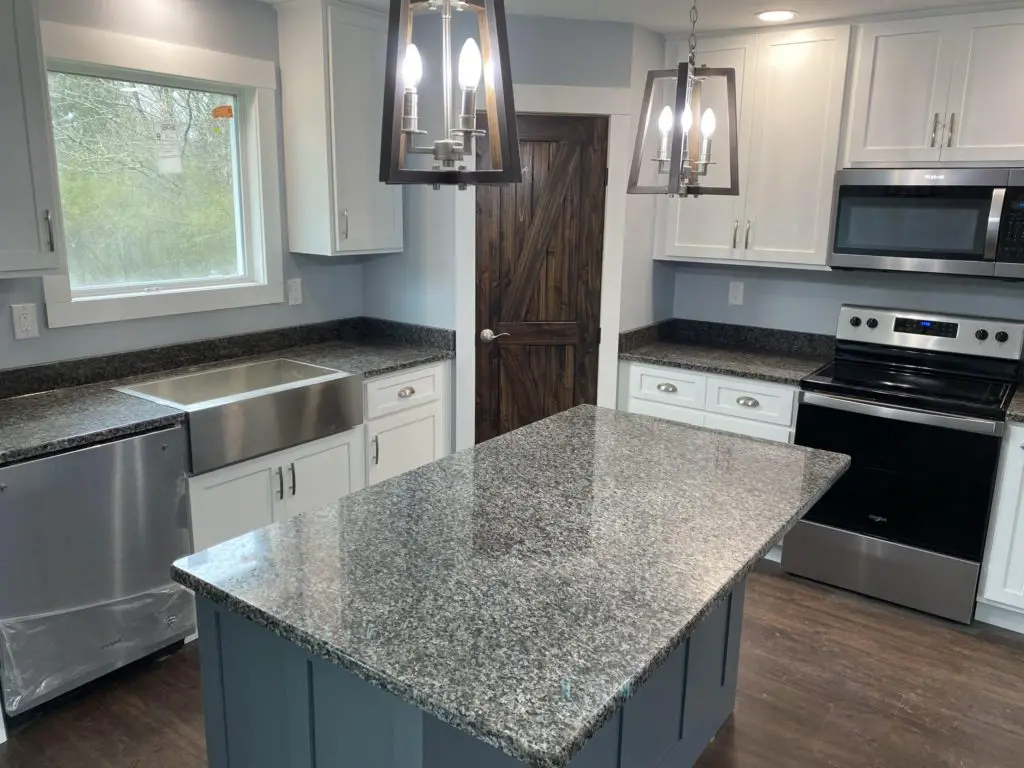 The above photo is a kitchen with New Caledonia Granite countertops with an island. I installed this job recently and love the colors this customer chose for their home.
Uba Tuba Granite – A Low-Cost Granite Countertop Option
Uba Tuba, also known as Ubatuba, is mined near Ubatuba, Sao Paolo, Brazil. This beautiful and cheap granite color features a dark green background with consistent gold, green, and brown flecks scattered across the granite slab. Ubatuba remains one of the most popular granite countertops on the market due to its affordability, beauty, and durability.
Uba Tuba features a tight granite pattern and has very few veins running throughout the stone. The veins that are present in the granite are small and are gold, white, or even turquoise. The minerals in the granite can vary in size from as little as an apple seed to as large as a half dollar, which adds visual interest to the stone.
In traditional kitchens, pair Ubatuba with dark cabinetry. For a contemporary space, the countertop can be paired with white cabinetry. The various colors found in a slab of Uba Tuba create a sophisticated yet simple look that works with any home.
Uba Tuba is one of the most affordable granite countertops on the market. You can expect to spend $30 per square foot, installed or less depending on your location and market.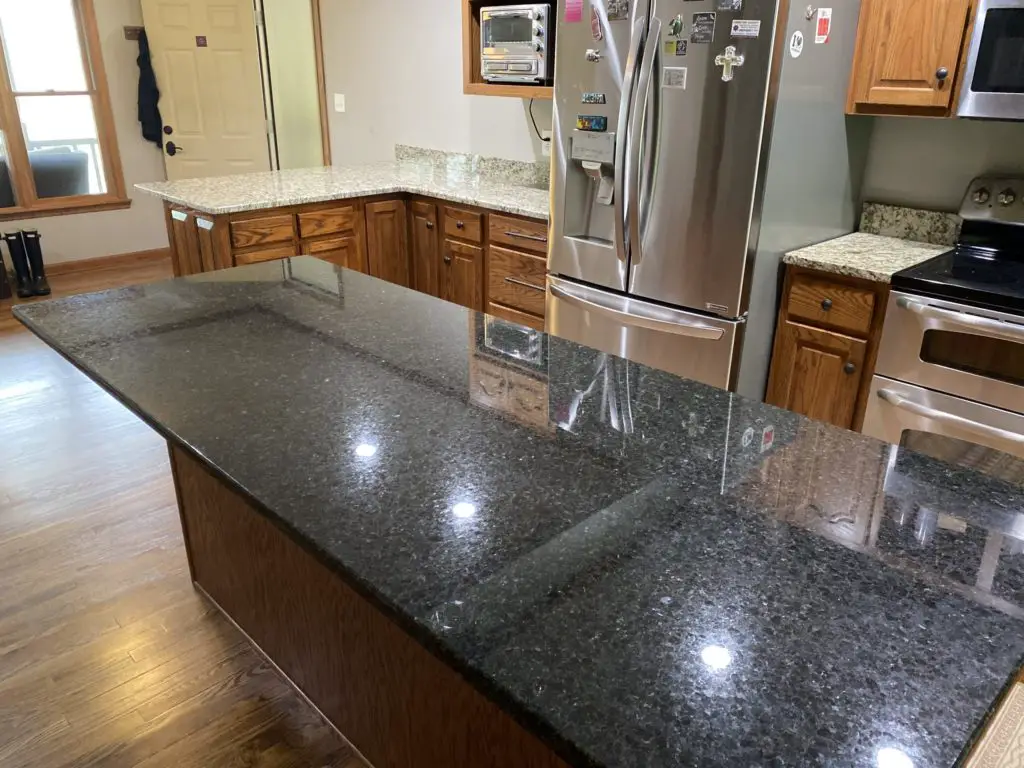 The photo above is Uba Tuba on the island and the perimeter is Giallo Napoli.
Valle Nevado Granite Countertops – An Affordable Granite Option
Valle Nevado Granite is quarried in Brazil and is one of the most popular cheapest granite colors in the world. This white granite features a white background with flecks of gray and black scattered throughout the stone. Homeowners choose this granite due to its ability to coordinate with a number of design styles.
This lighter-colored granite has a tight grain structure that is similar throughout the slab. The overall gray tone of Valle Nevado provides the perfect backdrop in homes across America. The low variation of shading creates an elegant countertop.
Valle Nevado pairs wonderfully with white or black cabinetry. When paired with white cabinetry, the tiny back crystals found in the granite slab will be showcased. Conversely, when Valle Nevado is paired with black cabinetry, the pale gray overall tone of the countertop will come to the forefront. The average price of Valle Nevado granite is approximately $30 per square foot, installed depending on your location and market.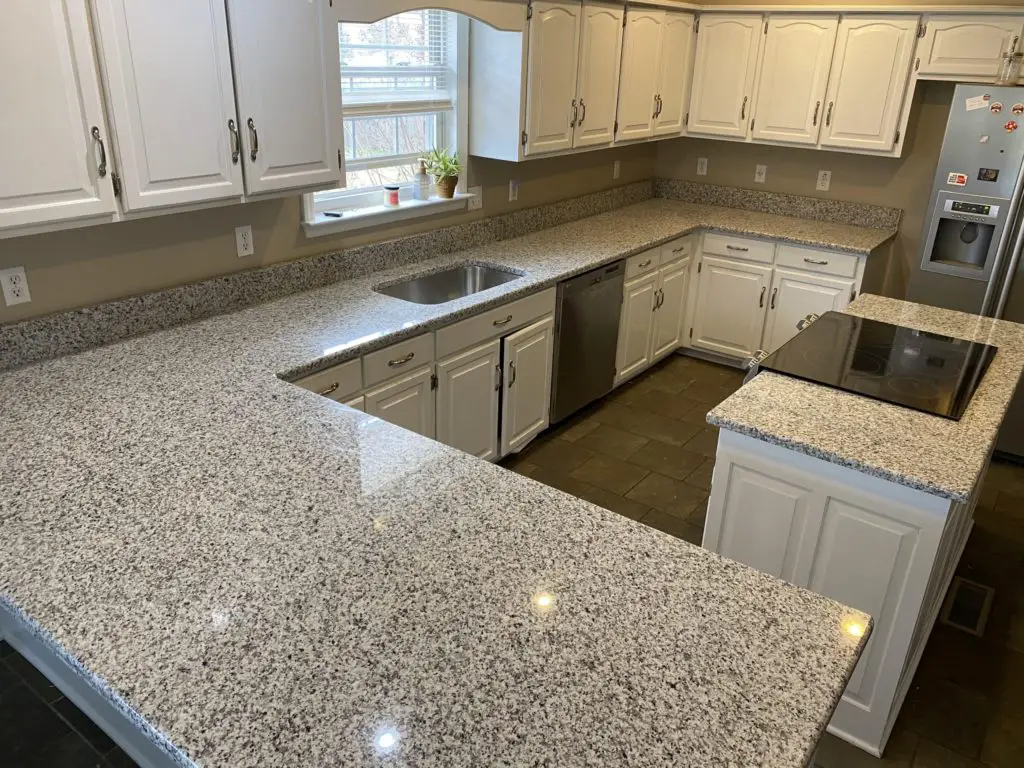 The above image is Valle Nevado granite on the perimeter and island with white cabinets. I installed this job recently.
Understanding Granite's Pricing System
Granite comes in a variety of price points. When you visit a granite specialist, tell your countertop specialist your estimated budget for your project. The granite specialist will begin showing you granite options in that price range. Granite slabs that are darker in color and have a consistent pattern are typically more affordable.
The granite level also referred to as the grade of the granite, is based on the availability of the granite, the shipping cost of the granite, the color of the granite, and the distinctiveness of the granite. You may be surprised to learn that the level of the granite does not necessarily reflect the quality of the granite.
To be sure that you get the lowest price possible when updating your countertops be sure to go with the minimums. Stay away from fancy edges, opt for a standard sink, and choose remnants that you can live with for the bathrooms or smaller areas that need granite. Consider different colors for an island or kitchen perimeter.
What Is The Least Expensive Granite?
The cheapest granite colors are listed above. Some other colors that are really cheap are Tan Brown, Luna Pearl, and New Venetian Gold. These are some of the cheapest granites on the market. Sometimes you can get Giallo Napoli or Butterfly Beige granite colors cheaper. Also, be sure to check out the quality of the slab. Most of the time lower quality materials will be cheaper.
What Is A Cheaper Alternative To Granite Countertops?
You can choose to do a DIY concrete countertop installation or opt for Formica countertops or laminate countertops. These are the cheapest routes. There are also epoxy countertops. Check out our epoxy countertop guide.
How Much Does Granite Cost?
Granite countertops, including installation costs, range from $40.00 per square foot to more than $200.00 per square foot.  Many homeowners think that granite countertops are too expensive.  Although granite countertops can be expensive, there are many ways you can keep the price down.  There are several reasonably priced granite countertop options available.  Furthermore, granite costs had dropped over the last several years, making them an affordable choice for budget-minded homeowners.
What Is Included In A Granite Countertop Quote?
When a countertop company gives you a granite countertop quote, it will include the granite countertop, delivery, installation, and a countertop edge profile. Extras like a decorative edge profile, cutouts for cooktops and sinks, plumbing the depths, and the removal and disposal of old countertops will increase the price of your granite countertops.
The Importance Of Properly Measuring Your Kitchen or Bath Countertops
When you are purchasing granite countertops, you want to ensure that the countertops are the correct size and will fit your cabinetry when they are delivered to your home. If a measurement is incorrect, the countertop may need to be either cut smaller, or worse, a new piece of granite will need to be ordered.
You can avoid these mistakes by getting a countertop specialist to measure your countertops before you order them. When a countertop specialist visits your home, the specialist will make precise measurements and create a template of your kitchen or bath cabinetry layout. The template will ensure that the correct amount of granite is ordered, and the granite countertop will be fabricated correctly. Although you may be anxious to get your kitchen or bathroom remodel completed, taking this step can save a lot of money, time, and headache.
Granite Finishes Available
There are several finishes that can be done to granite slabs. Each finish offers different advantages.
Polished Granite – Polished granite creates a mirrorlike finish that reflects light beautifully.
Honed Granite – Honed granite provides a smooth finish that offers low light reflection in the room.
Aged Granite – An aged finish enhances the natural properties of granite and creates a slightly irregular finish.
Bush Hammered Granite – Bush hammered granite has a rough texture with no light reflection. This granite finish is an excellent choice for outdoor applications.
Shot Blasted Granite – A shot-blasted treatment creates a rough and rugged texture that is grainy. This finish is ideal for outdoor applications.
Flamed Granite – A flamed finish showcases the granite's natural characteristics like veining and roughs up the surface of the granite.
Satin Finished Granite – A satin finish provides you with a soft, silky finish with medium-light reflection.
Conclusion
Granite countertops create an opulent kitchen or bathroom. This natural stone provides you with a unique look that will last you for many years to come. Granite countertops are scratch and heat resistant. When these countertops are correctly sealed, the risk of stains is minimized, and cleanup is a breeze.
If you have always wanted granite countertops but didn't think you could afford them, you are in luck. There are several affordable granite countertop options available. The cost of granite countertops depends on the type of granite, the availability of granite, the edge profile chosen, and the number of cutouts needed.