Homeowners from around the world prefer granite for their countertops for a plethora of reasons. Granite is a nonporous natural stone that is perfect for high traffic areas like your kitchen or bathroom. Granite countertops provide a clean aesthetic for your overall interior design.
Granite countertops are easy to clean and require very little maintenance. On average, you will need to seal your granite countertop every three to five years. After that, all you need is some warm water, a mild detergent, and a sponge to clean up spills and wipe away crumbs.
Granite is extremely durable and will provide you with many years of enjoyment. It is available in a variety of color variations. With so many options available, choosing a granite color can be overwhelming.  We have gathered the top 20 granite countertop colors for 2020 in one place to help you decide which granite color is best for your home.
Colonial White Granite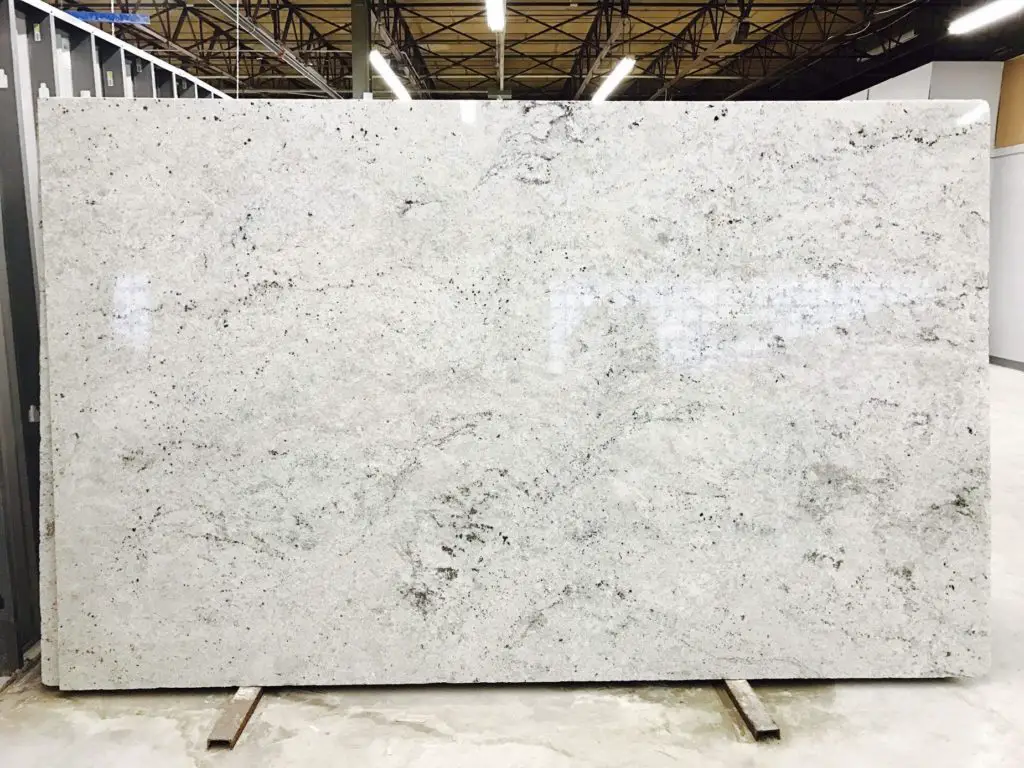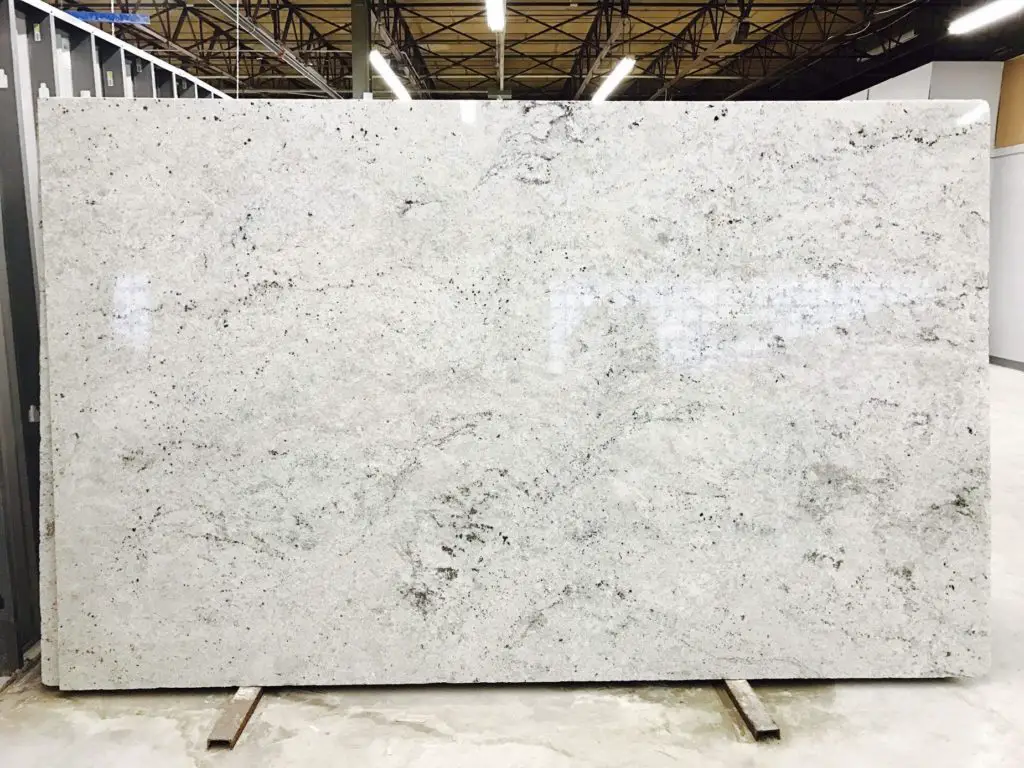 Colonial White is quarried in India and features a cloud white background, rose mineral deposits, and black speckles across the surface of the granite.
Colonial White granite is favored among homeowners with traditional elements throughout their home. The silvery cloud white background of Colonial White granite warms up predominantly white kitchens and bathrooms to prevent them from appearing cold.
If installing Colonial White atop wooden cabinetry, opt for red-hued cabinetry like cherry or mahogany to highlight the rose mineral deposits in the stone.
Arctic White Granite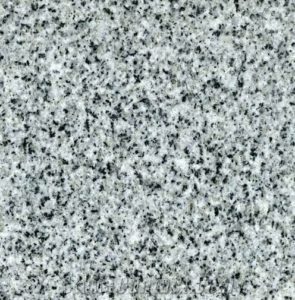 Arctic White is quarried in Finland and features a snow-white background with dark taupe, gray and black flecks throughout. This highly reflective white granite features consistent small and large gray grains throughout the slab.
Arctic White granite is perfect for those who are looking for an affordable white granite. This gorgeous granite countertop material looks stunning in Art Deco-inspired homes. Art Deco is characterized by sleek lines, stainless steel, chrome, and glass.
The flecks are dispersed evenly across the granite surface and work perfectly with the stark lines found in Art Deco designs. Pair this gorgeous white granite atop black cabinetry for a striking interior design.
Desert Brown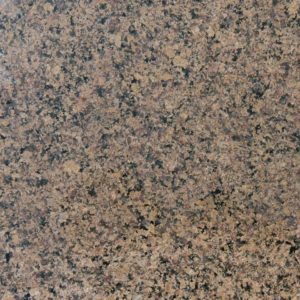 Desert Brown is quarried in India and is one of the most popular brown granites on the market. The primary color in this granite is brown; however, depending on the slab, the variation in color can range from light, milky coffee brown to medium brown.
The granite has a scattering of black minerals dispersed throughout the granite slab. Desert Brown granite is perfect for American Colonial styles that contain both traditional and rustic pieces throughout the home.
This style incorporates oil rubbed bronze fixtures, wood cabinetry, and muted colors. Install Desert Brown atop hickory, maple, or cherry cabinetry to create an American Colonial feel to your kitchen and bath.
Tan Brown Supreme
Tan Brown Supreme granite is quarried in India and provides homeowners with a deep chocolate brown. Tan Brown Supreme features a dark brown background with black, gray, and red flecks across the surface of the slab.
Tan Brown Supreme granite works with any décor; however, it works extremely well with Artisan interior design.
Artisan-style incorporates rich wood cabinets, rustic finishes, and colorful rugs. Combining Tan Brown Supreme granite with mahogany or cherry cabinetry brings out the red in the chocolate brown granite while dark oak or dark maple cabinetry will bring out the blacks and grays found in Tan Brown Supreme.
Black Pearl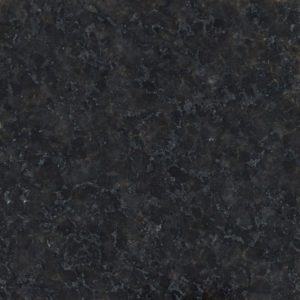 Black Pearl granite, also listed as Black Labrador, Black Ubatuba, or Silver Pearl, is quarried in India. This amazing black granite features specks of gold, silver, brown, black, gray, and green. Black Pearl is extremely durable and can be used throughout the home.
Black Pearl works wonderfully with contemporary kitchen and bathroom designs. Contemporary design uses sleek surfaces like stainless steel and neutral colors like white and black to create a minimal look.
Installing Black Pearl atop neutral cabinetry can help you create a sleep modern interior design. Use a variety of accent pieces in a bright color, such as blues or greens.
Nero Fantasy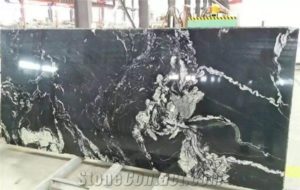 Nero Fantasy is a gorgeous black and white granite quarried in Italy. Nero Fantasy features a black background with large areas of white swirls with pale gold highlighting the patterns.
This granite color is absolutely stunning and will take your kitchen or bathroom to the next level. Nero Fantasy is the perfect choice for Jacobean inspired interior designs. Jacobean interior design embraces luxurious and rich finishes and intricately carved wood.
Nero Fantasy, with its opulent look, will create a romantic and ornate kitchen or bathroom. Pair it with oak cabinetry for a truly Renaissance-inspired interior design.
Sapphire Blue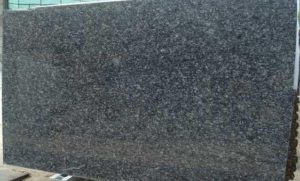 Sapphire Blue is a gorgeous granite that is quarried in India. This granite is comprised of flecks of ice blue, pale taupe, and dark gray.
This granite increases the warmth in your kitchen and bathroom areas. Sapphire Blue is perfect for homes that embrace the beauty of Palladian design with its arched windows and clean lines throughout the home.
The palladian design uses a combination of white or off white with a bluish-green accent color. Place Sapphire Blue granite atop white cabinetry to create a gorgeous Greco Roman inspired kitchen or bathroom.
Blue Pearl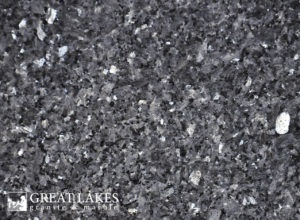 Blue Pearl is a granite that is quarried in India. The blue granite features various shades of blues, grays, and blacks to create an absolutely stunning granite slab. Blue Pearl is one of the most popular granite choices on the market.
Blue Pearl is a great choice for homes that embrace Elizabethan interior design. Elizabethan design features natural wood, tiles creating a diamond pattern, colorful tapestries, and elegant black and white floors. Place Blue Pearl granite atop oak or maple cabinetry to create an Elizabethan inspired kitchen or bathroom.
Sienna Beige
Sienna Beige is a rustic, yet beautiful granite quarried in Brazil. Sienna Beige features a white background with dark chocolate brown veins, gray specks, and burgundy accents throughout the slab. Sienna Beige is a neutral, rustic granite that works perfectly with Dutch Renaissance interior design.
Dutch Renaissance embraces neutral colors and dark-toned woods to create an organic and peaceful home. Curved lines, dark wood tones with hints of white, and other cool tones are used to prevent your home from looking dark and dismal.
Pairing Sienna Beige with dark oak cabinetry or dark brown or black painted cabinetry will transform your home into the home you have always dreamed of owning.
Delicatus Cream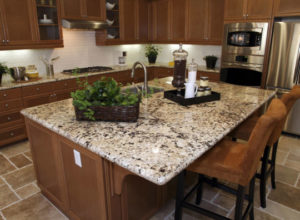 Delicatus Cream granite is quarried in Brazil and features a gorgeous cream background with beige, brown and black speckles across the entire surface.
This durable granite countertop is perfect for high traffic areas like kitchens and bathrooms. Delicatus Cream is a great choice for farmhouse designed homes.
Farmhouse interior design uses a combination of warm woods, rustic finishes (copper and oil rubbed bronze), and warm whites and off whites to create a soft, inviting interior.
In your kitchen and bathroom, place Delicatus Cream atop oak, maple, or painted cabinetry to create a charming and inviting kitchen or bathroom.
Rosewood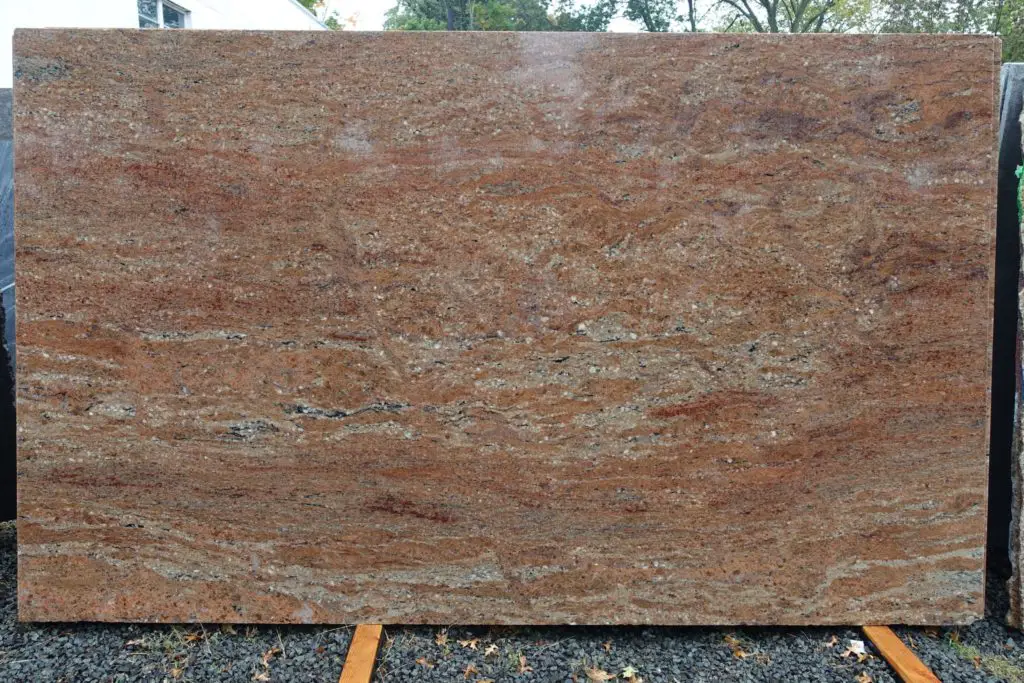 Rosewood granite is quarried in the Pudukkottai district in southern India's Tamil Nadu. Rosewood granite is a reddish-pink granite with variations of auburn, gray, and soft black flecks and veins running throughout the slab. The natural stone is extremely durable and instantly warms up your kitchen or bathroom.
Rosewood granite is a great choice for Artisan inspired interior design. Artisan interior design utilizes rich wood cabinetry, warm colors, and oil bronze fixtures.
Place Rosewood granite atop warm wood cabinetry like mahogany or cherry cabinetry to create a kitchen or bath that showcases the craftsmanship of your cabinetry.
Costa Esmeralda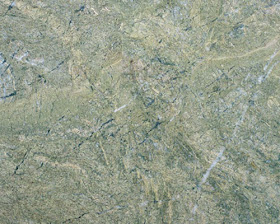 Costa Esmeralda granite is a beautiful green-gray granite quarried from Iran, Italy, and Brazil. Costa Esmeralda is extremely popular in country-styled homes. The gorgeous green of Costa Esmeralda is reminiscent of the beautiful greens found in nature and looks amazing when placed atop maple, oak, or white cabinetry.
The gold and gray found in the granite adds a touch of elegance to the countertop. To create a country home design in your kitchen and bathroom, choose pine or oak cabinetry, metal finishes like copper or bronze, and clean lines throughout the space.
A brick backsplash along with Costa Esmeralda granite countertops will add a touch of warmth to your interior spaces.
Verde Bamboo
Verde Bamboo granite is quarried in Brazil. The granite features diagonal veining running throughout the entire slab.
Verde Bamboo granite features a light moss green background color with streaks of black, beige, and dark green running throughout. This amazing granite is perfect in homes that embrace abstract interior design. The abstract design focuses on unique elements throughout the home.
It utilizes clean lines like those found in Verde Bamboo granite and uses bold colors. To create an abstract inspired kitchen or bathroom, place Verde Bamboo granite atop white or maple cabinetry and then fill the space with gorgeous abstract art.
 Ruby Velvet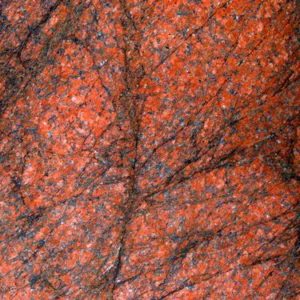 Ruby Velvet granite is quarried in Brazil and features a deep red background with black and gold veining and grayish-blue flecking. The striking beauty of this granite is perfect for Arabian inspired interior design.
The Arabian interior design exudes elegance and luxury by combining bold colors like reds, turquoise, golds, and pinks with numerous textures. To create an Arabian inspired kitchen or bath, opt for wood cabinetry topped with Ruby Velvet granite.
Choose brass and leather cabinet pulls and shiny brass plumbing fixtures to create an air of opulence in your home.
Steel Gray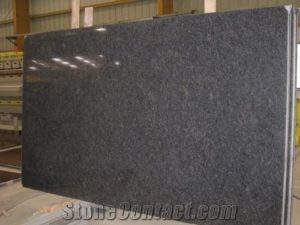 Steel Gray granite is quarried in India and offers a soft, charcoal gray background with flecks of shades of grays, blues, blacks, and browns.
The colors work together to create consistent movement and color across the entire granite slab. Steel gray blends seamlessly with Boho chic interior design. Boho chic creates a laid back home.
Combine natural wood furniture with statement pieces scattered throughout. To create a Boho chic kitchen or bathroom, place Steel Gray granite atop maple, oak, or walnut cabinetry. Incorporating living plants into your kitchen and bath will create a home reminiscent of the nomadic gypsies who inspired the creation of Boho chic.
Mont Bleu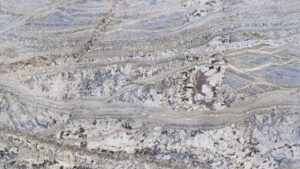 Mont Bleu granite is quarried in India and features a plethora of unique colors, including lavender, white, beige, blue, and pink.
The swirls and veins contained in each marble slab create interest and provide an urban feel in your kitchen and bathrooms. Mont Bleu is perfect for large scale cladding such as fireplace surrounds, shower surrounds, bathroom vanities, kitchen countertops, and island countertops.
This stunning granite is perfect for Urban inspired interior design. The urban design embraces exposed brick, pendant lighting, and glossy cabinetry. Place Mont Bleu granite atop walnut cabinetry to create a Soft Industrial interior design in your home.
Silver Waves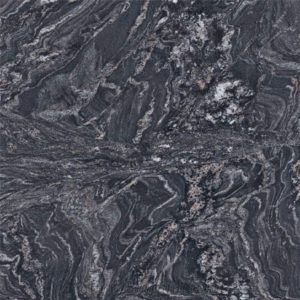 Silver Waves granite is quarried in India. The black granite features white and gray veins running across the entire surface of the granite slab. Silver Waves granite is perfect for those who have embraced the Baroque interior design.
The undulating veins in this gorgeous granite gives a nod to the opulence and luxury that surround Baroque interior design. Baroque embraces irregular curves, twisted columns, decorative elements, and dark woods.
Silver Waves granite's undulating veins go beautifully with the design elements used in Baroque interior design. Combine Silver Waves granite with dark wood cabinetry like walnut to create a Baroque-inspired kitchen or bathroom.
Atlantis Granite
Atlantis granite features a light beige background color with gray, gold, and orange veins running throughout. The granite also features dark brown speckling across the slab.
The color scheme found in Atlantis granite is ideal for kitchen countertops, backsplashes, and bathroom vanity tops. The color combination is often used in French Provincial interior design. French Provincial combines both elegant and country elements to create an inviting and warm home.
Typically, French Provincial homes feature painted cabinetry. Place Atlantis granite atop white or pale bluish-gray cabinetry for a French Provincial inspired kitchen or bathroom.
Giallo Vicenza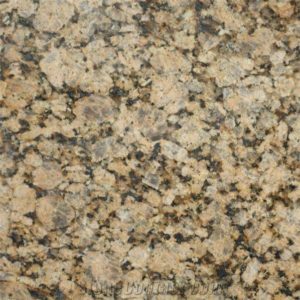 Giallo Vicenza is a gorgeous golden granite quarried in Brazil. This natural stone features a golden colored background and is covered in light and dark brown specks across the entire surface of the granite slab.
Giallo Vicenza is perfect for Venetian inspired homes. Venetian interior design uses ornate details, rich colors like golds, reds, and purples to create an opulent design. You can create a kitchen or bathroom that looks like it should be in a Venetian home by placing Giallo Vicenza granite countertops on off white cabinetry.
Dunes Orient
Dunes Orient is quarried in Brazil. This amazing purple granite is unlike any other granite on the market. The medium, creamy purple background features veins of pink, gray, red, and beige to create a warm kitchen or bathroom evocative of the Tuscan hillsides.
Tuscan design features worn wood or terra cotta tile floors, stained wood, and warm, earthy colors, including purple, beige, golds, and reds.
You can create a beautiful kitchen or bathroom resplendent with Italian features like wrought iron, wood ceiling beams, and Dunes Orient granite placed atop richly stained wood cabinets.
What is the Most Popular Granite Color?
The most popular granite is one that incorporates neutral colors like black and white, gray, or beige and brown. With the recent upsurge in gray used throughout the home, the most popular granite on the market Nero Fantasy. This black granite has white and gray veins, which allows it to work in a variety of homes across America.
Nero Fantasy can be placed atop rich-colored wood cabinets like cherry, walnut, and oak as well as white, gray, or black cabinetry. The neutral color of this granite countertop allows you to coordinate with the décor used throughout your home.
Whether your home is a loft in a large city, a cabin in the woods, or a ranch style home in the suburbs, you will love Nero Fantasy.
What Color of Granite Is the Best?
Steel Gray granite is one of the best choices for busy homeowners. This gorgeous countertop is a mid-tone gray, which is not too light and not too dark. Steel gray is a low maintenance natural stone that offers amazing stain resistance and scratch resistance.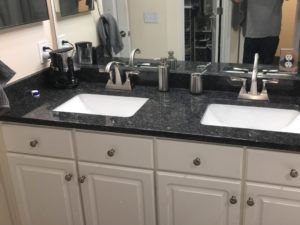 Steel Gray granite can be used to create contrast in your kitchen or bathroom. It can be paired with white cabinetry, painted cabinetry, or wood cabinetry.
Steel Gray granite is available in a number of finishes, including polished, honed, and leathered.
Polished is perfect for those who want an eye-catching design, while honed and leathered are perfect for those who want a silky smooth countertop that imbues warmth in your kitchen or bathroom.
What Is the Most Popular Granite Edge?
Granite can be given a number of edge profiles, including bullnose, round, bevel, Ogee, and waterfall. The type of edge chosen will depend on the look you want to create with your kitchen or bathroom granite countertops.
The most popular granite edge is the quarter round and the quarter bevel. A quarter round edge profile has a slight curve that works great in kitchens and bathrooms. Conversely, a quarter bevel edge profile has an angled edge.
Both of these edge profiles are typically included in the price of a granite countertop installation. Other edge profiles like Ogee and waterfall are not included in the price and will increase installation costs. Therefore, most homeowners opt for quarter round or quarter bevel because they are typically free edges.
How to Tell If A Slab of Granite Is Quality
Granite countertops are an investment for your home; therefore, you want to ensure you choose a high-quality slab of granite. There are several visual clues that can help you ascertain if the granite is of good quality.
First, look at the granite slab. If you notice any cracks or uneven areas, you should move to a different piece of granite. Even minor cracks could eventually form into large cracks. If you find any uneven surfaces, they can be an indication that the granite is of lower quality. If an epoxy has been added to smooth out rough spots, avoid it as the epoxy will yellow over time.
Another visual clue to look for is to ensure that the granite slab has uniform thickness across the entire surface. Measure the thickness across the slab every foot. Granite countertop slabs are cut from large chunks of granite. You want your granite countertop to be at least an inch thick to ensure long term durability.
You can check the quality of the granite's polish by scratching the surface of the countertop with a coin. If the coin leaves a scratch mark, it will not hold up to the demands of everyday use.
The absorbency of the stone can be checked by a few drops of lemon juice. Lemon juice contains citric acid. If the granite contains a large amount of calcite, the granite will etch when it is exposed to lemon juice. If the lemon juice does not absorb into the granite quickly, the granite will not need to be sealed often, which indicates the granite is of high quality.
White Cabinets with White Countertops
Many homeowners love white countertops and white cabinets. There are several white granite countertop options that pair beautifully with white cabinetry. White granite and white cabinets create a clean, chic aesthetic and will work with almost any interior design.
However, it is important to note that not all white granite is created equally.  First, in nature, there is no pure white granite. So when you hear the words white granite, you must understand that it is granite with a white or off-white background. There will be other colors mixed throughout the granite slab.
White Ice and White Cabinetry
Colonial White and White Cabinets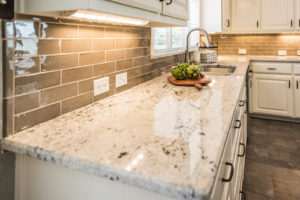 Arctic White and White Cabinets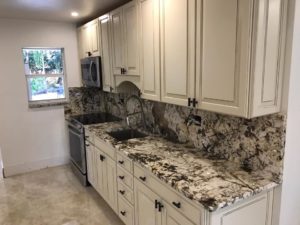 When choosing a white granite countertop, you will need to consider the other colors that are mixed throughout the slab and how they will coordinate with the other colors used in your kitchen or bath design.
Conclusion
There are hundreds of different choices when it comes to granite countertops. Choosing the best countertop for your kitchen or bath should be based on the type of cabinets located in your home, the interior design of your home, and the colors that are used throughout your home.
We have gathered the top 20 granite colors for 2020 to help you decide on the best color for your kitchen. When you begin shopping for granite countertops, use the information above to help you determine the best type of granite and the best slab of granite for your kitchen and bathroom countertops.