Nothing says luxury like marble in the kitchen or marble countertops in the bathroom. Marble speaks of timelessness, classical design, and elegance.
Marble, a metamorphic stone, was formed in the earth over millions of years. In fact, it is found in some of the oldest layers of the planet's crust. For millions of years, limestone was under a lot of pressure and heat, which changed the chemical and physical makeup of limestone, creating marble with its unique crystalline nature, allowing it to be polished to the brilliant stone we have come to love so much.
What Type of Rock is Marble
Marble is a metamorphic rock composed of recrystallized carbonate minerals, most commonly dolomite or calcite, and is typically not foliated.
Marble is commonly used in many applications indoors and outdoors. One of the greatest uses for marble is a bathroom countertop. Marble blocks are cut out of the Earth into large blocks then sawn into sheets or slabs of marble which is then polished to give it the shine we know and love today.
Marble comes from limestone which is formed by high temperatures, and pressure, creating marble in many different colors such as white, black, and brown.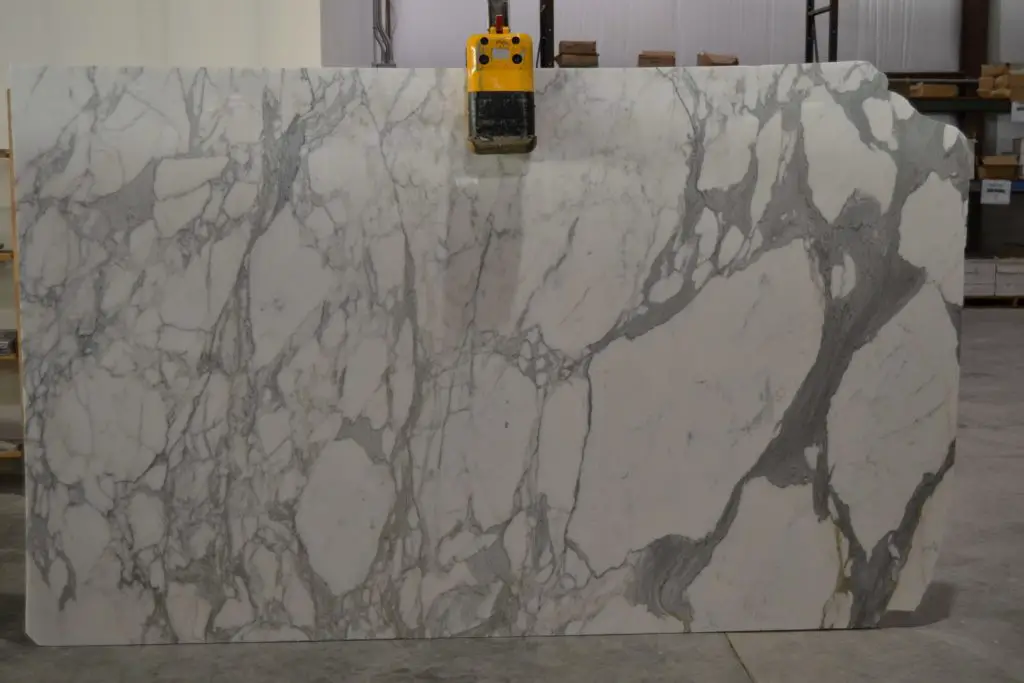 Understanding the Different Types of Marble Countertops
When it comes to marble countertops, there are numerous shades available. Some marble is white or light gray with gorgeous veining while other marble slabs are darker with vivid veining. Because the mineral composition can vary from slab to slab, each marble slab is slightly different.
The veining found in marble is due to impurities like clay, sand, and silt in the marble. These impurities create the veining that sets marble apart from other types of natural stones.
Throughout the world, you will find different types of marble. Let's look at some of the most sought after types of marble countertops. Each type of marble has unique characteristics and coloring, which means you can create the kitchen or bathroom you have always dreamed of in your home.
Carrara Marble – Italian marble featuring a gray background and light gray feathery veining.
Calacatta Gold Marble – Italian marble featuring a white background with gold veining.
Statuario Marble – Italian marble featuring a white background with gray and gold veining.
Emperador Marble – Spanish marble featuring a rich chocolate brown background and creamy white veining.
Crema Marfil Marble – Spanish marble featuring a creamy beige background with yellow, white, cinnamon, and gold veining.
Levadia Black Marble – Greek marble featuring a beautiful onyx black background with stark white veining.
Giallo Antico Marble – Tunisian marble featuring a golden background with black and white veining.
Connemara Marble – Irish marble featuring a gorgeous emerald background with grey and brown veining.
Danby Marble – American (Vermont) marble featuring a white background with light and dark grey veining.
Yule Marble – American (Colorado) marble featuring a white background with blue-gray veining.
There are a plethora of marble countertops available for use in the bathroom and kitchen. Visit your local stone countertop dealer to discuss your options and see samples in person. Marble has graced the halls of palaces all over the world and has withstood the test of time. Therefore, you should carefully consider your home's unique characteristics and decorating style before choosing a marble countertop. Most homeowners want a neutral colored marble for their countertops, which allows them to change the look and feel of their home with accent colors.
The Pros and Cons of Marble Countertops
Ask any countertop installer about marble, and you will hear a long list of marble countertop pros and cons. Let's look at the top reasons why you should install marble countertops in your kitchen and bathroom, and why you may want to consider a different natural stone countertop.
Pros of Marble Countertops
The Timeless Beauty of Marble – Installing marble countertops in your bathrooms and kitchen creates the look and feel of a prestigious estate. Unlike other natural stones, marble countertops are available in a bright white with the classic feathery veining. In addition to a white background, marble comes in black, green, gray, and brown colors.
Marble's Temperature Regulation Abilities – Marble does not conduct heat like other natural stone countertops; instead, it remains cool. Professional chefs and homeowners who like to work with pastry will love the numerous advantages of marble.
The Availability of Marble – Unlike other natural stone countertops that can be difficult to find, you can find marble countertops in almost every stone yard or home improvement center. However, some of the rarer types of marble counters may not be in stock and must be ordered.
Different Marble Finishes – Marble can be finished in four different ways – brushed, honed, polished, or tumbled. A brushed finish provides an antique natural look. When marble is brushed, it creates a warm, textured finish that provides an aged look. Honed marble provides a buttery feel and an old-world look. Marble is honed to remove minute bits of the stone for a scratch-resistant finish. Polished marble offers a high gloss finish that is highly reflective. A stone specialist uses diamond discs to buff the surface to a beautiful finish. Finally, tumbled marble creates a worn, warm finish. Rock, sand, and other abrasive materials are used to rough up the surface slightly for a smooth yet luxurious finish.
Neutral Coloring of Marble – Marble offers a neutral colored background that will blend seamlessly with any color scheme. Almost any color under the rainbow will coordinate with marble countertops.
Adds Interest to Your Home – Marble is known for its gorgeous veining. Rather than an ugly, dull countertop, the marble will add interest to an otherwise boring space. The beautiful veining unique to marble adds interest and design to your home.
Cons of Marble Countertops
Easily Scratched – Marble is one of the softer types of natural stones, which means it can be scratched. In addition to this, acidic liquids like citrus juices, harsh detergents, or sodas can cause small scratches to appear, which will dull your countertops.
Porous – Marble is highly porous. Spills must be immediately wiped up, or they will begin seeping into the marble and causing stains. Any liquid with color can stain your pristine marble counters.
Maintenance – Marble is a high maintenance natural stone. If a harsh cleaner is used on the marble, it can cause etching and dullness. Wipe the marble counters each day using a damp cloth. Once weekly, use a neutral pH cleaner specially designed for marble.
Cost – Marble is a luxury countertop that can be incredibly expensive, especially a pristine slab of marble that glistens and shines. Homeowners who are looking for an elegant finish but are on a budget may be able to shop around and find an affordable option. Although some types of marble are expensive, there are also affordable options. Homeowners of every income level can have natural stone countertops. One of the most affordable marble countertops is Carrara (sometimes spelled Carrera).
Weight – A marble countertop is extremely heavy; therefore, installation should be left to the professionals. The weight of the marble will need to be calculated to determine if your cabinets are sturdy enough to support a marble slab.
As you can see, there are many marble countertops pros and cons to consider before installing marble in the kitchen or marble countertops in the bathroom. Adding natural stone countertops in your home will increase its value; however, you must consider the maintenance requirements to ensure your counters remain beautiful for years to come.
Marble Countertops Vs. Granite – Which One is Better?
If you're considering a natural stone countertop like marble in the kitchen or marble countertops bathroom, you may be wondering whether marble or granite is the best choice. Both stones require routine maintenance; however, with regular TLC, you will enjoy your marble or granite countertops for many years to come.
Marble vs. Granite Physical Makeup – Both marble and granite are natural stones found deep within the earth, providing you with years of enjoyment. However, their chemical makeup is quite different. Marble is formed from limestone. The heat and pressure of the earth's crust recrystallize the limestone into a carbon-based metamorphic rock with beautiful veining. Conversely, granite is compressed mica, feldspar, quartz, and other minerals. The pressure inside the earth forms this igneous rock and creates the distinctive mineral flecks throughout a granite slab.
Marble vs. Granite Appearance – A marble slab's background and vein color are consistent throughout the piece. For example, if a slab of marble is gray-pink, the veins running through the marble will be rosy-red. A piece of granite can have many colors throughout it, depending on the chemical composition. For example, a slab of granite may have a brown background and red, orange, blue, green, and pink flecks throughout.
Marble vs. Granite Durability and Hardness – Marble is softer than granite. Although both types of countertops are natural stone, it is easier to chip and scratch the marble. However, when proper care is taken, i.e., liquids wiped up quickly, impregnating sealer applied every year, and pH neutral cleaners are used, granite countertops and marble countertops will last a lifetime.
Both granite and marble countertops are lovely additions to a home. The natural stone countertops are durable and require minimal maintenance. The most crucial thing to remember with any type of stone countertop is to wipe up spills quickly to prevent staining. Routine maintenance, including applying an impregnating sealer will keep the marble in your kitchen and marble countertops in your bathroom looking as beautiful as it did on the day that it was installed.
Marble Countertops Care Instructions
Marble countertops do require regular cleaning and maintenance due to the porosity and softness of the marble. Many homeowners worry that marble counters require a lot of work to keep them looking great. However, maintaining a marble countertop is not difficult as long as you follow a schedule.
Daily Maintenance – Wipe up any spills with a soft damp cloth as soon as they occur to minimize the risk of staining (see below for instruction on how to make a homemade marble stain remover). Avoid detergents and acidic foods that can cause etching (see below to learn how to restore the luster if your countertops become etched). When cutting food, always use a silicone, plastic, or wood cutting board to avoid scratching your marble countertop. Never set hot pots directly on a marble countertop; instead, use a trivet to protect the surface. Be sure to clean your marble countertops after every use.
Weekly Maintenance – Wipe your marble countertops down using a damp microfiber cloth weekly to keep your countertops looking amazing. Many homeowners find that using a pH neutral cleaner weekly increases the shine and durability of their marble countertop. Once you have cleaned your counters, buff the marble dry using a clean microfiber cloth.
Annual Maintenance – Sealing marble countertops should be performed every 6 months to 1 year or as needed to reduce the porosity of the marble and increase the durability of your countertop. There are many products on the market that promise to last for several years. To ensure your counters are fully protected, perform a water test annually. This test will help you determine if your marble countertops should be sealed. When choosing a sealer, look for an impregnating formula that seeps into the marble for maximum protection.
Stain Removal – If you experience a stain, mix baking soda with water to form a paste and apply it to the stain. Cover the baking soda and water paste with plastic wrap and allow to sit on the marble countertop for 12 to 24 hours. Then, wipe your marble countertop clean using a clean, damp cloth. If this DIY stain removal does not remove the stain, contact a stone specialist for assistance.
Etching Removal – Etching can make your marble countertops look dull. A marble polishing powder is designed to buff out scratches and restore the shine to etched marble countertops. If your countertops are severely etched, a stone refinisher may be able to restore the shine by using diamond polishing wheels.
Marble countertops do require routine maintenance; however, it only takes a few moments to clean your marble and have it shining beautifully. Whenever you clean your marble, always buff dry to avoid water spots and increase the shine of your marble in the bathroom and the kitchen.
Marble Countertops Costs
Marble countertops are a luxury countertop material, and they come with a high price tag. When marble countertops are installed in the bathroom or kitchen, the overall value of your home will increase. Furthermore, if you will be selling your home in the future, marble countertops are the way to go because most individuals looking for a house want a high-end kitchen and bathrooms with classic finishes like marble countertops.
The cost of marble will vary, depending on the rarity of the marble. Homeowners can expect to pay between $40 per square foot to $100 per square foot. Most homeowners should expect to purchase approximately 50 to 55 square feet of marble; therefore, the average cost of marble for a home is $3,180.
Labor costs will vary depending on the design of the kitchen and the bath. The average time it takes to install marble countertops is 10 hours. The low-end installation costs for marble countertops are $30 per hour, and the high-end installation costs for marble countertops are $50 per hour. In most homes, the average installation costs for marble are $300 to $500.
In addition to the cost of the material and the cost of labor, homeowners should expect to spend an additional $100 to $200 for tools and supplies.
How Much Does It Cost To Remove Marble Countertops
The cost to remove a marble countertop from your kitchen cabinets or island will usually run about $5 per square foot. Some companies charge more and some less but this is a good price to go by.
What Factors Affect the Cost of Marble Countertops?
The total price of your marble depends on several factors, including the material chosen, the installation costs, the countertop design, the color of the marble, the thickness of the marble, the edge profile of the countertop, and any other extra work that must be performed.
Material – The cost of marble can vary significantly due to transportation costs, demand for marble, and the rarity of the marble. For example, Carrara marble is much cheaper than Calcutta marble.
Installation – Installing a full slab does not cost as much as installing multiple smaller pieces of marble. Because marble installers charge by the hour, the extra time needed to install smaller pieces of marble or performing on-site assembly can increase the cost of your marble countertop installation.
Countertop Design – Kitchens that have long runs of counters and 90-degree angles are easier to deal with than intricately shaped counters.
Color of the Marble – The type of adhesive used to install marble countertops will vary based on the color of the marble. For example, white marble countertops must be installed using a white adhesive; otherwise, the color of the adhesive can show through the marble.
The thickness of the Marble – Marble is available in a variety of thicknesses. Thicker marble is heavier and more expensive.
Edge Profile – When you choose the marble for your kitchen and bathroom countertops, you will also need to select the edge profile for the countertops. More detailed edge profiles like the Ogee edge profile are more expensive than a simple bullnose edge profile.
Extra Work – Extra work may need to be completed before your new marble countertops can be installed, including shoring up your cabinets to support the weight of the marble, removing your old countertops, installing a new backsplash, or doing cut-outs for drop-in appliances and sinks.
Marble has withstood the test of time and can be found around the world as flooring and statuary. When properly cared for, marble countertops will last more than a lifetime. Marble countertops are often cheaper than other natural stone countertop options. The consistent coloring of marble makes it a perfect choice for kitchen and bathroom countertops. Marble countertops will brighten every area of your home. This natural stone requires minimal cleaning and maintenance. Finally, marble works well in traditional kitchens as well as modern kitchens thanks to its consistent coloring and veining.