I am asked often about the standard height of a countertop in a kitchen and a bathroom. The answer is pretty simple and can be different depending on your own personal needs.
When making standard decisions for your home you should consider your own family's needs. Here are a few things to be mindful of.
What Is The Standard Kitchen Counter Height?
The national standard kitchen counter height is 36 inches (91.44 cm) from the floor to the top of the countertop. This may differ slightly depending on what type of countertop material you use which may determine the thickness of the countertop material and the location of the area.
| Area | Standard Counter Height |
| --- | --- |
| Kitchen | 36 Inches |
| Kitchen Bar | 42 Inches |
| Kitchen Desk | 32 Inch |
Standard Counter Height
What Is The Standard Bathroom Counter Height
The national standard bathroom counter height is 36 inches (91.44 cm) from the floor to the top of the countertop. A bathroom countertop may be slightly less high. Most bathroom vanity cabinets are 32 to 36 inches tall making your countertop height 33 to 36 inches approximately.
When deciding this for yourself, it is important that standards are not always best for individual people with special needs. A taller person may want a taller cabinet and countertop for comfort.
Things To Consider When Deciding Kitchen And Bathroom Counter Height
I wanted to be sure to put this out there as it is not covered anywhere else on the web. You should do what is best for you and your family not what is standard unless there are laws in your area forcing you to stick with a certain code. Read this code in NY for example which gives a certain number for people to stick to. There are many things to consider when deciding the standard counter height for your own home's kitchen and bathrooms.
Is this your forever home? If you plan to live in this home forever then you should feel ok to deviate from a national standard kitchen counter height. This is your home do as you please if the code enforcement allows it that is. (Check with a licensed contractor to be sure this is ok to do in your city or state.)
Do you plan to sell your home? If you plan to sell your home anytime soon or ever for that matter I advise sticking to something a bit more traditional. If you want to add an inch or two or even subtract an inch or two from the standard kitchen or bathroom height then that shouldn't cause too much of an issue for future buyers. If at all possible discuss with your cabinet maker the ability to change the height of your cabinets if you ever decided to sell. Always have a plan in place.
Are your needs temporary or permanent? We all know someone or have family who has special needs. These needs may determine various aspects of our lives however sometimes being in a wheelchair is temporary or there may be other options rather than changing your whole home to make it convenient. Instead of making a large change, you could always add a section in your kitchen or bathroom that fits the needs of everyone in the home. A great example is possibly adding to your island a drop-down section that is much lower allowing for access to a person in a wheelchair. You can even go as far as a section with a sink so that they can access running water without help. If you have someone in a wheelchair who will not be in that chair forever then consider sparing yourself the trouble of making drastic and expensive changes to your kitchen counter height. Instead, focus your energy on the recovery of that individual you care about.
How Deep Is A Standard Kitchen Cabinet
Standard kitchen cabinets should be 24 inches from the wall to the cabinet face frame. That is front to back. For a bar area or an open peninsula style, you may have a few extra inches of depth with your cabinets. These are typically built with wood and covered with trim and sheetrock.
How Deep Is A Standard Bathroom Cabinet
Standard bathroom cabinets should be 21 inches from the wall to the face of the cabinet. This is front to back. Some cabinets are smaller and larger depending on a number of variables such as personal preference and space availability. Smaller spaces typically require smaller cabinet dimensions.
What Is Counter Height
The countertop height is the measurement from the floor to the top of your countertops. Many areas of the world have different standards when it comes to countertop height. The standard countertop height may change depending on where you are and what size your cabinets are that were used in your kitchen.
The height of your countertop would also depend on when your home was built. As time goes on standards change and if your home was built many years ago you may have a much taller countertop or lower depending on your location.
Countertop thickness ranges from 3/4 of an inch to 2 1/2 inches depending on the countertop material. Wood countertops are 1 1/2 to 2 inches typically. The standard cabinet height is 34 1/2 inches (87.63 cm) from the floor to the top and if your countertops are natural stone countertops your total all-in height will be 35 3/4.
Wood Countertop Thickness And Height
If you have a wood countertop or butcher block countertop this will be 36 inches because almost all wood countertops are 1 1/2 inches thick.
Commercial Countertop Thickness And Height
Most commercial countertops are 2 cm or 3/4 thick. This would make your countertop height 35 1/4 since the countertop thickness is not as thick.
Some commercial cabinet manufacturers construct their commercial cabinets much taller so be sure to check the standard height of your manufacturer's cabinets.
It is also important to know how the countertop will be used or what area this countertop will be located. In a commercial kitchen, they are a bit higher preventing workers from having to bend over as much.
Choosing A Custom Height Cabinet And Countertop
There are many things to consider when you are deciding to stray from the standards or keep the standards in play for your project.
From floor to countertop your countertop height should measure 36 inches. This information comes from the American National Standards Institute, also Kitchen Manufacturers of America.
Height of you and your family.
Location of your countertops.
How are your countertops used?
Handicap accessible countertops and cabinets.
When considering your options be sure to keep all of this in mind. Below I will outline some of the listed considerations.
Height Of You And Your Family
One of the main things to consider when choosing your countertop height is your family's height. If you are a taller family then you may consider a few more inches of height for your countertops.
Another thing to consider is making a raised bar area for your family to enjoy meals. This will allow you to place a bar stool keeping you comfortable. Also, standing at a bar in a kitchen may be a bit more comfortable.
Location Of Your Countertops
If you have a kitchen with a perimeter only then adding a raised bar will allow for entertainment and comfortable seating in your kitchen. This is especially great if you have a large family and want to have quick meals together without having to set the table.
How Are Your Countertops Used
If you are researching for your kitchen countertop height then you may choose to use all standard sizes unless you prefer a taller or shorter situation.
If this is a commercial application you may consider a taller countertop also to prevent bending over too much to prevent back pain or other issues for your employees.
Handicap Accessible Countertops And Cabinets
When considering your kitchen area for someone with a wheelchair you may want to consider that they will need more space to move freely in the kitchen. Another thing to consider is the height of the countertop. A standard 36-inch tall countertop may be a bit high. The standards as set by the Americans with Disabilities Act are 28 to 34 inches.
It wouldn't be a bad idea to have a designated space for access by wheelchair and a countertop height to allow for this.
Also, consider keeping the cabinet area an open space in some areas allowing the wheelchair access into the cabinet so that preparing food and other tasks could be done.
Think of it as a desk. Drawers on either side would be great to keep frequently used kitchen tools stored. See the example image below.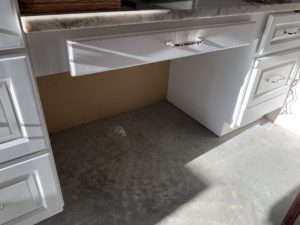 One final thing to keep in mind with wheelchair accessible areas of your kitchen is the bar. If you opt to have a higher bar area then consider another area for wheelchair access.
No one wants to be left out so be sure to include this space for your loved ones who have limitations. Ask your contractor to include this in your kitchen plans.
Standard Bar Counter Height
Bars are great in kitchens. They see a lot of entertainment and are convenient to have breakfast or a quick meal. The standard bar height is really an unknown.
Your bar height will vary within inches depending on who builds this for you. A standard most contractors and cabinet makers will consider is 40 to 42 inches tall (101.6 cm to 106.68 cm). This allows for bar stools to be used in the bar area.
Why Are Standard Heights Important
Standards provide an excellent way to be consistent. Most home builders who build homes to later sell use these standards to build a home that is usable for many types of people. A standard allows people to know what to expect. A cabinet too low will be noticeable and unusable for some. Comfort and usability play a huge part in this.
Another reason is that there are average heights of people across the world. These numbers are considered when a standard metric is placed.
Most people are comfortable with a 36-inch height countertop and cabinet as a standard. Consistency is important when building homes or working on one home throughout the project.
Standard Kitchen Countertop Depth And Overhang
A standard countertop will be 25 1/2 inches (64.77 cm) from front to back. This allows for an overhang of 1 1/2 inches (3.81) past the cabinet front or face frame.
If a liquid rolls off the countertop this will prevent it from spilling into the drawers. See the image below showing a marble countertop with a depth of 25 1/2 inches (64.77 cm).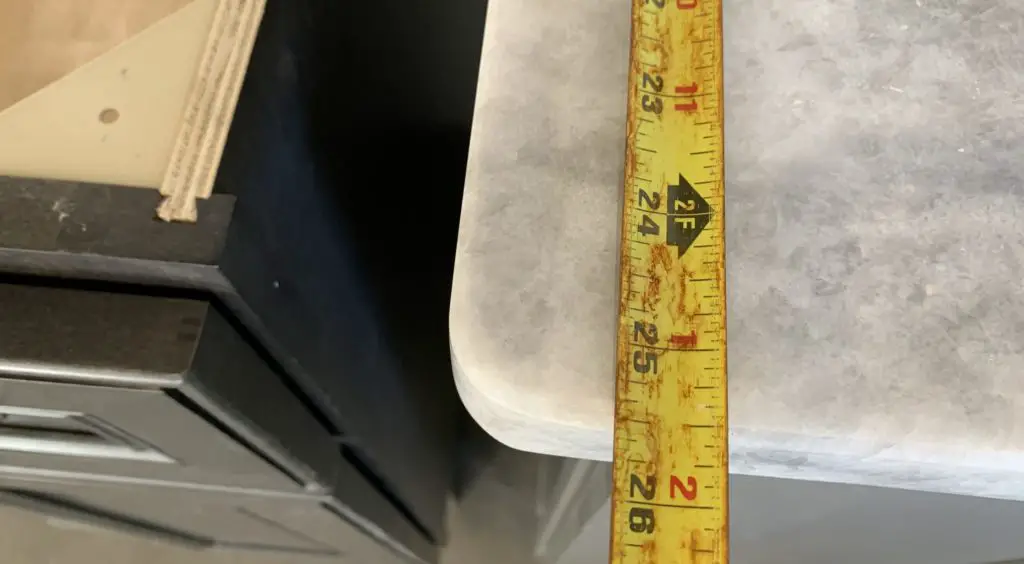 If you use a material like solid surface, laminate countertops, or the brand Formica countertops you will notice that they usually have a 1-inch overhang giving them a depth of 25 inches. This will still allow for any spills to miss the drawers which is the reason for an overhang on your countertop material.
Standard Bathroom Countertop Depth And Overhang
A bathroom countertop is usually 22 1/2 inches deep from front to back. A bathroom or vanity cabinet is 21 inches deep from front to back. This allows a 1 1/2 inch overhang for natural stone and if you have a solid surface or laminate countertops you can take half an inch from that depth.
Bathrooms are typically smaller giving you less room to move around. This is the reason they have a significantly different depth.
Conclusion
There are many factors to consider when choosing the standard countertop height you want throughout your home. Try to consider your family and how you use your kitchen and bathrooms.
Every family is different and considering your personal needs should be your focus. Be sure to have a discussion about this with your contractor and stress the importance of making these standard countertop height changes.
I have listed several reasons to consider your own personal standard countertop height. What do you think could affect your own family and why? Leave a comment below. I reply to all comments posted.