If you are planning to sell your home you may wonder how granite countertops impact your resale value. I am here to answer this question in detail and give you all of the answers you need to make the best impact on the resale value of your home. Let's begin.
Do Granite Countertops Add Resale Value to Your Home
Yes, granite countertops add to the overall value of your home. It is important to understand that a kitchen is the heart of any home so that is where most of your focus should be when trying to sell your home. Using granite countertops to add value is a great idea but there is more to it than just adding granite countertops to your home. 
Other Ways to Add Value to Your Home
Below I will add several remodeling considerations that will affect the value of your home but also attract new buyers. You don't have to do all of these but maybe do a few at a time and try to sell. Check the value of your home along the way and see if any of the updates help you sell your home.
Kitchen Cabinets
If you have old kitchen cabinets that are not very solid and look awful then I suggest replacing them. There are plenty of companies offering flat pack cabinets and you can even find cabinets on Amazon. I suggest calling almost every cabinet company in your area and asking for a quote for a home you are selling. Let them know your goals and also mention that you are trying to spend as little as possible but want a quality job. Always opt for a solid wood face frame, doors, and drawers. This is important for a quality job. If you can afford it you should also choose a solid wood cabinet carcass. This is usually made of plywood 1/4" thick up to 3/4" thick. The thicker the more expensive it will be. The important thing to note is that you want a solid cabinet for your granite and thin cabinet carcasses will not be ideal as well as press wood cabinet carcasses.
Flooring in Your Kitchen
Tile flooring is ideal for any kitchen. You can hire someone to install your tile flooring pretty inexpensively but be sure to choose someone who has a solid reputation. Luxury vinyl plank is also a great option and usually much cheaper. This is the style I recommend as this is what everyone is looking for.
Appliances
Appliances are important to any kitchen and they do add to the value of your home just being new and being in place. Don't purchase anything too extravagant but do spend money here and stainless steel matching appliances will help with the value of your home and attracting buyers. People like features so definitely purchase a refrigerator with several options such as water and ice.
Bathroom Cabinets
Your bathroom cabinets or vanity cabinets should be clean and nice. This is a turn off for new home buyers who are looking at buying a home. If you want to keep the vanity it is advised to add a layer of wood inside the cabinet to make it look new and clean. No buyer wants to see water spots on the vanity bottom.
Bathroom Countertops
Don't forget to add bathroom countertops. This is also a huge value add. If you want to go even further you should remodel the entire bathroom adding a tile shower or tile surround for your bathtub. If your bathroom is nice then you can just update the countertops and cabinets if needed and increase your home value.
Bathroom Floors
If you need new floors then update them. This is huge for new home buyers. If you are looking to attract a single-family buyer then you should focus on turnkey remodeling allowing them to move in immediately after closing. This is what they want and it is your job to provide it for them.
Best Granite Countertop Colors to Resell Your Home
I like to tell people to choose a granite countertop that they could enjoy and live with. Choose something that is in style and other people like. Maybe take a friend who you know will shoot you straight while shopping for granite countertops. Also, ask your local granite countertop shop what stone is the most popular while being budget-friendly.
Here are some granite colors that I personally recommend for someone selling a home.
Valle Nevado is a very popular white granite color. It is very durable just as any granite is and offers a white, black and gray fleck style. Keep in mind that you are only going to see about 25 inches so the busy look is not all that busy. This is a great choice for anyone remodeling a home for reselling. The price is comparable to laminate countertops so always go for granite over laminate. Valle Nevado granite is especially great with light color white cabinets.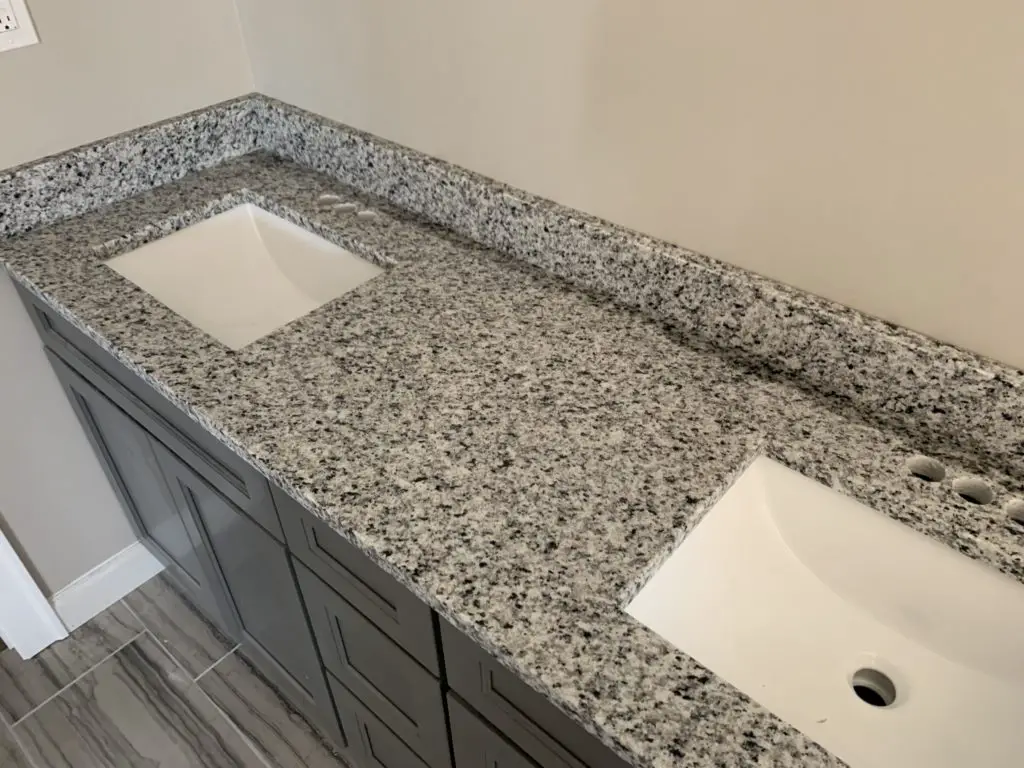 Luna Pearl is also a very popular granite color choice. It is very similar to Valle Nevado but it has a more earth tone. It is also very durable and very popular and cheap. Luna Pearl will match white cabinets, wood cabinets and just about any color cabinet you want to use.
New Caledonia Granite
New Caledonia is a great cheap granite color that will help you sell your home. It is great with gray or white cabinets and looks sharp with light blue/gray color paint on the walls. See the picture below for an example.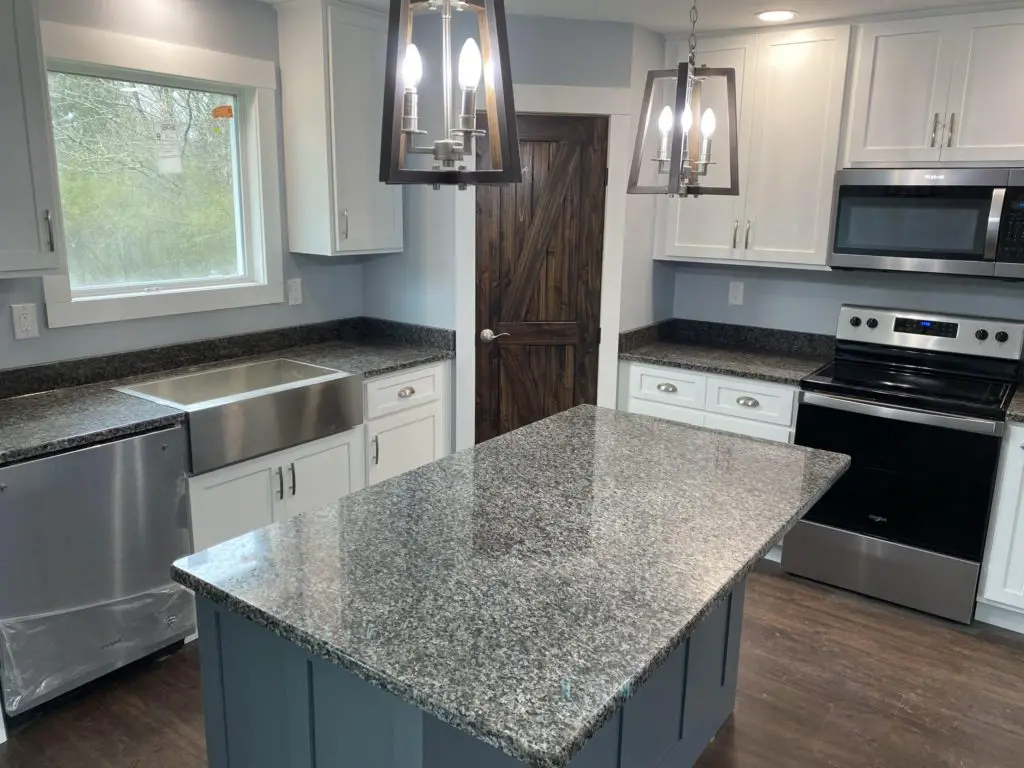 Conclusion
Granite countertops will help you increase your home's resell value and attract buyers to your home much faster. Making other improvements are also suggested to increase your chances of selling your home while also adding value to your home. I hope this article gives you some value and helps you with your research.
If you have any questions or suggestions please feel free to post them in the comments or contact us through our contact page here.