There's something truly classy about a black bathroom countertop. Black combines elegance and style with a little bit of arrogance and mystery.
It is aesthetically pleasing too. The bold, dark statement piece brings depth and substance to your bathroom's design and décor.
Of course, there's also the aspect of easy maintenance. Compared to light countertops, black ones are very easy to clean. You won't have to spend an arm and a leg on cleaning agents because the dark color does an excellent job in hiding stains and messes.
We could go on and on about the benefits of a black bathroom countertop. But you're probably strapped for time. So, how about we look at a few products that may be of interest to you.
This is just a comparison chart pitting some of the best black bathroom countertops. More on the products later, but first…
Different Countertop Materials
You may have noticed that each product is made of a different material. That's because there are well over a dozen materials that are used to make bathroom countertops.
The good news is that you're truly spoilt for choice as far as materials go. The bad news is that you have to pick just one. And it may well be your biggest decision yet, at least as far as bathroom fitting and décor.
Your countertop is going to be there for many years and will be the first item to create an impression of the entire bathroom. Besides, it will have a profound effect on the value of your home. That's why you have to get it right from the get-go. Below are the options at your disposal.
Granite Bathroom Countertops
Granite countertops are arguably the most elegant. It should come as no surprise that they are staples in luxurious residences and hotels. But they're also quite expensive, especially if you order in black.
Granite is a naturally occurring stone that is usually quarried. It comes out rather rough and textured but takes on a smooth and lovely appearance after polishing. Check out this black bathroom countertop by Eviva to see just how classy granite is.
The countertop is made of granite and comes complete with a white vanity. That black and white contrast creates a superb look for any bathroom. And probably, more importantly, the granite countertop will last for a very long time.
That's one of the benefits of granite – it's extremely durable. Additionally, it's not just resistant to stains but scratches and heat as well. If you're one to enjoy the occasional bath with scented candles, you'll be glad to know that candle wax won't damage your granite bathroom countertop.
On the downside, granite is one of the more expensive materials for bathroom countertops. And it needs some TLC too. If a heavy object falls on the corners, your granite countertop will chip off.
Also, there are so many styles of black granite. Whether that's a good or bad thing is a question for debate. But the bottom line is that ultimately you have to choose one style for your bathroom countertop. Here's a breakdown of your options:
Absolute black granite countertop
Absolute black granite looks exactly how it sounds – pitch black with undisputed elegance. It's quarried in Southern India, and many people will tell you how a black bathroom countertop with this stone is reminiscent of ancient Indian palaces.
Also known as Nero absolute granite or jet black granite, this bathroom countertop is perhaps the most popular, not just because of its immaculate look and feel, but also because it fits with pretty much any type of décor.
If you're feeling too confused about the many granite options, always pick absolute black for your bathroom vanities and fittings. You can't go wrong with this one whether your drawers are white (like in the photo above), brown or any other color.
Agatha black granite countertop
Agatha Black granite is sourced from Brazil. It features a black background with wavy veins that can either be grey or white. The dark background, coupled with slightly light waves, makes for a bold and dramatic appeal without going too overboard with the contrast.
It makes a great pick if you want to add some depth and warmth to your bathroom. You'll find that it goes very well with a greyish vanity (like in the image above). But if you want some more contrast, you can pair the countertop with either white walls or a white vanity.
Uba Tuba black granite countertop
Just like Agatha granite, the Uba Tuba Granite is sourced from Brazil. It has an exotic touch to it, which is only made better by the super fine texture.
While most of the background is completely black, Uba Tuba is usually speckled with shades of brown, gold, light blue, or white. The pattern resembles an image of the universe taken using a very powerful lens so that it captures all the red, orange and blue spots neatly tucked in the dark sky.
You'll never find two Uba Tuba slabs with the same pattern. Therefore, for consistency's sake, be sure to pick one large slab and use it for all your bathroom applications. It looks stunning with stainless steel sinks and brown/white vanities.
Nero mist black granite countertop
Nero, the Roman king, was known for his bold, audacious, and headline-making choices. Yet to this day, he's still considered one of the most mysterious rulers in history. It's safe to say that Nero mist exudes the same boldness and mystery.
While it is mostly black, this Brazilian stone has thin veins and speckles of white and grey. It's one of the most beautiful countertop materials out there, and it blends perfectly well with any color. The white cabinets, combined with a white and grey wall create the perfect contrast for the Nero mist countertop.
Black galaxy granite countertop
Black Galaxy Granite combines black with golden flecks to make for a rich and luxurious look. Quarried in South India, this granite makes any bathroom look elegant. Check out the image above.
The all-black vanity, white sink, and greyish wall create a warm environment that's not extremely dramatic. If you want to make it more dramatic you can opt for a galaxy granite countertop whose gold flecks are bigger in size.
Black pearl granite countertop
Black Pearl Granite is a favorite choice for many because of its breathtaking beauty. This dazzling countertop creates a lustrous ambiance in the bathroom, giving the entire space a warm and friendly feel.
While black pearl granite comes in a variety of finishes, the most common features a solid dark background (not absolute black) with flecks of brown or gold. It's not uncommon for the flecks to be silver, gray or even green.
The best part about using this black bathroom countertop is that it looks good with everything. But the most ideal setting includes a white or grey wall, similarly light vanity and gold-tiled floor. The "golden" floor will accentuate the gold flecks of the countertop even more.
Impala Black Granite Countertop
Though wild, an impala is known to offer pure enjoyment. It can make a 10-meter jump in one leap. Not many animals are as majestic, and needless to say, this granite was rightfully named.
Well, it doesn't leap, but it looks just as majestic. Sourced from South Africa, this countertop creates a perfect balance between dark and light. It's mostly black but has white spots all through.
It's not the most dramatic countertop because it doesn't need to be dramatic to bring out the best in your vanity. Use it with brown drawers and a black sink (as shown above) to create a warm ambiance in the bathroom.
Black Beauty Sensa Granite Countertop
You'll fall in love with this countertop, especially if you're into art. It resembles an ancient mosaic art with a black background that's blended nicely with hues of white and grey.
Yet another Indian-sourced countertop, the black beauty sense is perfect for you if you don't quite like the idea of solid colors filling a room (like absolute black). This one has breaks between black and white, which can make a very eye-catchy theme for an entire room.
For example, you can have walls with patches of black and gold or grey and a black vanity with this countertop.
Black Marinace Granite Countertop
Picture a beach with clear waters and different-colored stones; except, in this case, it's in your bathroom. And instead of rough and textured ground, it's a smooth countertop atop a brown vanity.
The charming setup exudes a dramatic ambiance thanks to the multiple colors of the black marinace countertop. You will often find it blending black, gold, grey, and white to perfection.
Quartz Bathroom Countertops
The hard yet glossy sheen of a quartz countertop says almost everything you need to know about this material. It's extremely durable, stain-resistant, crack-resistant, and eye-pleasing. But it's also expensive; actually costlier than granite.
That's all down to the production process. Quartz is an engineered material that combines 90% ground quartz and 10% polymers, resins and pigments. Quartz itself is a naturally-occurring mineral that transforms into a granite-like substance when combined with the aforementioned additives.
Needless to say, quartz countertops are as beautiful as they come, especially if they are black. Here's an example on a small, 30-inch vanity.
This is a James Martin vanity with a black quartz countertop and a glossy white finish. You can get the entire set here.
It's hard to argue with the absolute black and white combo. It does make a bathroom look more spotless and inviting. But you may also want to know that black quartz countertops come in various shades, from pitch black to greyish black and a ton of colors in-between.
Contrary to granite countertops, the colors of quartz are not the most important considerations. Instead, you should be looking at the brand first and then the color second. Below are the top 9 quartz brands from which to choose your black bathroom countertop.
Silestone Quartz
The Silestone brand takes its name from Silestone natural quartz. It's quite fitting because they do make outstanding bathroom countertops. Here's one that comes in an iconic black color.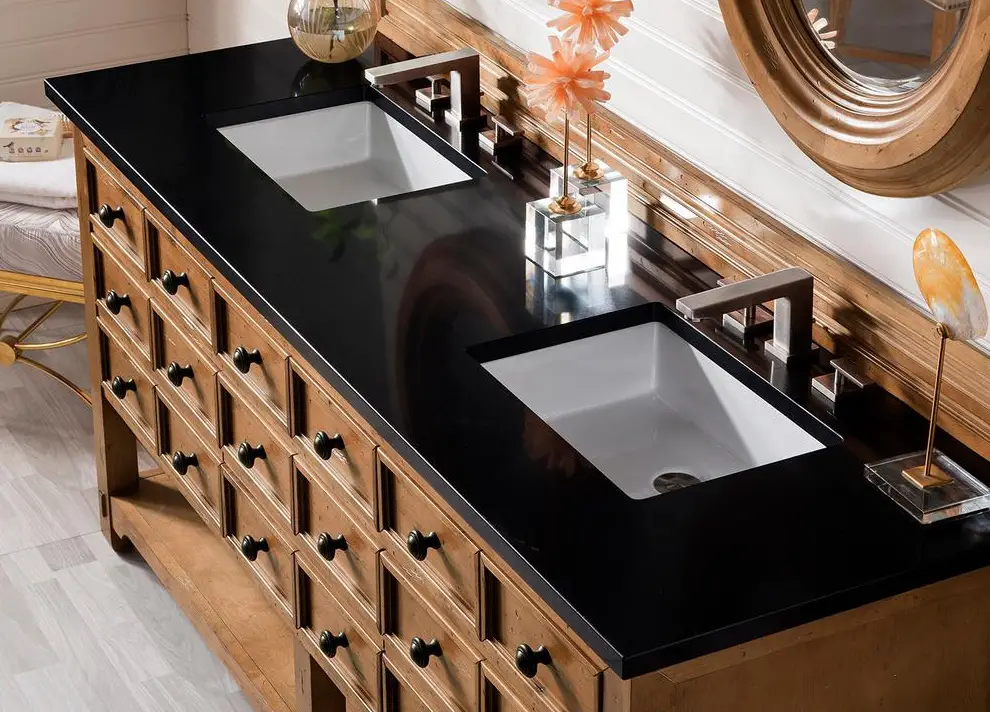 The countertop combines everything that's good about quartz: a bold black color, extreme durability, scratch resistance, acid resistance, stain resistance and so much more.
You may have noticed just how well it blends with a brown vanity and white sinks. That's a perfect color combination, but you can also try the countertop with black sinks in case you want to limit the variety of colors in your bathroom.
HanStone Quartz
HanStone quartz is made in North America. A countertop with this material is up to 6 times more durable than granite. Besides, it's non-porous and doesn't require any sealing. It is resistant to stains, bacteria, and heat.
In other words, you won't have to worry about maintenance. You can put your candles or a hot cup of coffee on the bathroom countertop without damaging it.
With maintenance concerns out of the way, your only problem would be choosing a color that can fit your bathroom décor. One that blends well with pretty much any vanity and wall color is the HanStone black coral quartz.
It's dark with tiny white spots that create a little bit of contrast. Kind of like impala black granite but with 6 times the durability!
Caesarstone Quartz
Yet another American brand, Caesarstone takes pride in partnering with the military for makeovers. The best thing about this brand is that they are always innovating and bringing new countertops to the market.
You can get a wide variety of styles, from traditional ones that look like marble to newer and contemporary ones that are bold and daring. Color options are many as well – over 40, with a good number of them being black.
One shade of black that's always worth checking out is Caesarstone jet black quartz.
It features a black surface with a few sprinkles of white, grey or brown. And yes, it looks awesome on a white, grey or brown vanity.
Cambria Quartz
The Cambria brand of quartz countertops is arguably the most exclusive. It's available in a few select stores (specialty stores). Ironically, that makes it one of the most sort after; well, because of the luxury that comes with exclusivity.
You will fall in love with a Cambria quartz countertop from the moment you lay your eyes on it. In addition to a cool, nice finish, it has a touch of boldness. That's more so if you go with a black color like Mersey Cambria (left) or Cambria Ellesmere (right).
While Cambria Ellesmere has random white or grey flecks, the pattern on Mersey Cambria is more regular. Regardless, they both look excellent on a white or grey vanity with black sinks.
Santa Margherita Quartz
This is the perfect black bathroom countertop for a high-traffic surface. In other words, if your bathroom gets a lot of action, you should definitely be looking into getting this brand. It is rugged and extremely durable, yet remains elegant even after years of service.
Although Santa Margherita is an Italian brand, its countertops are available worldwide through third-party sellers. For example, in the USA you can buy your Santa Margherita quartz from Verona Marble. You'll have tons of color options to browse through. But since we're looking at shades of black, one that may catch your eye is the Santa Margherita Caledonia.
Viatera Quartz
To most people, the most interesting thing about Viatera quartz is that it's a product of LG. Yes, LG, the electronics company. That largely overshadows the fact that Viatera Quartz is actually a very nice-looking and durable material. It's made in Italy and comes in a variety of colors, including charcoal mist.
This color is loved, especially on a black bathroom countertop, because of how it mixes black and grey. From a distance, you would think that it's textured, but in truth, it's just as smooth as all the other Viatera quartz options. If you want something darker you can look at their Absolute Night countertop.
Okite Quartz
Okite is yet another brand of high-end, luxury countertops that are exclusively found in select stores. They are manufactured in Italy before being transported to the USA for stocking.
And you'll only see an Okite quartz slab on a high-end vanity or table. That's how exclusive these countertops are. Quality is guaranteed to thanks to the 93% quartz crystals used.
One other thing that's likable about this brand is that it has over 40 vibrant colors to choose from. A good number of them are dark and make excellent picks for your black bathroom countertop. The one below is the 8064 Nero Di Ormea.
Its streaks of white create some warmth amidst the dramatic black background. Just in case you prefer an absolutely black surface you can take a look at the 1114 Nero Assoluto.
Corian Quartz
Corian Quartz was originally known as Zodiaq before rebranding to the current name. It's actually a brand of DuPont, the giant chemical manufacturing company. If you know anything about DuPont, then you know that they are all about quality.
Their countertops are not any different. Designed for residential as well as commercial use, Corian quartz surfaces add elegance and class to any bathroom.
If you have a white vanity you can pair it with a black Corian quartz countertop to create a dramatic ambiance. Alternatively, you can go with brown and black like in the image below.
That's a perfect combination if you're not into the sharp contrast created by a black bathroom countertop on a white vanity or wall. The countertop shown in the image is called black quasar.
MSI Quartz
Best known for its line of Q Premium Natural Quartz, MSI's history goes all the way back to 1975 when the company was founded. With the rich history comes a rich line of products that have been time-tested. Each countertop from this company looks superb in any bathroom.
They have options too. You can choose to have a textured surface or a completely smooth one. You can pick a light or black bathroom countertop. We're more interested in the latter, and you'll be happy to know that they do have a more-than-decent collection of black and dark countertops that are all backed by a lifetime warranty.
The countertop you're seeing above is called a Sparkling Black Quartz. It's a rich black color with very slight hues of white. When a countertop is this dark it always goes well with a white, grey or brown vanity.
Wood Bathroom Countertops
There's no countertop material that draws heated debates more than wood. On the one hand, it's a durable, affordable, eco-friendly material that's inherently antibacterial.
Besides, wooden surfaces are very easy to fix. If your countertop gets damaged, you can simply sand away the dents and marks, paint it over and the whole thing will be smooth as new.
On the other hand, it requires lots of TLC as far as maintenance. Wood is not resistant to scratches, burns, and water. If left unsealed, you'll always have to worry about cup-marks and puddles of water.
You basically have to clean the surface ASAP whenever a fluid spills on it. And no placing anything hot on the countertop either. So forget about placing your scented candles or a hot cup of coffee directly on the wooden countertop. Of course, you can always use a candle holder or coaster/saucer to avoid damaging the surface.
Regardless, the big question remains, do the benefits of a wooden countertop outweigh the cons? There's no simple (yes or no) answer to the question because it largely depends on the conditions in your bathroom.
If it's always moist then any wood that's put in there is likely to start rotting after some time. In which case you can either seal the countertop with Waterlox or polyurethane or simply avoid wood altogether.
That would be a shame because a black bathroom countertop that's made of wood creates a truly marvelous sight. Here's one example.
Butcher Block or Ordinary Wood?
Excellent question! If your bathroom gets lots of traffic you may want to go with a butcher block countertop. It's basically a slab that's made by bonding several strips of wood together using a specialized glue (like Gorilla Glue). The resultant surface is extraordinarily tough; so tough that only butcher block countertops are usually used for chopping and slicing.
On the downside, a butcher block countertop will cost you quite some amount. It's not as expensive as quartz or granite but its significantly costlier than some materials like laminate. For example, a slab made of maple will set you back anywhere from $35 to $38 per square foot. But it will be worth every dime, especially if you put a nice, black finish to it.
The black and white combo is always an eye-pleaser. You'll get an equally nice looking setup if you go with a grey vanity.
In case you're not fully sold on a butcher block you can still use ordinary wood for your black bathroom countertop. The cost of wood is not so different from that of a butcher block, but it varies wildly depending on the type of wood.
Speaking of which, below are the best wood types for a bathroom countertop (including their prices).
Teak
Native to Mexico's Pacific Coast, teak is a tropical hardwood that combines aesthetic appeal with sturdiness and durability. It's naturally resistant to termites and insects; just in case you get such unwelcome visitors in your bathroom.
Besides, this wood is resistant to rot, decay and moisture. The part about moisture resistance is very important because any typical bathroom countertop gets frequent spills.
Teak is brown by nature. While that's a rich and warm color, you'll find that black brings a touch of elegance into the bathroom. Better yet, if you're building an entire vanity, you can leave some parts to be brown and then paint the countertop (and sink) black.
Maple
Maple is one of the cheapest types of wood, which is surprising because it's also one of the best. For starters, it is resistant to abrasion and lasts for a very long time, especially if you use hard maple.
Make sure that the maple slab you choose has a straight grain. That will offer the most beautiful countertop. It will come in a light brown color, which is the natural color of maple.
But you can turn it into black using slow-drying enamel paint. Below is an example of an already painted maple slab (butcher block).
Oak
If you're looking for a wood that's not as hard as maple but just as elegant and durable, you may want to turn your attention to oak. It has a rich red hue, which is nice, but black just about edges red for a bathroom countertop.
It's worth mentioning that a countertop made of oak makes a good working surface, whether in the kitchen or bathroom. That goes to show just how durable this wood is. And it's easy of the eye too, particularly if you combine your black oak countertop with a light-colored vanity.
Walnut
The dark hue of black walnut can turn any bathroom into a masterpiece. But keep in mind that this wood falls in the middle range when it comes to durability. It won't last as long as maple or oak but it will give you durable service nonetheless.
Something else to note is that the color of walnut wood can vary from cream (sapwood) to black (heartwood) or anything in between those two. Of course, if you go with black walnut, like the one below, you won't have a lot of painting to do.
Wenge
Wenge is native to Africa. A naturally black (or dark brown) wood, it is loved mainly because of its straight grain and rich hue. And it's durable too.
On the downside, Wenge is one of those high-end types of wood. One square foot will set you back up to $76. The good news is that it's an impressively sturdy wood that won't bend out of shape even with flat or face grain construction.
Mahogany
Mahogany is among the most valued types of wood because of its durability. Although it's a very strong wood, mahogany can be carved with intricate details and patterns, which makes it the perfect wood for your bathroom countertop if you want it to have some markings, art, words or unique style.
You may want to know that solid lumber from mahogany growing increasingly difficult to find, not to mention extremely expensive. For that reason, most of what's available is a composite material that features a cheaper and more available wood covered with a layer of mahogany.
The resultant material boasts all the good features of mahogany, from rich and beautiful color to an almost irresistible grain.
Cherry
The fine, straight grain of cherry wood, combined with its smooth texture and rich red hue, makes it one of the most popular woods in America. Although it's typically used in construction, cherry pulls an equally excellent finish when used to make furniture. That's why it makes a great pick for a black bathroom countertop.
The reddish color of cherry usually deepens over time. But why wait when you can just paint it black (or blackish)?
It doesn't look absolutely black. However, the brown-black finish makes it look arguably better than it would if it was completely black. Be sure to place the slab with its end grain facing up. That's when the cherry is at its strongest.
Bamboo
Bamboo is, in fact, a grass; an expensive type of grass. One square foot of bamboo wood will cost you as much as $85. But you will absolutely love how it looks as a countertop. And it's eco-friendly too; actually the most environmentally friendly wood out there because bamboo is the most rapidly renewing plant that's used for wood.
Just as important is the fact that it gives lots of options. You can choose a whole grain bamboo slab, a parquet design or any other style in between those two. Bamboo has a naturally rich caramel color which can be very warm and inviting. But for a bathroom countertop, you probably want to give it a touch of black.
Beech
Not many types of wood are as heavy, strong and hard as beech. In fact, before chainsaws became the go-to tools for lumbering, people generally stayed away from beech trees because they were too tough and heavy.
Today, those two qualities make it one of the most popular woods for countertops. With a naturally smooth finish, beech is easy to polish and paint over. If you want it in black you'll have to do some painting because it's usually light in color.
Reclaimed Wood
This is not exactly a tree species but rather any wood that's retrieved from its original application and reused to make a bathroom countertop. It can be any type of wood: oak, maple, mahogany, beech, bamboo; you name it. Most redeemed wood comes from pieces of wood that were originally used as a building material in homes, barns and such kinds of structures. If not reclaimed, these pieces usually end up in waste streams, blocking drainages and making the environment look untidy. That's to say, by using redeemed wood you would be doing the environment a good service. In return, you get an elegant and rustic piece for your countertop.
Most of the time you'll find that reclaimed wood comes with a few dents and cracks here and there. Prep it, sand it to create a finer surface and then paint it black to hide whatever stains and marks may be present. And that's how you get an elegant black bathroom countertop for the budget.
Glass Bathroom Countertops
Nothing says "you're now entering a luxury bathroom" quite like a glass countertop. It's the epitome of elegance, and not just because of the immaculate ambiance that glass brings, but also because it's one of the most exclusive materials for a countertop.
Surprisingly, glass is not as expensive as you might think. It's actually comparable to wood and all the other countertop materials. The cost per square foot ranges from $75 all through $105. The exact amount depends on the type of glass and whether it has undergone any processing.
Speaking of processing, the black color in black glass is usually added during processing. It involves the addition of metal oxides (copper, iron and cobalt oxides). So if you want a black bathroom countertop that's made of glass, you'll have to order the entire glass in black.
You can paint your colorless glass black using acrylic enamel paints or other specially formulated paints for glass, but the final finish won't be all that nice. And that might affect the overall look of your bathroom vanity. The best thing is buying glass that has black color processed into it. Here's one example of an equally black vanity.
You can get this entire setup (including the black glass countertop) here. The countertop is actually three pieces of glass put together. Notice how the light-colored floor, walls, and sinks create a dramatic and elegant contrast in the room. That's the type of décor that suggests sophisticated living.
Is The High Cost of a Glass Countertop Worth It?
A glass countertop in the bathroom offers much more than just aesthetic pleasure. It's resistant to scratching, mold, heat, moisture, and stains. You don't even need to seal it. For that reason, glass countertops are arguably the easiest to maintain. Simply wipe the entire surface with a piece of cloth and it will be clean as a whistle.
Additionally, if you're getting a custom made countertop you can tell the manufacturer to personalize it however you want. That will leave you with a unique black bathroom countertop.
The downside of glass is that it's not indestructible. Certain corrosive substances like strong acids may etch the surface and cause it to crack or scratch. The same goes for high pressure. It causes the glass to chip and crack or break. In addition to that, watermarks and fingerprints are easily noticeable on a glass countertop.
So, do the pros outweigh the cons? Absolutely! Unless you're planning to smash the countertop with a hammer and set it on fire frequently, your only worry will be wiping it once or twice per day. It will serve you well over two decades. Just make sure you choose the right material for your glass bathroom countertop.
Common Materials for Glass Countertops
Glass countertops combine 85-95% glass with cement or a polymer resin for binding the glass together. The resultant product is a solid and dense material that can withstand the test of time and ruggedness. Color is added during the manufacturing process, usually by placing the glass on top of a substrate of the desired color.
Black is always a good choice because; one, it makes decorating easy and two, someone can't see through. Once you're sold on the color, you'll have to decide the material you most prefer. Below are your options:
Slumped glass
This process involves loading pieces of glass into a mold and heating it so that they (pieces) bond. The best thing about slumping glass is that it creates countertops of all types and kinds, from smooth to textured and so on.
Note that you can take your own pieces of glass to the manufacturer and they'll use those pieces to make your countertop. That's an excellent way to recycle used glass.
Float glass
In this case, glass is heated to a molten state and then the resulting liquid is poured into forms which then shapes it into glass sheets. Color may be added and, in some cases, the sheet of glass may be sealed before it hardens. The end product looks like this.
With such a rich black hue, you can play with other colors to get the perfect combination for your bathroom vanity. A black countertop on a white or grey vanity is always an eye teaser, but combining the black countertop with a brown vanity won't disappoint either.
Kiln formed glass
Kiln glass is formed by heating a glass panel until it's soft and malleable. It's then placed on a textured mold so that the glass picks up the texture of that mold.
This method is ideal for making textured glass countertops. You can use a mold of any pattern or style.
That's pretty much all you need to know about the various types of glass that can be used for a bathroom countertop. However, choosing the right type for you doesn't necessarily guarantee the best result. You also have to look at the grade.
Countertop glass is graded based on strength. Given the option, everyone would probably go for the strongest bathroom countertop glass. Unfortunately, you may find that some factors like budgetary restrictions force you to settle for the not-so-strong type of glass. That's still okay because it will serve you just as well if you don't subject it to excessive pressure. With that said, here are the three ways of grading countertop glass:
Non-tempered glass – has not been put through strength-enhancing treatment. It's also known as untempered or standard glass. The main problem with this type of countertop is that it can break easily. And when it does, it breaks into large shards of irregular pieces.
Annealed glass – has chemicals added to reduce hardness and increase ductility. The glass is then slowly cooled to relieve internal stresses. This is a fairly strong type of glass. However, just like non-tempered glass, it can easily break into large, injury-causing shards.
Tempered glass – undoubtedly the best grade for a countertop. This is glass that has been put through heat treatment to increase strength. It is 4 to 5 times stronger than standard glass. While it may cost you more, tempered glass will bring durability and style to the table.
Resin Bathroom Countertops
Some people call them epoxy resin, others call them epoxy. Those of us who like to simplify things call them resin countertops. However you choose to call them, these countertops offer creative ways to decorate a bathroom without breaking the bank.
Here's the catch: you can't buy a pre-made resin countertop the same way you would walk into a store and get a granite, quartz or glass countertop. It has to be installed on-site; i.e. in your bathroom.
Why? Because the epoxy resin is a type of laminate material that overlays an already-existing surface. For example, your current bathroom countertop may be a material that you're not entirely impressed with, say a badly aged wood.
Rather than replacing the entire vanity, you can simply spruce it up with a new layer of epoxy resin. The best part is that resin can overlay most other countertop material, from concrete to wood, metal, ceramic, Formica and so on. Very rarely is it used on granite and quartz or granite countertops.
The other likable thing about resin is that it looks good no matter the material used to make the vanity. Check out this average-sized unit that features a black resin countertop.
The greyish cabinets are made of 100% MFC, which makes the entire vanity not just pleasing to the eye, but durable as well. You can get your hands on it by visiting this link.
How Do You Apply Epoxy Resin?
It's very easy to create a black DIY countertop with epoxy resin. The process is a bit messy but the results are more than fantastic.
Below is a step-by-step procedure for doing it:
Purchase epoxy resin and a hardener. The two are used together and usually come in liquid form. Once applied on a surface, they harden to form an overlay layer.
Thoroughly clean the countertop surface. If you're applying a resin countertop, then it means that your bathroom vanity already has a surface. Whether it's made of concrete, stainless steel, Formica, wood, laminate or any other material, make sure it is properly cleaned before application. While at it, protect all the cabinets and floors with plastic sheets.
Mix the resin and hardener in a 1:1 ratio then start applying. The best practice is applying a very thin layer for a start so that bubbles don't form within the overlay. If some bubbles form anyway, use a blow dryer or torch to remove them. You'll have just about 20 minutes to do that before the resin dries and hardens.
Add another layer. Once the first layer has hardened, you can add another one on top of it. Two layers are enough. Within 24 hours, they will both be dry and sparkly good.
One big advantage of epoxy resin is that you're spoilt for choice as far as color options. You can create a black bathroom countertop with an absolute black background and white spots like this one…
…or choose a galaxy black color combo like this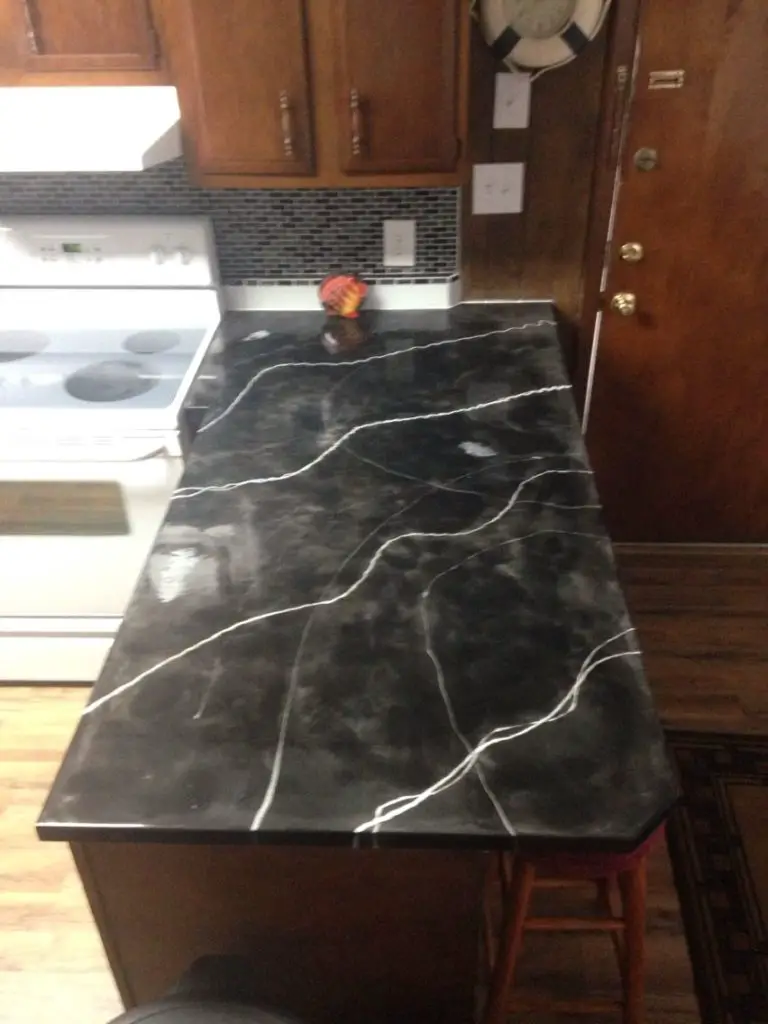 In case you're feeling creative you can play around with color combinations.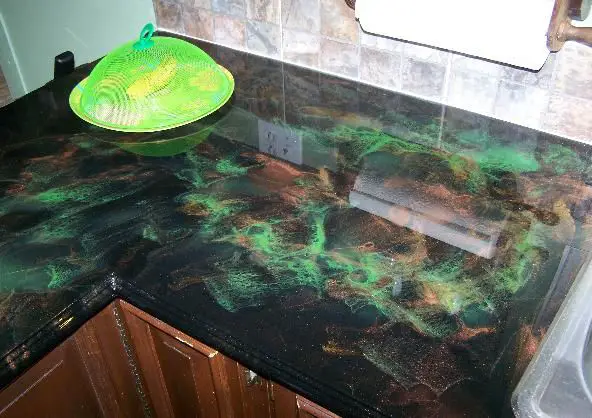 Your only limit is your imagination.