When choosing the best kitchen sink material you have to decide what you like above all. This is important. Take a look at several kitchen sink materials and rule what you don't want out.
I say this to everyone who asks me what the best kitchen sink material is. They all get the same answer. I do however realize that there are sinks made from materials that don't scratch easily or stain easily. This is important to consider too.
In this article, you will get a crash course on sink materials and our top pick for each kitchen sink material available. Are you ready to be educated?
Best Kitchen Sink Material
The truth is that any of the popular materials are great and could be the best for you and your home. Some sinks could be used in an area that isn't heavily used so that you can get that stylish sink you want and protect it.
First decide the type of sink you want. Undermount sink or Drop-in sink?
Stainless Steel Sinks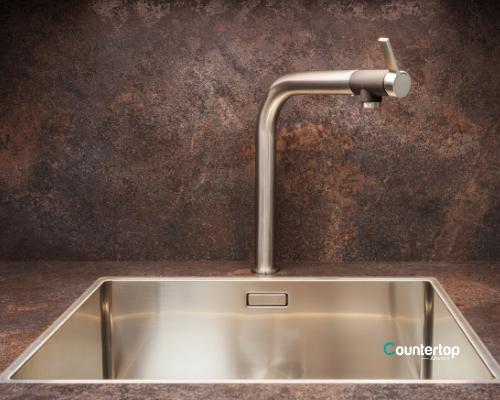 Stainless steel is a great choice and the most popular choice. With the addition of stainless steel appliances, your kitchen design will be magazine-worthy.
Stainless steel sinks are easy to clean and very durable. They will last for a very long time.
Stainless steel sinks do have some drawbacks. They can be quite noisy and do have the potential to stain. Be sure to use a premium grade T304 stainless steel sink to prevent corrosion and heat damage.
They also can easily scratch with pots, pans, or any other hard metals so it is important to keep that in mind when looking for a stainless steel sink. Go for the thicker material 16 gage sinks.
| | |
| --- | --- |
| Cost | $50 to $300 or more. |
| Durability | 7 out of 10 |
Sale
Kraus KHU100-32 Standart PRO 16 Gauge Undermount Single Bowl Stainless Steel Kitchen Sink, 32 Inch
Made of stainless steel | Corrosion and rust-resistant, will not fade over time | Set includes Sink, Drain Assembly with Strainer, Protective Bottom Grid & Kitchen Towel
Product dimensions | Overall – 32" L x 19" W x 10" D | Min cabinet size – 36" | Bowl – 10" D x 30" L x 17" W
A best-selling stainless steel sink paired with a commercial kitchen faucet for an in-demand high-end look
Fireclay Sinks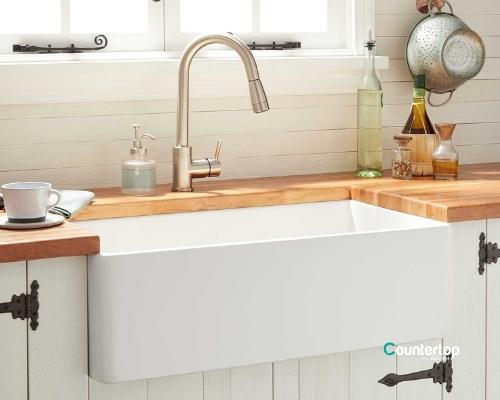 Fireclay sinks are made from clay that is heated and formed at extremely high temperatures. They are very durable, heat resistant, and offer a stylish look for any kitchen.
They can be pretty expensive. I have seen many brands with some decently priced in the $1,000 range but they are worth the investment if you want a style that really makes your kitchen say wow.
If you go with a fire clay sink then be sure to have your cabinet company cut the face frame of your cabinets and build a solid foundation in your sink base cabinet as these sinks are quite heavy.
| | |
| --- | --- |
| Cost | $1,000 or more |
| Durability | 10 of 10 |
Ruvati 33 x 20 inch Fireclay Reversible Farmhouse Apron-Front Kitchen Sink Single Bowl - White - RVL2300WH
Made in ITALY - each sink is meticulously handcrafted by skilled Italian artisans. Constructed of true fireclay - a special white clay that is fired at 2900 degree Fahrenheit for extreme strength and durability. Enamel sink surface is fused to the solid fireclay in a proprietary process making the surface completely resistant to chips, abrasion or scratches.
Resistant to high temperatures, hot water, acids and common household chemicals.Reversible: One side is smooth and flat, and the other side has a decorative fluted design, so you can decide how you want to install based on your preference. Large bowl design: 33-inch wide and 20-inch front-to-back gives you plenty of usable space. Extra Deep Bowl: 9 inch internal bowl depth gives ample space for all your dishes and large pots and pans.
Includes stainless steel protective bottom rinse grid and basket strainer drain assembly. Standard 3.5" drain opening will fit any garbage disposal unit (Due to the 1" thick fireclay bottom, you may need extended flange for your disposal)
Granite Composite Sinks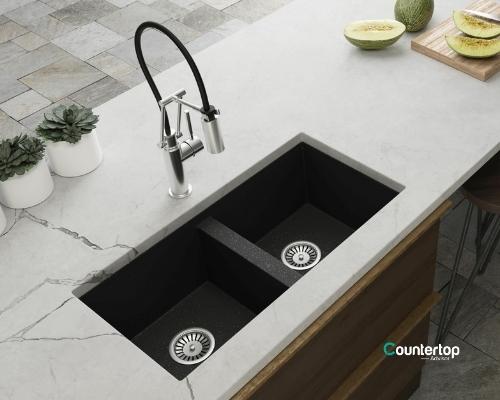 Granite composite sinks have really blown up over the last few years. They are very stylish from modern to even farmhouse style.
This sink material is great because it is very durable and almost 100% stainproof. This sink lives up to its name. It is made of quartz and resin so one drawback is that it can only withstand a certain temperature range. Be sure to check with your sink manufacturer to know your limits.
| | |
| --- | --- |
| Cost | $100 to $600 |
| Durability | 7 of 10 |
Sale
KRAUS Bellucci Workstation 30-inch Undermount Granite Composite Single Bowl Kitchen Sink in Metallic Black with Accessories, KGUW2-30MBL
WORKSTATION SINK: Integrated ledge allows you to work directly over the sink, with custom accessories that save space on the kitchen counter, streamlining everything from meal-prep to cleanup – KIT INCLUDES: Workstation sink, heavy-duty cutting board, roll-up dish drying rack, drain assembly with strainer, mounting hardware – OUTER SINK DIMENSIONS: 29 in. L x 19 in. W x 10 in. D – BOWL DIMENSIONS: 27 in. L x 16 in. W x 9 3/8 in. D – Minimum Cabinet Size: 33 in.
KRAUS CLEAN HOME PRODUCT: Cutting-edge granite sink contains a hard, smooth, compact and non-porous surface, reducing places for waste particles to hide and contributing to a cleaner kitchen – LOOK OF REAL STONE with maximum resistance to impact and thermal shock – NON-POROUS material helps prevent food and liquid from sticking to sink surface – EASY TO CLEAN with soap and water – HEAT SAFE up to 650°F: Stands up to chipping, hot plates, and cookware – VIVID COLOR embedded throughout the material runs all the way through for a rich visual experience
SPACIOUS SINGLE BOWL: High-capacity sink with rear off-set drain creates an uninterrupted surface for large cookware and stacks of dishes, increases storage space underneath the sink – UNDERMOUNT DESIGN creates a seamless transition from countertop to sink so you can wipe spills directly into the sink, with no exposed mounting rim to trap food particles – PERFECT DRAINAGE with rear offset drain and gently sloped sink bottom that help prevent water from pooling in the sink – Optimized slope helps fragile glassware from tipping
Composite Vs Stainless Steel
I have been getting a lot of emails lately asking me to choose between composite or stainless steel. Here are my thoughts on the two materials.
They are both great materials. If I were to be forced to choose one over the other I would probably go with a composite sink because they look better with granite, marble, and quartz countertops for my own personal style.
That doesn't mean I would totally discount a stainless steel sink. My household isn't very busy and my sinks are used much less. If I needed durability over everything I would choose a stainless steel sink no questions asked.
Are Composite Sinks Better Than Stainless Steel
I have torn out a bunch of kitchen sinks and the one that stands out to me as being the best looking after years of abuse are the granite composite sinks. Kraus makes a great sink so click the product link above and check out their other sink options.
Next in line are stainless steel sinks. They may get a beating but they won't break, chip, or crack. That says a lot about a sink. Obviously metal doesn't break in these ways (normally) but the point here is if you want long-lasting then I recommend stainless steel.
Stainless steel sinks are bad about looking dirty as time progresses. That is another reason I prefer the granite composite sink vs stainless steel.
Are Stainless Steel Sinks Out Of Style
No way! Stainless steel will likely never go out of style. It is too readily available and the most popular sink choice in the world.
If you are worried about it not being in style then know this. A sink can be replaced for something new at any time in the future. They aren't permanent and you can often transform a kitchen just by replacing a sink. It is the most cost-effective transformation too.
It is best to go with standard sink sizing and cut out options so that you will have better luck in the future finding another sink for the hole in your stone countertops.
Conclusion
By now you have seen my top three recommendations for the best kitchen sink materials. Check out the products linked under each sink to explore even more options and styles. Your sink is the heart of your kitchen. Don't stress too much on durability over the design as a design can be replaced later. Go with your best judgement on the best kitchen sink material for your home and style. If you want to see even more sinks I have tested out then check out my best kitchen sinks and best bathroom sinks articles here.