Granite is one of the best materials for kitchen countertops. It's durable, easy to clean, and can withstand heat. You also have many colors and finishes to choose from—matte to glossy, white to black, and even speckled or streaked patterns that mimic the look of marble at a much more affordable price.
Granite countertops also work well with different interior design styles and can be combined with other materials. Here are some ideas for granite countertops in your kitchen. You'll see how it fits into every aesthetic—rustic, modern, eclectic, minimalist—and every design budget, too. Find inspiration now!
1. The Rustic Look
Image Source: Home Design Lover
The speckled finish of this granite countertop picks up on the browns and whites from the cabinets and walls. This can help create a unified look without being too matchy-matchy. Try using a similar pattern with a country-style kitchen, since the mimics the look of "distressed" or weathered wood.
Another interesting design detail that's worth picking up: the custom cut at the end of the counter, where you can drop kitchen scraps and other trash into a garbage can that's tucked in one of the cabinets. That's definitely a time-saver!
2. Black and White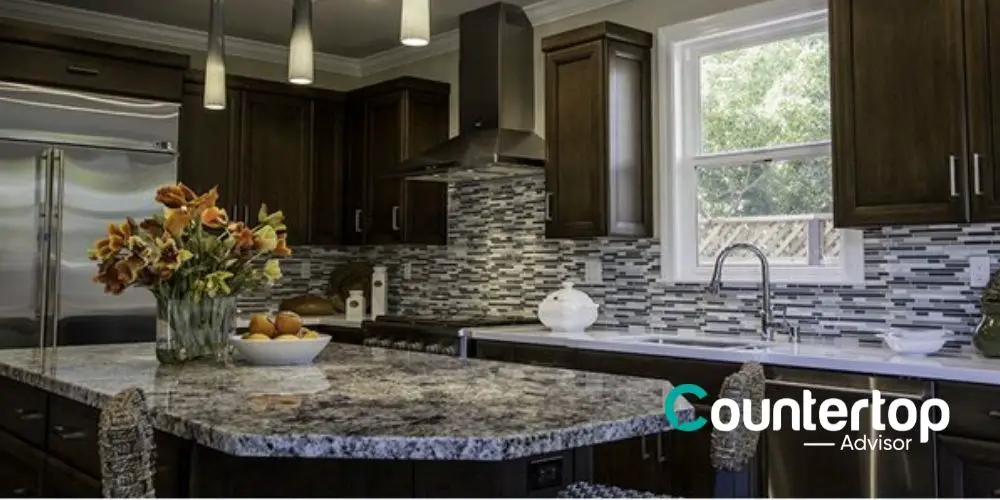 Image Source: Home Design Lover
The blue granite countertop matches perfectly with the tiled backsplash. The black and white pattern breaks the monotony of the dark cabinets while keeping with the modern monochromatic aesthetic.
But this kitchen doesn't only look good, it's actually incredibly easy to maintain—with the granite and tile, all you need to do to clean up is to wipe the surface with the damp cloth.
3. Navy Blue Kitchen White Countertops
Image Source: Houzz
This kitchen has the charm of a cozy beach home, from the wicker chairs to the navy blue cabinets. The white granite countertop is cut to look like white wood planks. By picking such a simple finish, it complements rather than competes with other details like the gold fixtures and the wall tiles.
 4. Wall with a View
Image Source: Houzz
The granite countertop, built into the wall that divides the kitchen and the living room, creates an interesting focal point and a functional space to serve food and drinks. The cabinets can store glasses and small plates, and even has a small built-in chiller for drinks.
5. Time to shine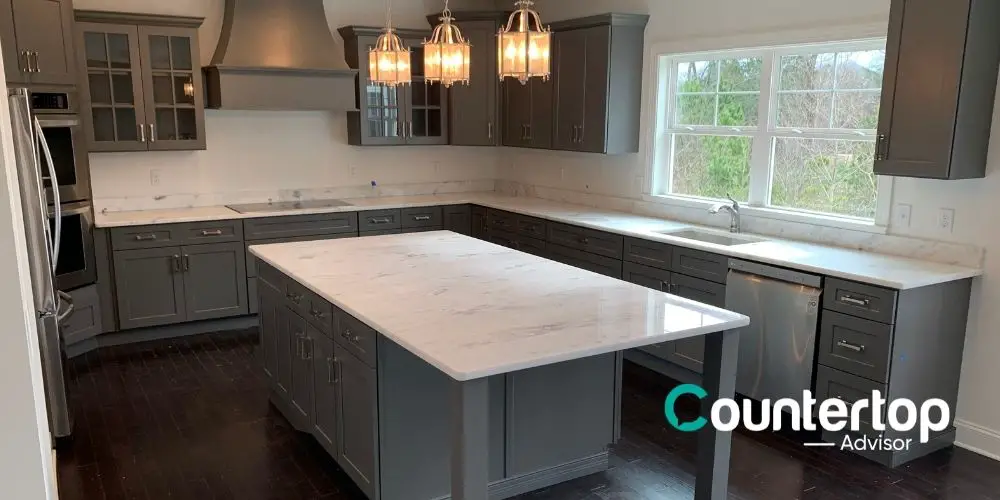 Image Source: Countertop Advisor
Granite can be polished to achieve a very shiny and reflective surface. Aside from being very eyecatching—especially if you pick a unique color or vein pattern such as the one shown in the image above—it can even make a kitchen look bigger.
To maximize the beauty of polished granite, hanging lamps above it, so it can catch the light and make even your small space look welcoming and warm.
I personally installed this kitchen in Chattanooga, TN.
6. White On White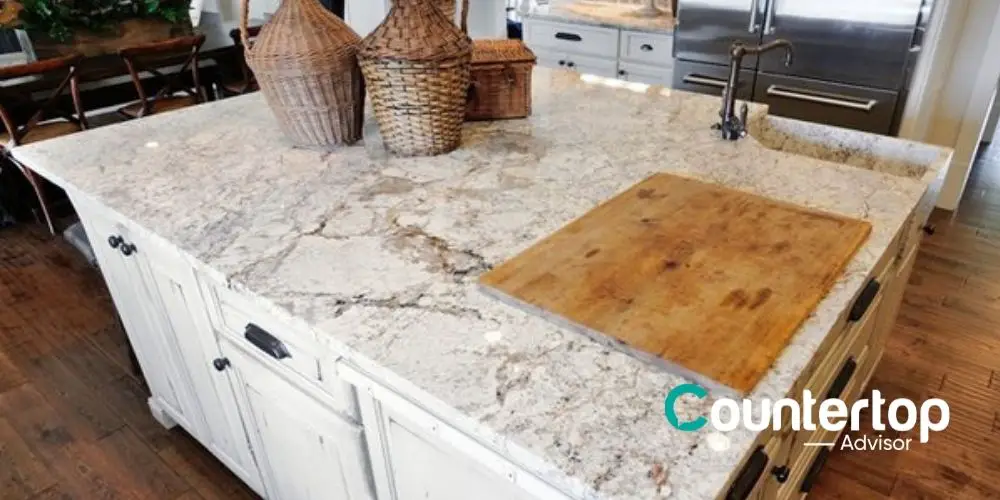 Image Source: Home Design Lover
If you're working with a shared dining and kitchen, to maximize every square inch of space—steal this brilliant kitchen countertop idea. Not only does the island have plenty of hidden cabinet space for pans and other tools, it even has a small sink.
We like the fresh color combination of white spring granite and white wood, which perfectly complements the wooden floors and goes well with the rest of the home interiors.
See more white granite countertops here.
7. Apron Sink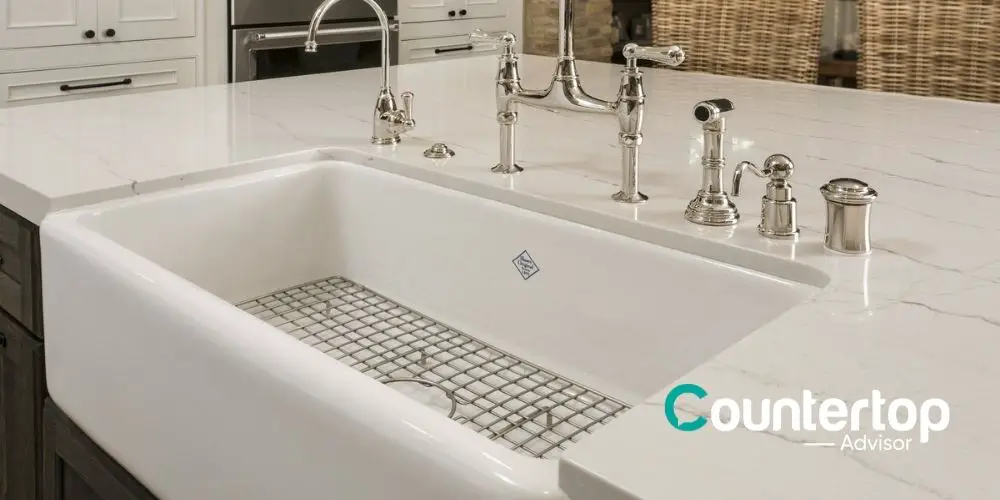 Image Source: Annie & Oak
Apron-style sinks also known as farmhouse sinks have become extremely popular and offer a great design with the convenience of a larger sink.
There are a ton of apron sink options available.
8. Make A Statement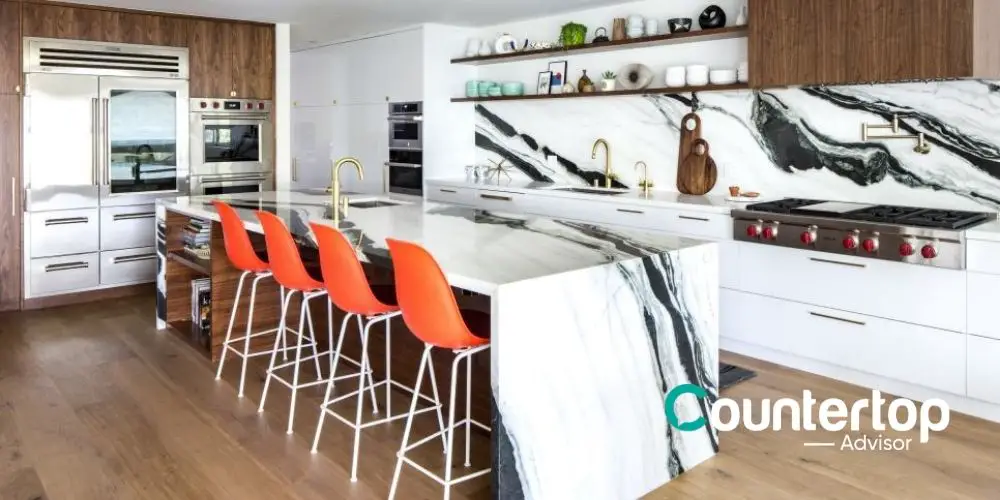 The countertop acts as a focal point, because of its interesting patterns that mimic the look of weathered rock. It was used for both the counters and as a single backsplash for the oven—tying the room together while creating a "statement" wall that is as beautiful as it is practical.
9. Starry Night
Image Source: Cosentino
The patterns of this black galaxy granite countertop look like stars in the Milky Way—especially when it's polished to create a highly reflective surface.
We also like how it was paired several sources of lighting, from hanging lamps to the pin lights, hanging lamps, and the lights at the sides of the cabinets. This creates a soft and ethereal effect and makes this small kitchen nook feel very inviting and intimate.
10. Subtle Drama
Image Source: Home Design Lovers
Even if you prefer a minimalist design, such as this modern white kitchen—you can still add plenty of flair and fashion. For example, the ceiling and wall medallions add visual texture without breaking the sweep of white and sense of space. Meanwhile, the gray-and-white countertop with a matching backsplash adds contrast and depth.
11. Built for "U"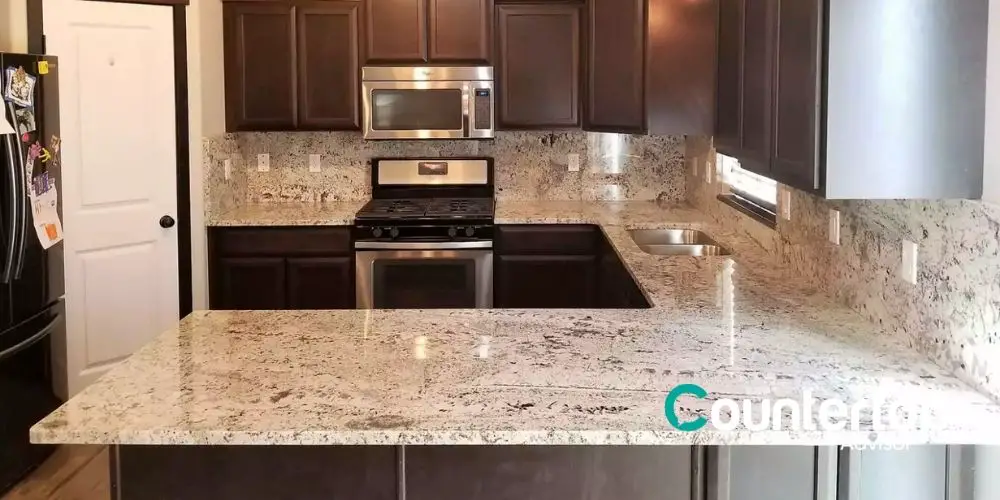 Image Source: Spruce
This is a brilliant way of maximizing a small kitchen space and simplifying your prep work. Everything is just a few steps away, and you have plenty of cabinets for spices and tools. One of the most efficient kitchen designs we've seen—and the granite countertops guarantee easy cleaning, too!
12. Curve Appeal
Image Source: Rio
You can custom-design your granite countertop to have unique shapes and edges, such as this kitchen island. We also like how the Bordeaux granite pattern adds texture and visual interest. Who said cream granite was boring?
13. Extra-long Counters
Image Source: Houzz
The granite kitchen island has a built-in stove, built-in counters, and even a built-in table. It's the perfect space-saver for small kitchens, or for kitchens with a thin but long dimension. The granite pattern, which has touches of gold and dark brown, works perfectly with the warm brown floors and light fixtures.
14. Understated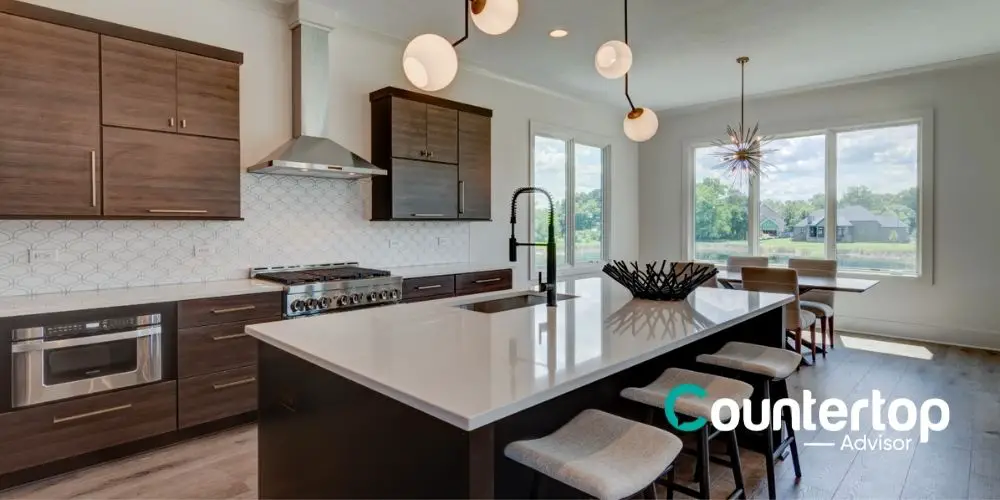 Image Source: Houzz
The white granite is used both on the counter and the kitchen island. The stark contrast between the dark wood goes well with the modern lines of the kitchen and all its accessories—from the sculptural lamps to the simple bar stools.
The result is an understated but still unforgettable kitchen design. While it's intentionally kept simple and bare, all the pieces seem well-curated and are a perfect example of minimalist elegance.
15. Do The Matte
Image Source: Yellow Brick House
Honed or matte granite and quartz countertops have a beautiful matte finish. They look great with contrasting colors (such as this black-and-white kitchen combination) and allow interesting design elements like cabinet carvings to stand out.
Honed granite can also mimic the look of soapstone while being more affordable and easier to clean.
16. Waterfall Edge
Image Source: MTBS
If you're willing to splurge, a waterfall edge gives a very sophisticated, high-end look to your kitchen counters. It acts as a focal point and looks more interesting than the typical hard-edge design.
There's a practical benefit, too: edges can take a lot of wear and tear, but a waterfall edge tends to be more durable and resistant to scratches and scuffing. (Although as a rule, granite is already a very durable material—this design just makes it even better!)
17. Curved Edge Countertop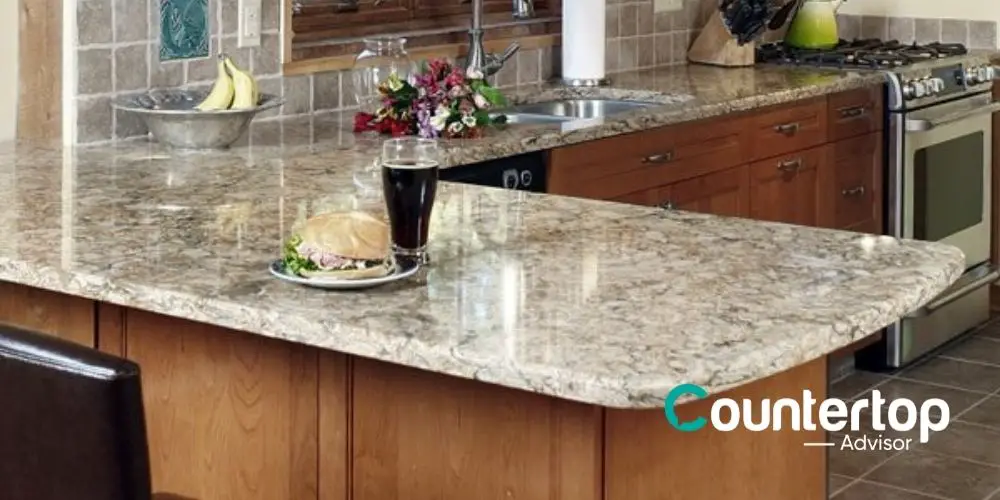 Another way to stand out—but also emphasizing safety, especially if you have young kids running around in your kitchen—is to order curved granite countertops.
It looks modern and sleek, and as you can see from this picture, works well as both a traditional countertop and a custom-made kitchen table. Best of all, you can walk around in a cramped kitchen without getting hurt from accidentally walking into a sharp corner.
18. Code Red
Image Source: The Spruce
The warm undertones of this granite slab work beautifully with the red cabinets and accent tiles in this modern kitchen. Red is a bold statement but it looks really good in this kitchen design idea.
19. Here's A Toast!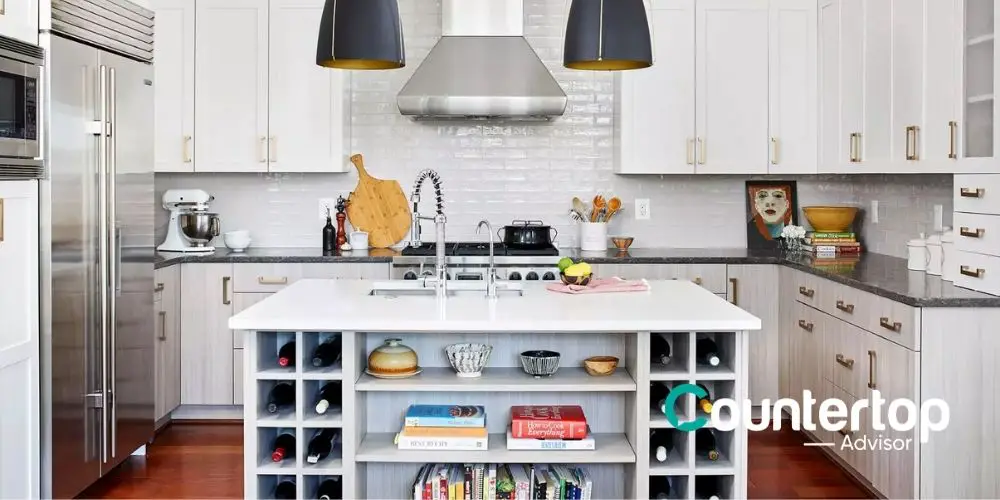 Image Source: The Spruce
This kitchen uses two types of countertops, including dark gray granite with white veins that work beautifully with the rest of the kitchen's color scheme. We love the idea of having the kitchen island designed to have both cabinets and a shelving area for cookbooks and wine bottles.
20. Eclectic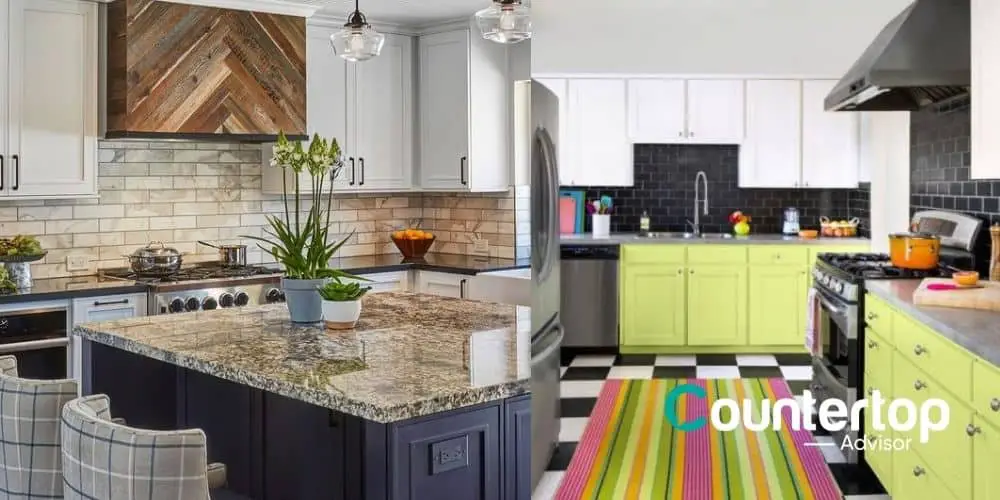 Image Source: Shelterness & HGTV
Don't be afraid to play with patterns and textures! The granite countertops work well with the plaid chairs and the tiled walls because they share the same color scheme. Even the decorated exhausted has touches of gray in the wood.
21. Beautifully Black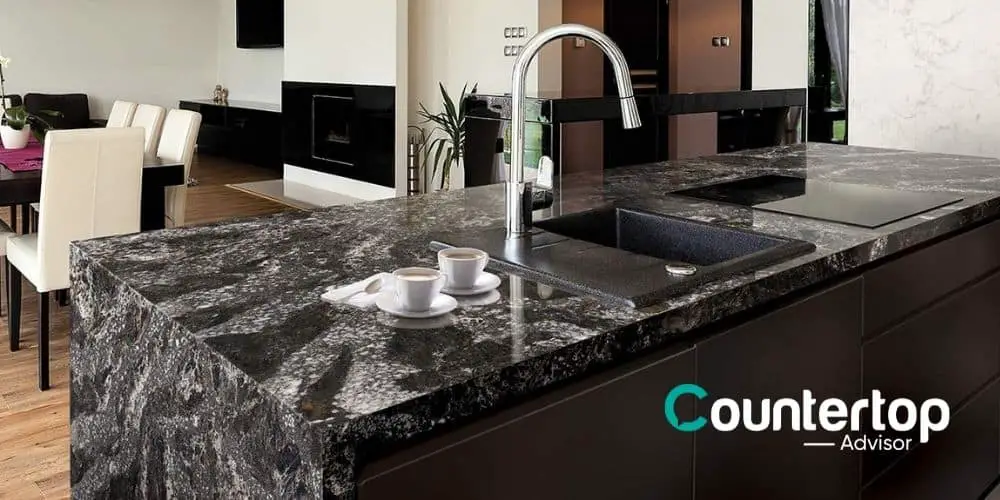 Image Source: The Spruce
The black granite is the perfect choice for this kitchen. The bold white streaks help create visual interest (and as a practical note, hide virtually all dirt and scratches for fuss-free cleaning). nickel fixtures, a black sink keeps this kitchen stunning.
22. Bring On The Bright Colors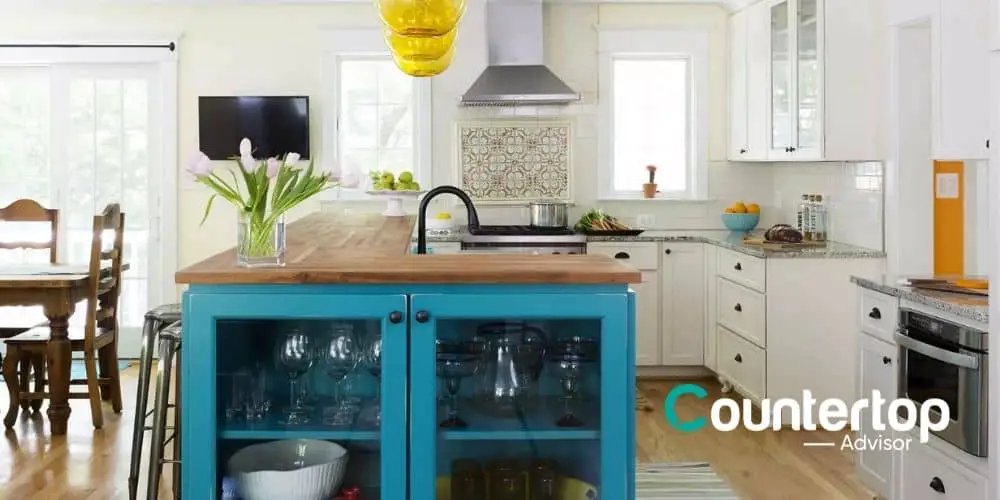 Image Source: The Spruce
For a bold kitchen with a playful aesthetic, try fresh and unexpected colors (like this bright turquoise) and mix and match your countertop materials.
This kitchen uses a light gray granite countertop for the sink and work area—a practical choice because this will get splashed on frequently)—which creates a neutral and elegantly understated background for the bright kitchen island.
23. Multi-functional Kitchen Storage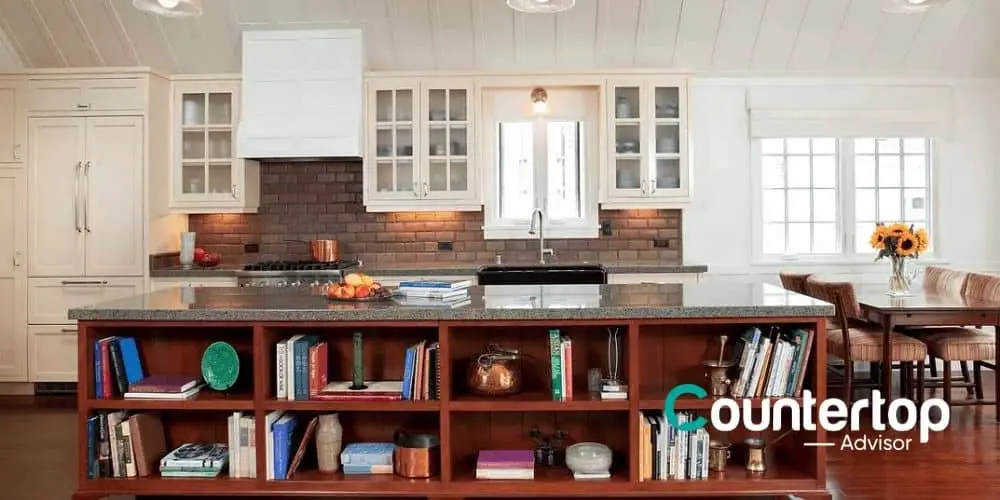 Image Source: The Spruce
You have to think out of the box (or in this case, out of the counters). You can design your kitchen island to also carry books and decorative items—especially where your cooking, dining, and entertainment areas are in one big room.
Here, a bookshelf gets a makeover with the addition of a granite countertop that transforms it into a workspace, or even an additional dining area for parties.
Kitchen cabinet storage ideas can be found here.
24. Smart Kitchen Island Tables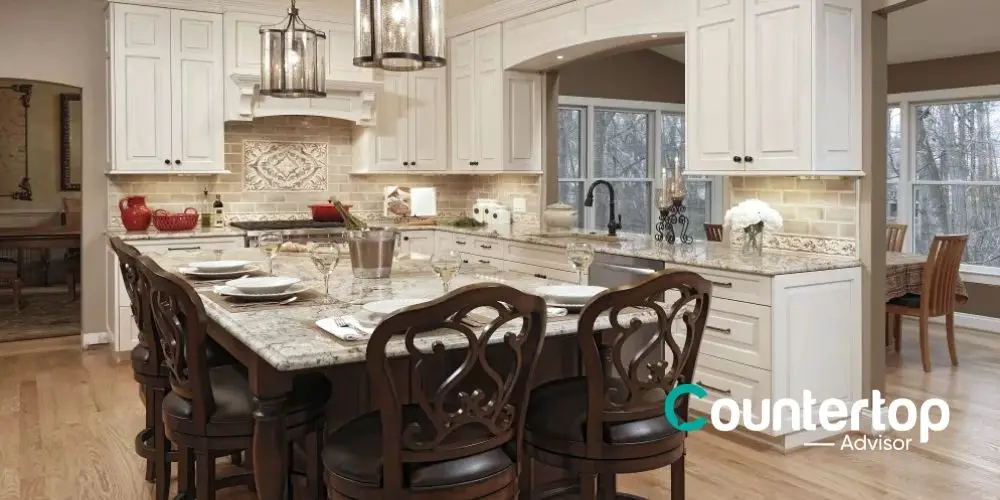 Image Source: The Spruce
Adding a granite slab to a dining room table not only creates a more unified look, but it's actually very practical. It's easier to clean, can be used for kitchen prep work or for your kids' arts and crafts, and is a brilliant example of combining different materials to make a unique design statement.
25. Faux Marble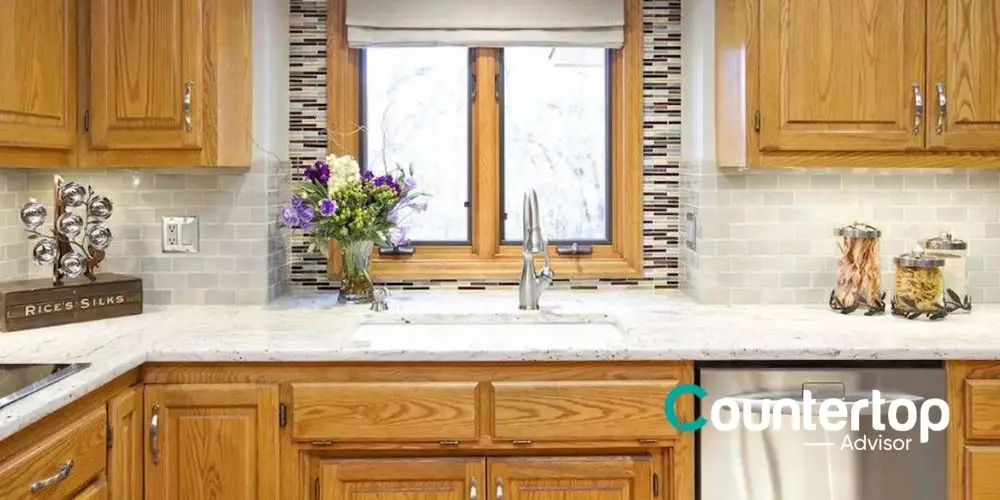 Image Source: The Spruce
Some types of granite can actually mimic the look of marble. Pair with wood, and select statement tiles for a backsplash, for an elegant (but affordable) kitchen renovation.
These are just some creative ideas for granite kitchen countertops -- proving granite can be a practical, durable, and beautiful choice for your kitchen.  
Final Thoughts
Find creative design ideas for granite kitchen countertops to suit kitchens of all designs, sizes, color schemes -- and renovation budgets!