No matter if you live in a studio apartment with a smaller than small kitchenette or a suburban open-concept home, you probably are fighting the kitchen appliance and utensil storage wars. Cabinet storage is necessary to get through this crisis.
The fact is that there always seems to be another pot, spatula, or immersion blender that is cluttering up your kitchen counters and your life.
Discover some of our new cabinet storage ideas to help organize your world with our clever and trending cabinet storage solutions.
Put Your Cabinet Doors to Work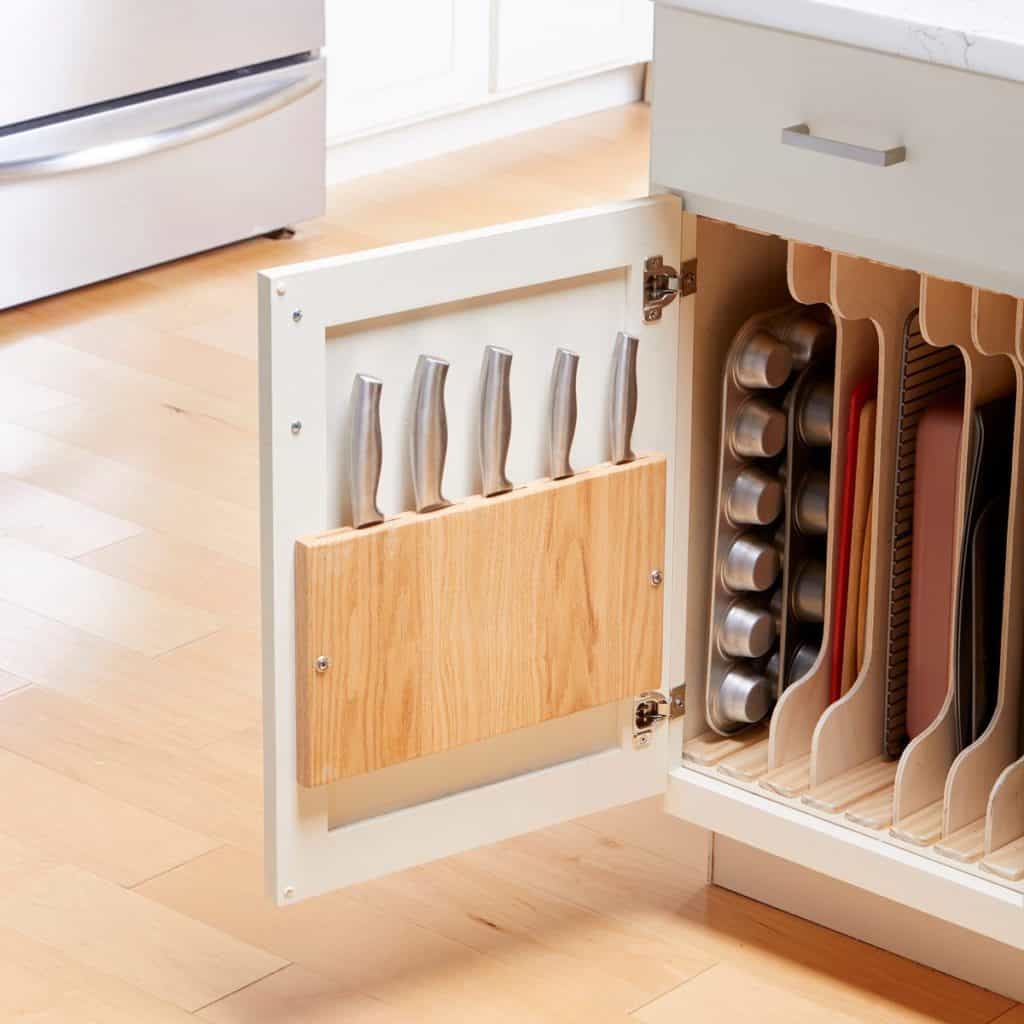 Almost every kitchen features a wall of cabinetry fronted by large doors that serve to hide your pots, pans, and crockery. But in a kitchen where space is at a premium, those doors could be doing double-duty.
When properly placed, you can position a plethora of small items at your fingertips by installing baskets and hooks on the inside of the door. One of our favorite organizers is the Camco Knife Safe.
The perfect items to store in a door-mounted rack are:
Knives
Keys
Spice jars
Can and bottle openers
Potholders
Pens and notepad
Smart Cabinet Shapes that Match Your Kitchen Wares
Why do they make cookie sheets and pizza stones so impossible to store? Stop stacking, scratching, and shuffling your large, flat cookware, and install a narrow but tall cabinet near the stove.
Add a few dividers, and now you can store all those awkward pieces on their sides. Simply slide them in and out whenever you are in the mood to cook.
What other shapes can you find to better match your cooking arsenal?
Wide cabinet doors that accommodate wide crock pots
Swing out corner doors that give better access to that distant corner
Wide, flat, and deep drawers perfect for sorting rolls of plastic wrap, foil, and storage bag boxes.
Pull-out pantries with small shelves sized right for spices, baking ingredients, and soup cans.
Cabinet Storage Using Pop-Up and Drop-Down Shelves Hide the Clutter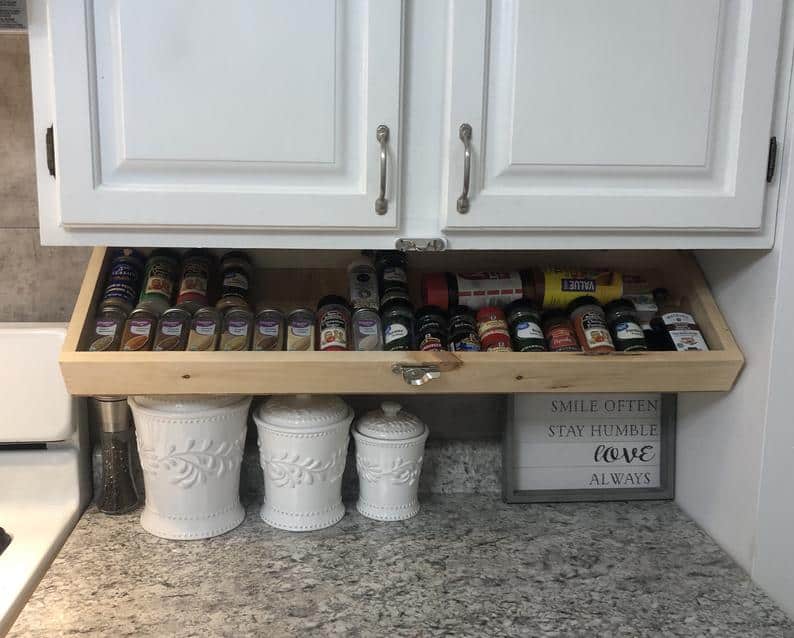 Do you dream of clean empty counters devoid of everything? Some clever engineering can help you to achieve your goal while saving your back from lifting heavy appliances into place.
A swing-out-and-lift shelf like the Wood Technology Kitchen Appliance Lift makes short work of getting the stand mixer ready to work. A drop-down shelf mounted beneath the upper cabinet makes a great place for cookbooks or your favorite spices. 
What else can you dream of hiding under the counter?
A pop-up coffee maker or toaster
Hidden exhaust vent that rises up from behind the island cooktop
A knife block that appears with the press of a button
A cut-out in the counter connected to a hidden trash bin
A drop down spice organizer
Seeking Hidden Cabinet Storage Spaces in a Compact Kitchen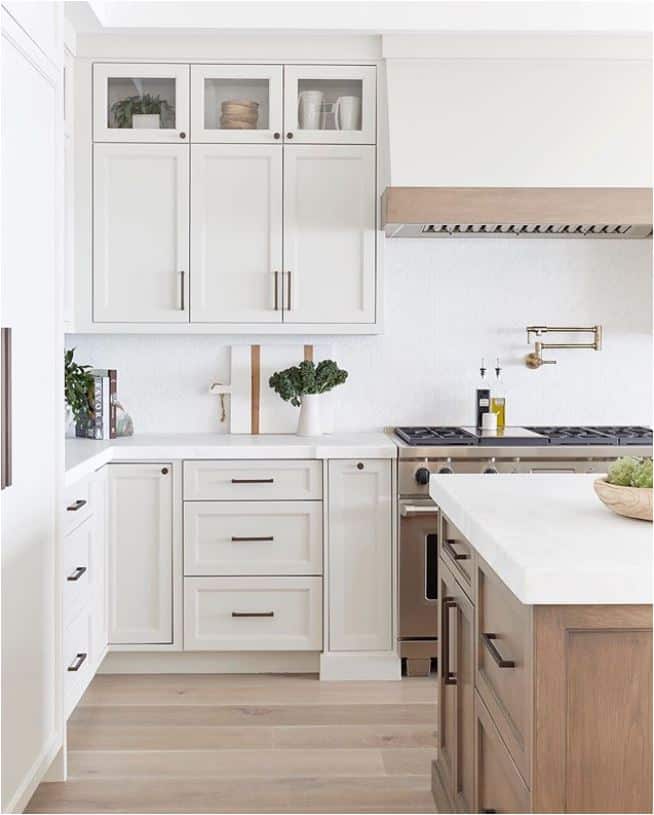 Not everybody lives in an expansive home. If your small cooking space needs more storage, look to the skies and take advantage of every available square inch. If the tops of your cabinets are hidden by a decorative panel, take it down and add either open shelves or more enclosed cupboards. With a lightweight ladder, all your special holiday serving wares finally have a safe home.
Did you know that the kick plate at the bottom of your base cupboards hides about two to three inches of open space? You may have room down there for another drawer large enough to stow extra cans of food or some flat baking racks.
Cabinet Storage in Drawers that Make the Most of Cavernous Cupboards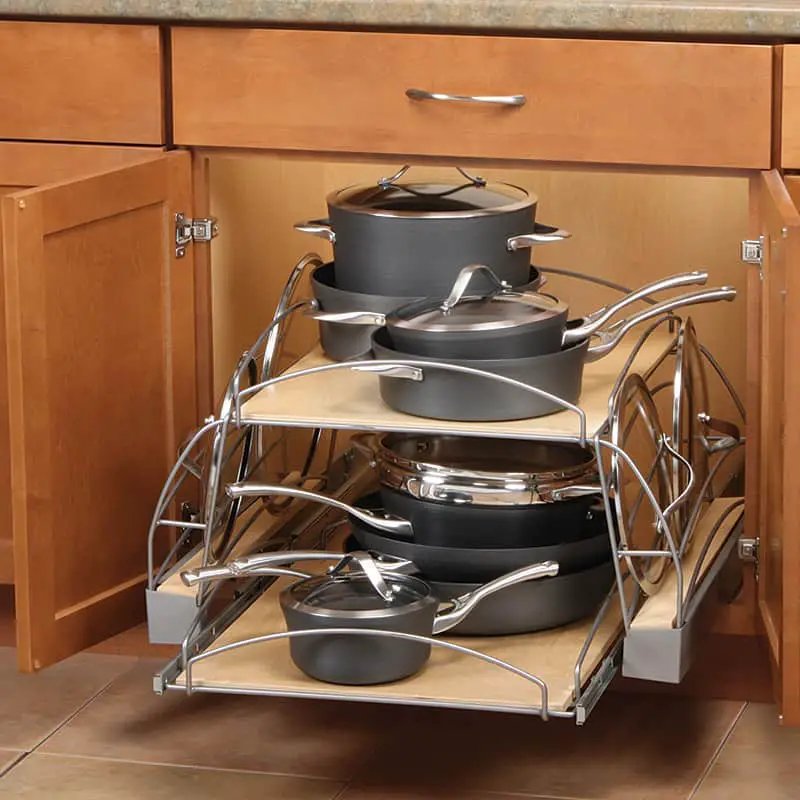 Do you still have to get on your knees and climb into the big pot cupboard to reach the roasting pan? Stop struggling! Install a metal drawer rack like the Rev-A-Shelf Organizer into your vintage cabinets.
Now you just use one hand to pull the entire contents of the cabinet out into the light. Select the perfect pot and then tuck it all away.
A drawer at waist height or lower makes everything easier to find.
Some of the most popular purposes for kitchen drawers include:
Pots and pans
Serving ware
Plastic storage containers and their lids
Ingredients in large quantities such as flour, sugar, potatoes, and onions
Cabinet Storage Using Roll-Aways that Hide Your Baking Obsession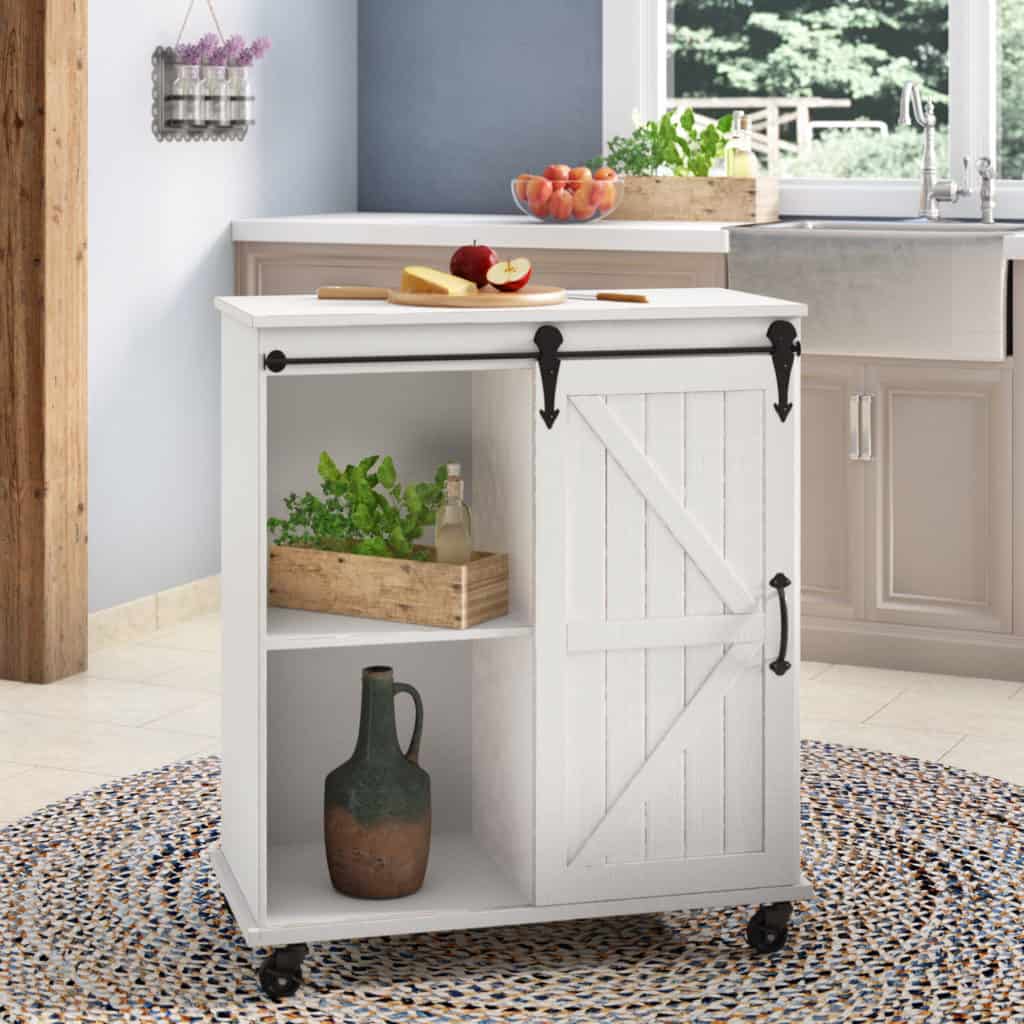 Your pasta, spices, and canned beans are all neatly contained by your cabinets, but the muffin pans, cake rounds, and selection of decorations simply have nowhere to go!
A small rolling cart with a drawer, storage cabinet, and workspace can help you to finally stow all the parts of your baking hobby out of sight.  Check out the stunning Create-a-Cart in Cherry that will match your solid wood cabinets.
The wheels make it easy to reopen the sweets kitchen after you finish serving up supper.
A rolling island can also serve as:
Compact dining table
Bar service for the party
Potting station for your plants
Breakfast buffet when the kitchen counters are busy
Cabinet Storage Using Inexpensive Fixers to Optimize Cramped Cabinets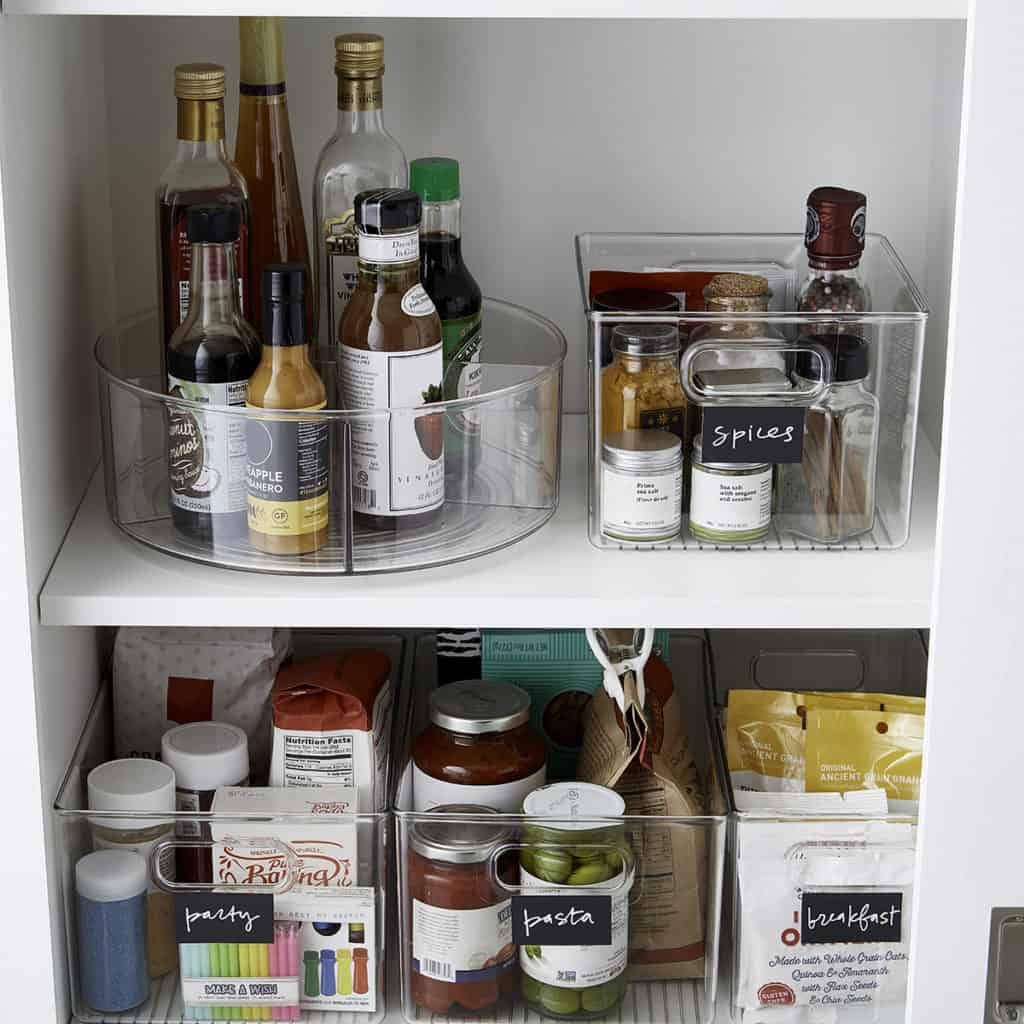 While it may feel like installing all-new cabinets is the only way to save your sanity, think again. Your home improvement center is overflowing with clever and affordable options that can double or triple your storage space without moving into a larger house.
A Set of Stairs for the Cans: See all of your jars and cans with a plastic Copco stadium-style organizer. There is no need to stack and sort.
Spinning Lazy Susan: Still one of the best designs for awkward corner cabinets. Simply spin the circle and watch your spices come around into easy reach.
Stacking Racks: Sort sizes of plates and bowls by adding an extra shelf. The rubber-coated metal is durable, easy to clean, and can double dinnerware storage.
Top-Mounted Buckets: Secured to the bottom of the upper shelf, a small bucket can hold your sugar packets, Keurig cups, and spoons to help sort daily routines.
Doors that Swing Up or Roll Away - Appliance Garage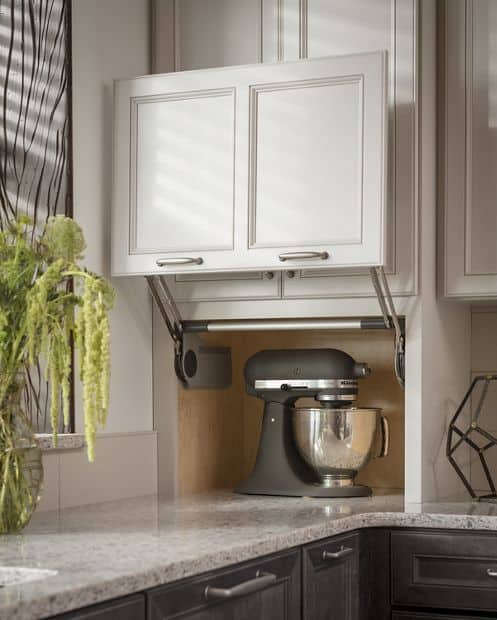 So, there is nowhere to actually put your espresso maker or microwave, but you really don't want to see it cluttering your counter.
Make your own appliance garage by adding a swing-up cabinet door in front of the offending machine. If you live in an apartment with an open-plan kitchen, you can supersize the project and add a screen able to slide into place and hide the entire food prep area.
Now you are serving in style!
Showing Off the Good Stuff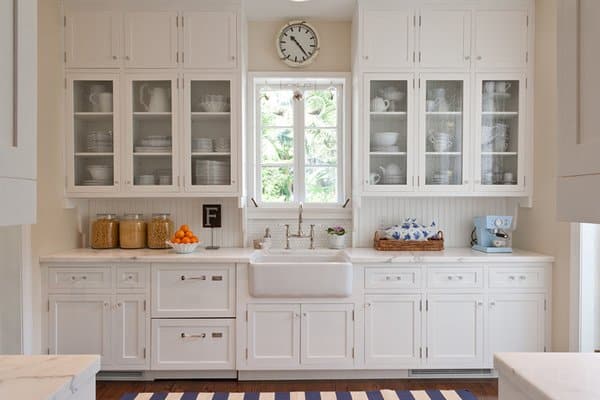 You own a great selection of gorgeous stemware, delicate china serving bowls, and attractive storage jars. But they are lost inside your cluttered cabinets.
Make a showcase out of one or more cabinets by changing it out with a glass-front door.
Add some LED strip lighting and now your most treasured serving ware is doing double-duty to dress up the kitchen.
Finding Extra Space Using Your Own Creativity
As you can see, your existing kitchen layout is simply overflowing with extra space.
You can finally find a spot for everything when you use some of our creative cabinet storage ideas or come up with one of your own!
If you open a drawer or cabinet and see empty space, think about adding a shelf, hook, drawer, or divider that will enable you to make better use of the space. Now you are cooking with confidence and style!