Are you remodeling your kitchen and want to know the different countertop options available? Do you like the look of natural stone countertops but want something other than granite? There are several high-end countertops available that will help you build your dream kitchen.
For many years, the only high-end countertop choice for homeowners was granite. New countertop materials have been developed over the years that provide you with a beautiful and easy to maintain countertops that will provide you with many years of enjoyment and beauty. Check out these top five countertop options that are not granite.
Marble
Is your overall interior design traditional? Do you love classic, old-world interior design? One of the top countertop materials for traditional homes is a marble. Marble is a natural stone that provides you with a unique countertop. No two slabs of marble are identical. The minerals around the stone create the unique patterns and veining found in the marble slab.
Marble is highly prized and creates a luxurious look. When used as a countertop, it is quite beautiful. Marble is available in a number of finishes, including polished, tumbled, and honed, which allows you to create the perfect kitchen or bathroom for your home.
Advantages
Heat Resistant – Marble is a stone that can withstand the heat in a kitchen. Although not recommended, you can set hot pots and pans directly on the marble without worrying about damaging the stone.
Increased Home Value – Marble is highly sought after and will immediately add value to your home. Marble countertops offer an excellent return on your investment.
Luxurious Look – Marble is considered a luxury item; however, it can be quite affordable. You can expect to spend between $40 and $250 per square foot, depending on the type of marble countertop chosen.
Coordinates with Interior Design – The most common color for marble is white; however, you can find other colors, including black, gray, blue, pink, and yellow.
Patina – Over time, marble will develop a beautiful patina that is reminiscent of ancient Greece and Rome.
Disadvantages
Price – Although there are some affordable marble countertops on the market, there are also some expensive ones. There are several different types of marble on the market, including Carrara, Calacatta, and Statuario.
Professional Installation Only – Unlike other countertops, a DIY installation is almost impossible.
Porous – Unless marble is treated with a sealant, it is quite porous, which can lead to an increased risk of staining. Spills must be wiped up immediately, and only pH neutral cleaners should be used.
Scratches – Marble is made up of calcium carbonate. When an acid comes in contact with calcium carbonate, the surface develops dull spots. These dull spots are microscopic scratches and pits, known as etching. Etching is due to acids eroding the surface of the marble. You can minimize the risk of etching by using a high quality sealer.
Quartz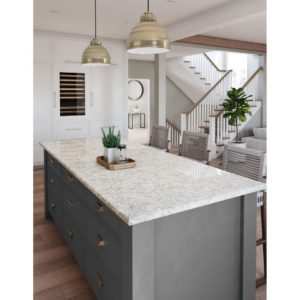 Quartz is an engineered stone that provides discriminating homeowners with a virtually maintenance free countertop. Several companies offer quartz countertops, including Cambria, Silestone, DuPont Zodiaq, and LG Viatera. Quartz countertops are comprised of approximately 90 to 95 percent quartz bound with resins and pigments to create a beautiful countertop slab.
Quartz countertops offer a larger range of color choices than granite and other natural stone countertops. Today's quartz countertop manufacturers can create countertops that mimic marble and other natural stones. You will find quartz countertops with veining and flecks similar to marble, granite, and gemstone countertops.
Advantages
Low Maintenance – Unlike natural stone and wood countertops, quartz countertops do not require routine sealing.
Uniformity – Slabs are created in a factory, which means all of the quartz slabs are uniform in appearance. Furthermore, quartz countertops can be custom fabricated to your exact specifications.
Stain Resistant – The resin used to create quartz countertops make the countertop impervious to liquids. If you spill something on the countertop, it cannot soak into the quartz countertop and cause a stain.
Disadvantages
Cost – Quartz countertops are one of the more expensive countertops. You can expect to spend between $50 and $150 per square foot for quartz countertops.
Weight – Quartz countertops are heavy.
Heat Intolerance – If a hot pot or a hot pan is set on a quartz countertop, the resin can scorch, burn or melt.
Wood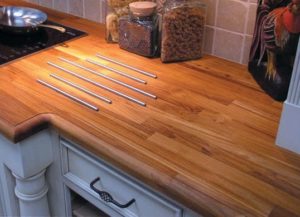 Are you looking for a countertop that visually warms up your space? Wood countertops are a great choice for kitchens that want to embrace the timeless beauty of wood. Furthermore, wood countertops are constructed using renewable materials, and the top wood countertop manufacturers only use wood from suppliers who embrace sustainable practices.
Wood countertops are available in a number of wood types, including maple, cherry, teak, and oak. In addition to this, there are several cuts, including butcher block countertops, end grain countertops, wide plank countertops, and edge grain countertops.
Advantages
Warmth – Wood countertops create a warm and inviting kitchen.
Easy to Clean – Once wood countertops are sealed, they are easy to clean. All that is needed is a mild detergent and warm water.
Long Lasting – If properly cared for, wood countertops can last a lifetime. As the countertop ages, it will develop a patina that tells the story of your family's time in the kitchen.
Refinishing is Easy – If you want your wood countertop to remain in perfect condition, they can be sanded and resealed as needed.
Disadvantages
Cost – Depending on the type of wood chosen for your wood countertops, you can expect to spend between $35 and $200 per square foot.
Scratches – Wood can develop scratches, dents, and cuts. If a heavy item is dropped, it can dent the countertop. Furthermore, wood countertops can be scratched or cut if you use a knife directly on the countertop.
Water Damage – If water or other liquids are left to sit on a wood countertop, water damage and staining can occur. In addition to this, if wood countertops are not properly cleaned, bacteria can live on your wood countertops.
Stainless Steel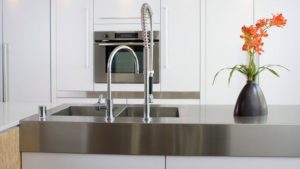 If you are looking for a countertop that will create a modern kitchen, look no further than stainless steel countertops. Stainless steel countertops are often used in commercial kitchens because they do not allow bacteria to grow on the surface. The metal is sleek and provides amazing light refraction back into your kitchen.
Stainless steel countertops are extremely low maintenance. Furthermore, they are heat resistant, which means hot pots and pans can be set directly on the countertop. It is important to note that stainless steel countertops will scratch over time, and the homeowner must learn to love the patina that naturally develops.
Advantages
Easy to Clean – Stainless steel countertops are extremely easy to clean. All that is needed is a warm, wet cloth and a little detergent.
Nonporous – Stainless steel countertops are nonporous and do not stain.
Lifespan – Stainless steel countertops can last more than 200 years.
Maintenance Free – Stainless steel countertops require no maintenance.
Disadvantages
Cost – Stainless steel is one of the more expensive countertops on the market. You can expect to spend $75 to $250 per square foot.
Dents and Scratches – Stainless steel can dent if a heavy item is dropped on the surface. Furthermore, if you cut directly on the countertop, scratches can form.
Soapstone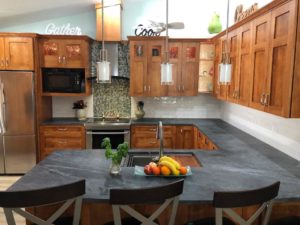 Soapstone is a natural stone comprised of high concentrations of talc. Soapstone is dark gray to black and features varying amounts of white veins across the surface of the countertop. This absolutely stunning stone countertop has a silky, smooth feel.
Soapstone looks amazing in modern as well as traditional homes. Unlike other natural stones, soapstone becomes better with age. The patina that develops over time increases the natural beauty of the stone. Soapstone is a soft stone; however, thanks to the density of the stone, it is stain resistant and heat resistant.
Advantages
Durable – Soapstone is a very durable surface. The scratches and scrapes that will develop increase the stone's patina for a warm, worn look.
Heat Resistant – Soapstone is extremely dense and can withstand high temperatures.
Low Maintenance – Minimal maintenance is required for soapstone.
Life Span – You can expect soapstone countertops to last for more than 100 years.
Disadvantages
Cost – Soapstone varies in price. You can expect to spend between $70 and $120 per square foot.
Scratches, Chips – Because of the high talc level, scrapes, scratches, cuts, and chips can occur in high traffic areas.
Needs to be Sealed – Soapstone requires routine sealing with mineral oil.
Conclusion
Are you ready for new countertops? Do you want a durable, long lasting countertop, but do not want standard granite countertops installed? There are numerous other countertop options available, including marble, soapstone, quartz, wood, and stainless steel. Each of these countertops has a number of advantages and disadvantages to consider.
When deciding on a countertop material, you should consider how you will be using your countertop. Will the countertops be exposed to a lot of spills or high heat? Will they be installed in a high traffic area? Another thing to consider is your home's overall interior design. You want to choose a countertop material that will work great with your home's and your family's unique personalities. Any of the above options will provide you with years of enjoyment and durability.