I have been working with Sintered stone including Dekton and Neolith for several years. Both Dekton and Neolith are both the same product type meaning they are made the same way but Dekton and Neolith are two different brands. Continue reading below to understand the difference between Dekton Vs Neolith.
In this article, you will learn everything you need to know about Dekton Vs. Neolith as well as sintered stone also known as ultra-compact surfaces.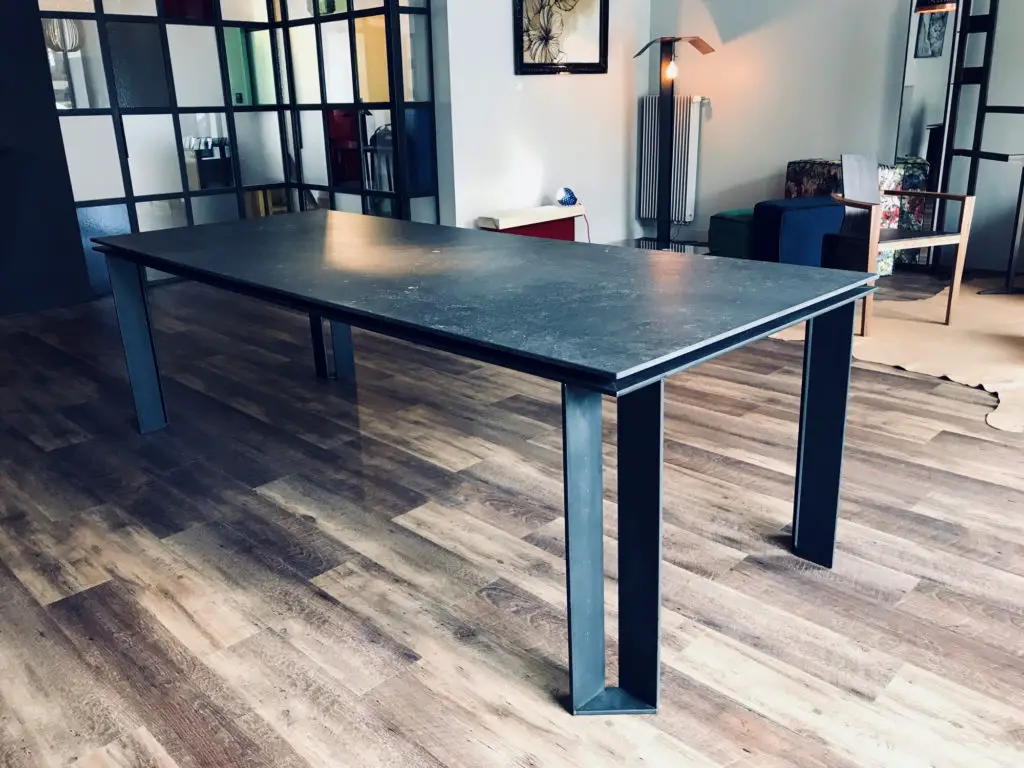 Dekton vs Neolith which is better? The better of the two really depends on you and your preference. They offer the same quality countertop material and the only difference between the two products/brands is the name and color options.
While they both offer similar designs they have different designs and options between the two brands.
Dekton Vs Neolith Quick Answer
Sintered Stone, also known as Ultra-Compact Surfaces is a new product in the countertop industry. They are growing in popularity and have been featured in many homes since the product was launched. There are two main brands producing Sintered Stone, Dekton and Neolith.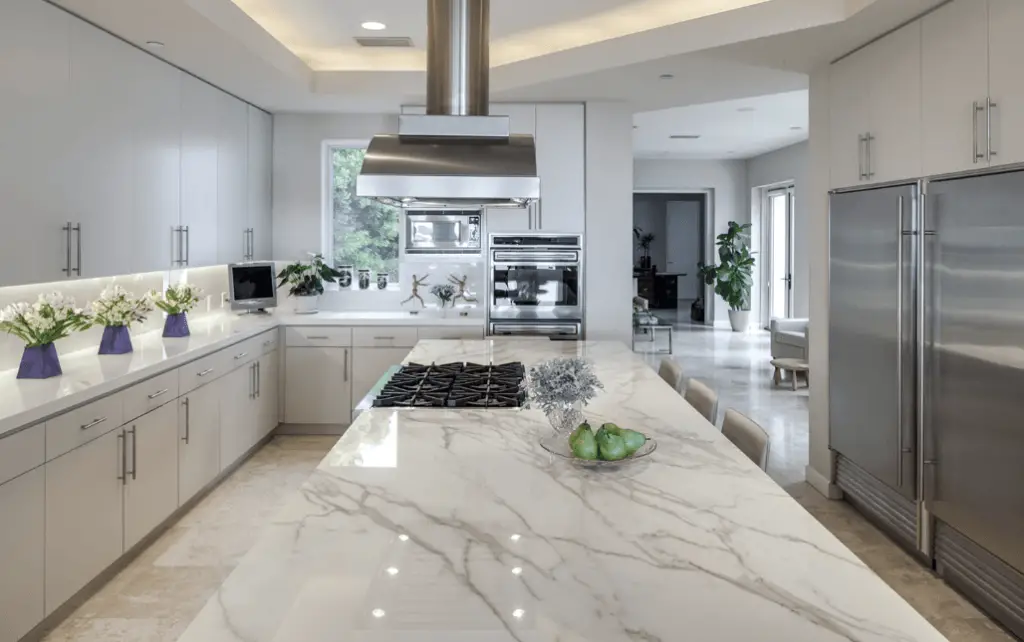 Quick Answer: The better product is the brand with the color you like. Both brands offer durability, a well-made product, and quality. You will need to decide which brand offers the best product choice for your style and application.
Dekton has a vast collection of colors. They offer sintered stone colors that mimic that of natural stone. Check out the available Dekton Colors here on our website.
Neolith also has a vast collection of colors. I especially love how they have more marble looking color options mimicking the looks of real marble without all of the upkeep and maintenance. Check out the available Neolith Colors here on our website.
Both Dekton and Neolith offer the same thicknesses and applications for their products. You can read a little on Dekton Thickness here if you have applications other than countertops.
Dekton Countertops
Dekton is a sister company of Cosentino who also makes a quartz product called Silestone. Check out this video which showcases their process and product.
Neolith Countertops
Neolith only provides sintered stone products which makes them a great choice for this type of countertop option. When I personally look for a product I prefer to go with companies who specialize in a certain area not many areas of the industry. This allows them to focus on making their product the best option in that category. This is exactly how Neolith has accomplished their great sintered stone brand.
Check out this video showcasing Neolith products.
Dekton Vs Neolith Sintered Stone Countertops
Sintered Stone is a countertop that is made using natural materials and created using the same process that the Earth makes natural stone, through extremely high temperatures and compacting.
Architects and designers are embracing sintered stone surfaces because of the numerous advantages that they offer. These ultra-compact surfaces are created from mostly recyclable products, including crushed stone.
Ultra-compact surface countertops are available in a number of color choices and can mimic the look of concrete, stone, or wood. These countertops are suitable for interior spaces as well as exterior applications. Dekton and Neolith countertops are low maintenance, scratch-resistant, and heat resistant. The two top brands of sintered stone countertops are Dekton and Neolith.
Creating of Ultra Compact Surfaces
One hundred percent of the materials used in sintered stone countertops are natural. The process of sintering creates a resilient surface. These minerals are placed under extreme heat (2191 degrees Fahrenheit) and pressure (5900 pounds per square inch) to bond the materials together, creating a nonporous, dense slab. Approximately half of the materials used in the sintered stone countertop come from recycled materials. Finally, due to the sintering process, no polymers or resin is needed.
The Pros and Cons of Sintered Stone Countertops
Sintered stone countertops offer a number of advantages and disadvantages. This durable, natural surface can be placed indoors and outdoors. In addition to counters, sintered stone can be used for flooring, vanities, or stairs.
The Advantages of Neolith and Dekton Countertops
Eco-Friendly – Sintered stone countertops are made using more than fifty percent recycled materials and are entirely resin-free.
Stain Resistant – Ultra-compact surface countertops are not porous. Even if liquids like wine, fruit juice, tea, or coffee sit on your countertop, your counter will not stain.
Heat Resistant – Heat producing appliances and hot pots and pans can be placed directly on the countertop without scorching or damaging your countertops.
Temperature Fluctuation Resistant – Sintered stone can handle extreme temperature variations without cracking.
Scratch Resistant – Ultra-compact countertops will not scratch. You can cut directly on your countertops without scratching them. However, ceramic knives should not be used on the countertops.
Easy to Clean – All that is needed to clean your countertops is a damp microfiber cloth and a drop of dish detergent.
No Sealing Required – Sintered stone countertops do not need to be sealed.
Chemical Resistant – The surface of the countertop is resistant to harsh chemicals, which means almost any cleaning product can be used on the countertop.
Food Safety – The nonporous surface of the countertop provides you with a hygienic surface that reduces germs and bacteria.
UV Resistant – UV rays will not discolor your sintered stone countertops, which means that you can place sintered stone outdoors, and the color will remain vibrant.
Lightweight – Sintered stone is lightweight. It typically weighs between 1.1 and 1.5 pounds per square foot. However, it can handle heavy loads.
The Disadvantages of Neolith and Dekton Countertops
Sintered stone isn't completely problem-free but what product in this world is? Here are all of the disadvantages of Dekton.
Cracking – If the countertop is not properly leveled, it can place pressure on the countertop, resulting in cracking. Once the countertops are correctly installed, it is incredibly durable; however, before and during installation it can crack, or the edges can become damaged.
Not DIY Friendly – Sintered stone countertops can be challenging to install. Furthermore, because of their size, they can be cumbersome.
Repairs – Repairing sintered stone can be difficult and quite expensive. Check out the manufacturer's warranty before purchasing to ensure repairs are covered.
Few Installers – Because these products are quite new, it can be challenging to find a countertop specialist with the knowledge and skill needed to install these countertops. Dekton requires that a fabricator be certified to fabricate this material. Jon, the creator of this website is a certified Dekton fabricator.
Colors – You must be careful when choosing your countertops because the colors can vary if not selected from the same dye lot.
Overhangs – Sintered stone countertop overhangs are limited to six inches.
The Difference between Neolith vs Dekton
Dekton is manufactured by the private Spanish company, Cosentino. Dekton produces countertops in more than 40 different colors. The patterns on these countertops can range from solid colors, grainy patterns to beautiful veining. The designs are printed on the surfaces of the countertop, which means the pattern may not be present on certain edge styles. This sintered stone countertop comes with a 25-year warranty.
Dekton offers several finish options, including matte, oxide, slate, bush-hammered, glossy polished, and leathered. Although the color extends through the countertop, the pattern is printed on the surface.
Dekton has numerous edge styles, including square, mitered, decorative beveled edge, bullnose edge, and chamfered edge.
The size of a Dekton slab can be as large as 56 inches by 126 inches. These larger slabs reduce the number of seams in kitchen and bathroom countertops.
Dekton offers a number of thickness options. You can choose from counters as thin as 8 millimeters to as thick as 30 millimeters.
The cost of Dekton countertops ranges from $55 per square foot to $115 per square foot, installed.
Neolith is manufacture by TheSize Surfaces in Spain. Neolith produces countertops in approximately 30 different colors. One of the company's most popular designs is their marble look alike counters, including Calacatta, Calacatta Gold, Estaturaio, and Carrera. This sintered stone countertop comes with a ten-year warranty.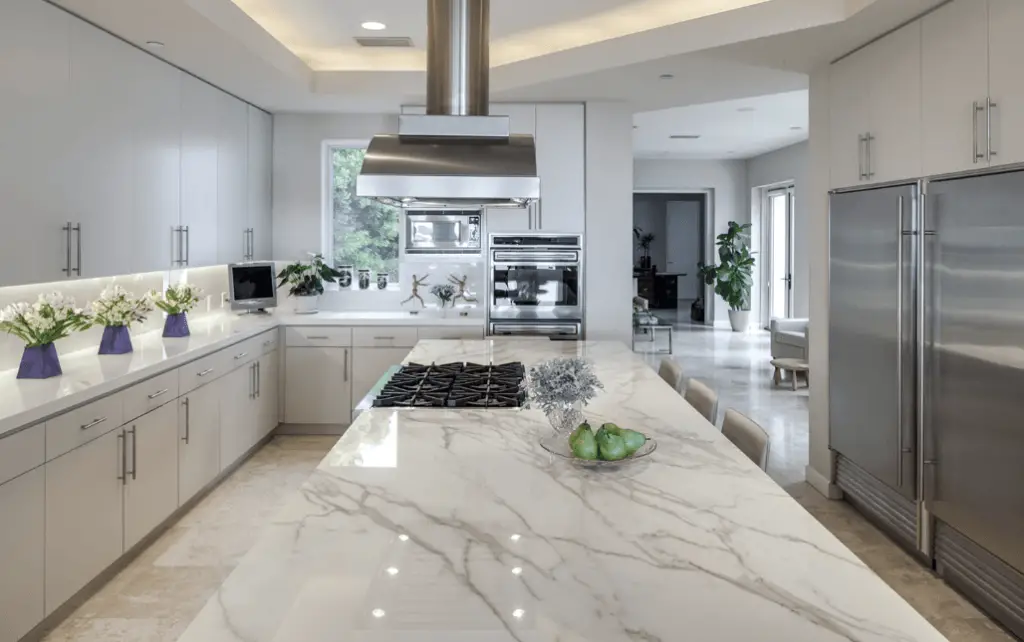 Neolith offers 30 different finish options, including silk, honed, river-washed, polished, and satin. It should be noted that the shiner finishes are more prone to scratching and dulling than other finishes.
The edge profile options are more limited when compared to other types of countertops; however, the three most common edge profiles are the waterfall edge, the minimalist edge that is slightly rounded, and the mitered edge.
Neolith is manufacture in four different thicknesses – 3 millimeters, 6 millimeters, 12 millimeters, and 20 millimeters.
Neolith is available in sizes ranging from 2.5 feet by 2.5 feet to 10 feet by 5 feet. These stone slabs can be custom cut to the shape and size needed.
The cost of Neolith countertops ranges from $60 to $105 per square foot, installed.
How to Clean Sintered Stone Surfaces
Although sintered stone can be cleaned with soap and water, it can cause a buildup that results in a dull film forming over the surface of the countertop. Using a biodegradable cleaner like Puracy Natural Cleaner gives you a streak-free shine.
For stuck-on stains, including gum, nail polish, paint, and dried food, scrape the countertop using a razor blade or a putty knife. Then create a paste by mixing Bar Keeper's Friend with water. Scrub the area using circular motions to remove the stain. Finish by rinsing the area using a damp, clean cloth.
Knowing that there is no difference between Dekton Vs Neolith should help you decide that it is all about choosing the right design and style and choosing a sintered stone countertop that enhances the aesthetics in your home. These countertops use recycled materials and are nonporous. The countertops are stain-resistant, heat resistant, UV resistant, and scratch-resistant, making them an excellent choice for active homes or outdoor applications. If you're looking for a durable, lightweight countertop that is eco-friendly, look no further than ultra-compact surface also known as sintered stone countertops.