Basement kitchens are a great way to increase the functionality of your home, create a welcoming space for your guests, or even create an apartment to rent out.
Creating a kitchen in your basement that fits your needs can be difficult unless it is properly planned.
The first step is ensuring your basement kitchen design provides the necessary fire exits and ventilation for cooking fumes. You also need to ensure the plumbing and electrical is in the appropriate location for your kitchen in the basement.
When designing your basement kitchen you will need to determine the best appliances, lighting fixtures, and flooring options.
A Budget Friendly Kitchenette
If you are on a limited budget, you may be unable to afford a full kitchen in your basement. Don't let a low budget keep you from adding a basement kitchen. Opt for a kitchenette. A kitchenette provides you with a cabinet and countertop space and a sink. Most kitchenettes feature a mini fridge, a toaster oven, and a microwave.
A kitchenette typically does not have larger appliances like a stove, dishwasher, or refrigerator; however, with today's gorgeous cabinetry and countertop options, you can still create a basement kitchen that is magazine worthy.
An Entertainment Friendly Basement Kitchen
Do you love to entertain? Do you have a family room or home theater in your basement? A basement kitchenette right off your family room can take your entertaining to the next level.
Your basement kitchen may include a bar area for mixing up drinks, a small refrigerator, an apartment sized stove, a dishwasher, and a sink. Creating a kitchen in your basement can create the perfect entertainment spot in your home.
Opting for open shelving can save you money and offers the perfect location for all of your bar glasses, bottles of alcohol, and mixers.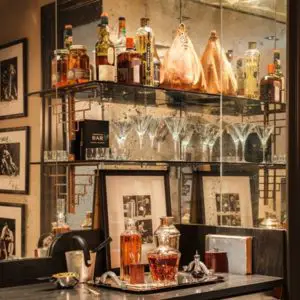 A Guest Friendly Kitchen for the Basement
If you have visitors often, you may want to create an oasis for your guests in your basement. A guest bedroom and bathroom are great but creating a cozy kitchen area for your guests is even better.
Going above and beyond what a guest would expect in a hotel will not only welcome your guests but also provide them with everything they need while staying at your house. Tucking a sitting area and a kitchenette in the basement can be done without spending a fortune. All that is needed is some builder grade cabinets, a piece of cheap natural stone countertop, a sink, and a mini refrigerator.
A Full Size Kitchen for Basement Apartment
Do you have more space than you need? Is your basement sitting empty? Would you like to earn some additional income? If so, you may want to consider adding a basement apartment complete with a full size kitchen in the basement.
When planning a kitchen for a basement apartment, you may want to use compact appliances to maximize the efficiency and space of the kitchen in your basement. There are wonderful single bowl sinks on the market, apartment sized stoves and refrigerators, and small dishwashers that will provide your tenant with everything they will need.
Installing floor to ceiling cabinetry can maximize storage space without taking up a great deal of room.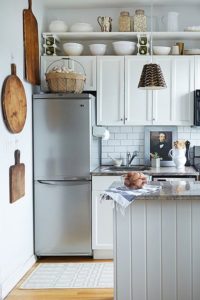 A Multiple Use Basement Kitchen
Are you limited on space, but want to create the perfect space for your entertaining needs? Have you always dreamed of an entertaining area that would allow you to make snacks without running upstairs or creating a mess in your main floor kitchen? Look no further than a multi-use basement kitchen.
A multi-use space allows you a place to gather together and entertain. Multi-use kitchens in the basement typically contain a small refrigerator for drinks, a small sink, and a microwave.
Oftentimes this kitchen will have a long bar that separates the kitchen from the den. When choosing countertop materials for this type of kitchen, you want an easy to care for countertops like quartz or granite.
A Chef Worthy Kitchen in the Basement
Just because a kitchen is in the basement doesn't mean it has to look like it is in the basement. You can create a beautiful kitchen that any chef would love to cook in by supplying it with the latest and greatest kitchen gadgets.
Opting for stainless steel appliances, stainless steel countertops, and top of the line utensils and cookware will create the perfect place to whip up a five course meal.
A Kitchen Tucked Under the Stairs
Do you want a kitchen but there seems to be no room to put one? Why not put your downstairs kitchen under the stairs? Creating a functional kitchen in a small amount of square footage is possible when you plan out your design carefully. For this design, you will only need a few cabinets and a gorgeous piece of marble for your countertop. Using cabinet fronts for your refrigerator and dishwasher provides you with a seamless look. Under cabinet lighting, countertop to ceiling backsplash, and ceiling height cabinets help you maximize the functionality and design.
Image Source: Updweller
Basement kitchens or basement kitchenettes take planning; however, when planned correctly, you can increase the square footage of your home, the functionality of your home, and the value of your home. A kitchen in your basement creates the perfect entertaining space without the hassle of running up and down your stairs. Furthermore, a downstairs kitchen can make your guests feel welcome or allow you to create rental income.