Are you remodeling your kitchen but are unsure which paint color to choose that will compliment your oak cabinetry and white countertops? Oak cabinetry has a yellowish-orange tone, which can make it challenging to choose a paint color.  We have the knowledge and experience to help you transform your dated kitchen and bring it into the 21st century.
In the past, homeowners have tried to paint their kitchens by using different shades of yellows, reds, and even orange, trying to find a paint color that would work with their oak cabinetry. Unfortunately, these colors clashed with the oak cabinets.
Choose a Cool Toned Color or a Neutral Color
Having a basic understanding of color theory and how to use a color wheel will help you determine the best paint colors for your kitchen. You want to choose a color that will compliment your oak cabinets and white countertops.  If you take a look at a color wheel, you will see that half of the wheel features warm colors (right side), and the other half of the color wheel features cool colors (left side).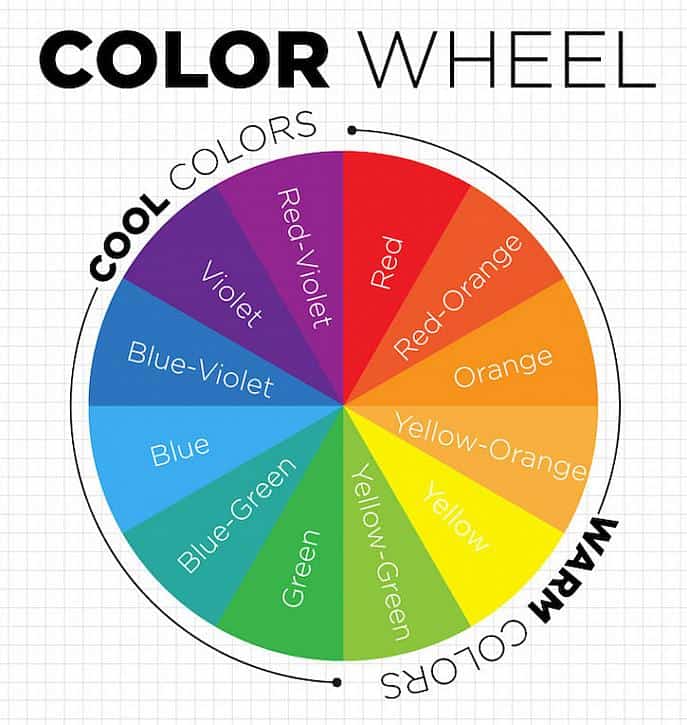 Because oak cabinetry is on the warm side of the color wheel, you will need to choose a color on the cool side of the color wheel. Using this technique will help balance your design and ensure the paint color that you choose complements your cabinetry.
As you can see, there are many options when it comes to the colors that will work with oak cabinetry and white countertops in a kitchen. Let's take a look at the top five paint colors that will transform an ordinary kitchen into a designer-inspired kitchen.
Keep in mind the colors in the above color wheel are mostly main colors. There are variations in between these colors that can be used.
Sherwin Williams Repose Gray
Repose Gray, by Sherwin Williams, is a cool greige with slight blue undertones. If you want a neutral paint color for your kitchen, Repose Gray is a great choice. The blue undertones of Repose Gray counteract the orange tones in oak cabinetry, resulting in a neutral backdrop perfect for kitchens.
Repose Gray is a versatile gray that will work with many accent colors. It works well with shades of blue, ranging from navy to powder blue. Shades of aqua, turquoise, or pink can be used as accent colors for Repose Gray. The only accent colors you want to avoid with oak cabinets, white countertops, and Repose Gray is oranges, reds, and yellows.
Repose Gray paint by Sherwin Williams can be used to transform your dated kitchen. This cool greige works well with stainless steel appliances, sinks, and drawer pulls. If you love the modern farmhouse style, consider using Repose Gray in your kitchen.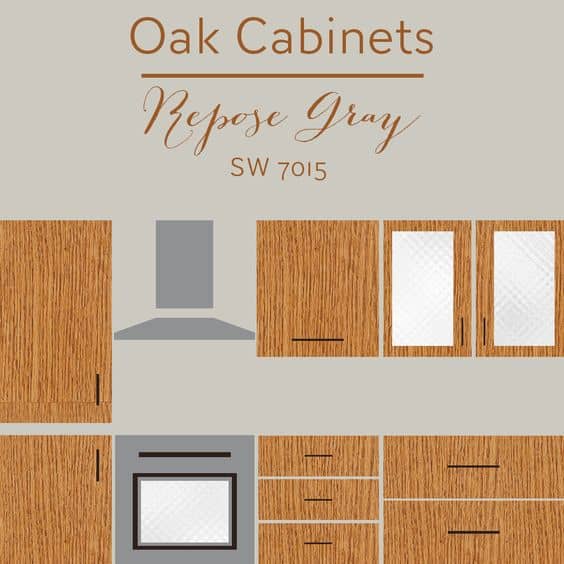 Benjamin Moore Collingwood
Benjamin Moore Collingwood features a purple undertone that counteracts the yellowish-orange found in oak cabinetry.  A gray with a purple undertone can provide you with a touch of warmth to an otherwise cool color. This gray paint color appears fresh and clean.
Due to the cool undertones found in Collingwood and other gray paint colors with purple undertones, many design experts recommend reserving this color for kitchens that are either southern or western facing. This type of gray is gorgeous in modern kitchens.
The gray found in Collingwood is typically found in quartz, marble, and laminate countertops. Accent colors that can be used with Collingwood include dark sage green, navy, pale aqua, and creamy whites. This beautiful gray with lilac undertones looks terrific with black stainless appliances, and black drawer pulls.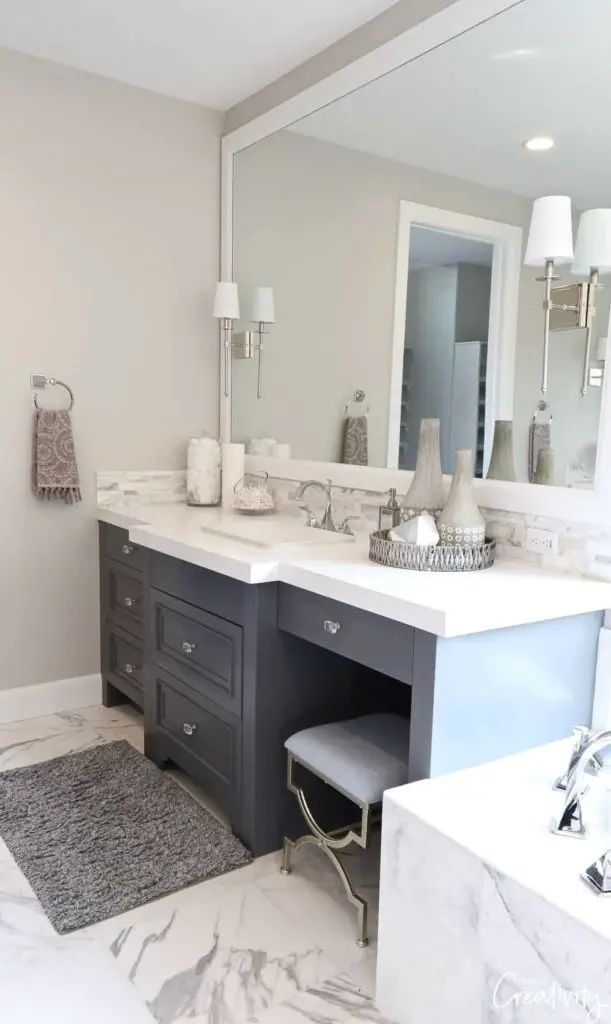 Behr Liquid Mercury
Are you looking for a classic, dark paint color that coordinates with oak cabinetry and white countertops? Do you want to make a statement in your kitchen with paint? Look no further than Behr's Liquid Mercury paint. Depending on the lighting in your kitchen, this paint color can look charcoal gray or a gorgeous blue-gray.
The navy undertones in this paint color create a feeling of coziness even in the largest kitchens. This color is reminiscent of antebellum homes with their grand entrances and large eat-in kitchens. Although Liquid Mercury is a dark color, it will not make your kitchen look dreary or small.
Liquid mercury is exceptionally versatile, and pairs beautifully with gold, stainless steel, or oil rubbed bronze fixtures. Several accent colors can be used with Liquid Mercury and oak cabinetry, including bright blue, olive green, and lavender.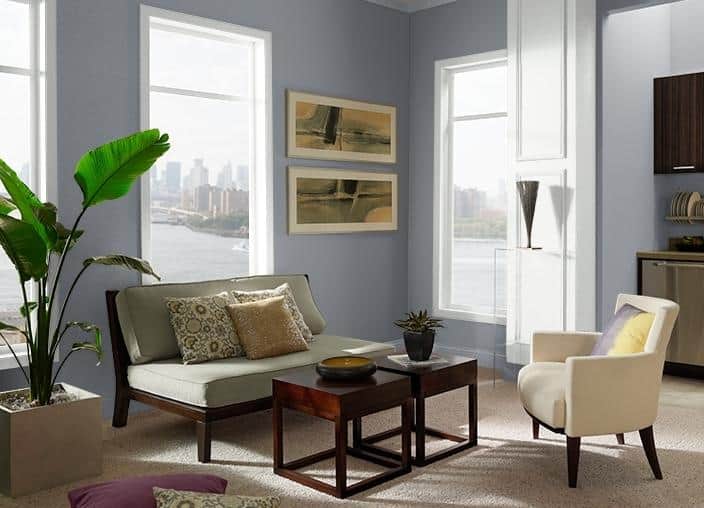 Dunn Edwards Hidden Hills
Do you love antiques, wicker, and traditional accent throughout your house? If so, consider using this Hidden Hills paint by Dunn Edwards in your kitchen. The soft green color features gray undertones for a classic look. Create an elegant looking traditional kitchen by painting your kitchen with Hidden Hills by Dunn Edwards. The green used in this gorgeous paint color neutralizes the orange found in oak cabinetry.
Hidden Hills creates an airy, yet refined kitchen. For an old-world feel, choose antique brass hardware and lighting fixtures. Numerous accent colors can be used with this gray-green, including burgundy, creamy white, and neutral dark grays.
When Dunn Edwards Hidden Hills is combined with white marble countertops, classic oak cabinetry, and hardwood floors, it creates an elegant kitchen you can be proud of. Using brass hardware adds warmth to your space for a classically inspired, designer kitchen.
Farrow & Ball Imperial Purple
Are you daring? Do you want a paint color as unique as you are? Imperial Purple by Farrow and Ball is a rich, deep purple that provides you with a luxurious look when combined with white countertops and oak cabinets in your kitchen. Imperial Purple can be used in a traditional kitchen with a nod to colonial times, or it can be used in modern kitchens for a fun and funky design.
Imperial Purple pairs beautifully with ash-gray paint colors or whites in traditional spaces. In modern kitchens, you can pair this dark purple with lime green for added interest in your kitchen. The deep purple paint will bring out the orange tones of your oak cabinetry for added warmth in your kitchen.
Imperial Purple by Farrow & Ball should be paired with stainless steel appliances, drawer pulls, and light fixtures. Whether you are going for a modern look or a classic look, Farrow and Ball's Imperial Purple will not disappoint!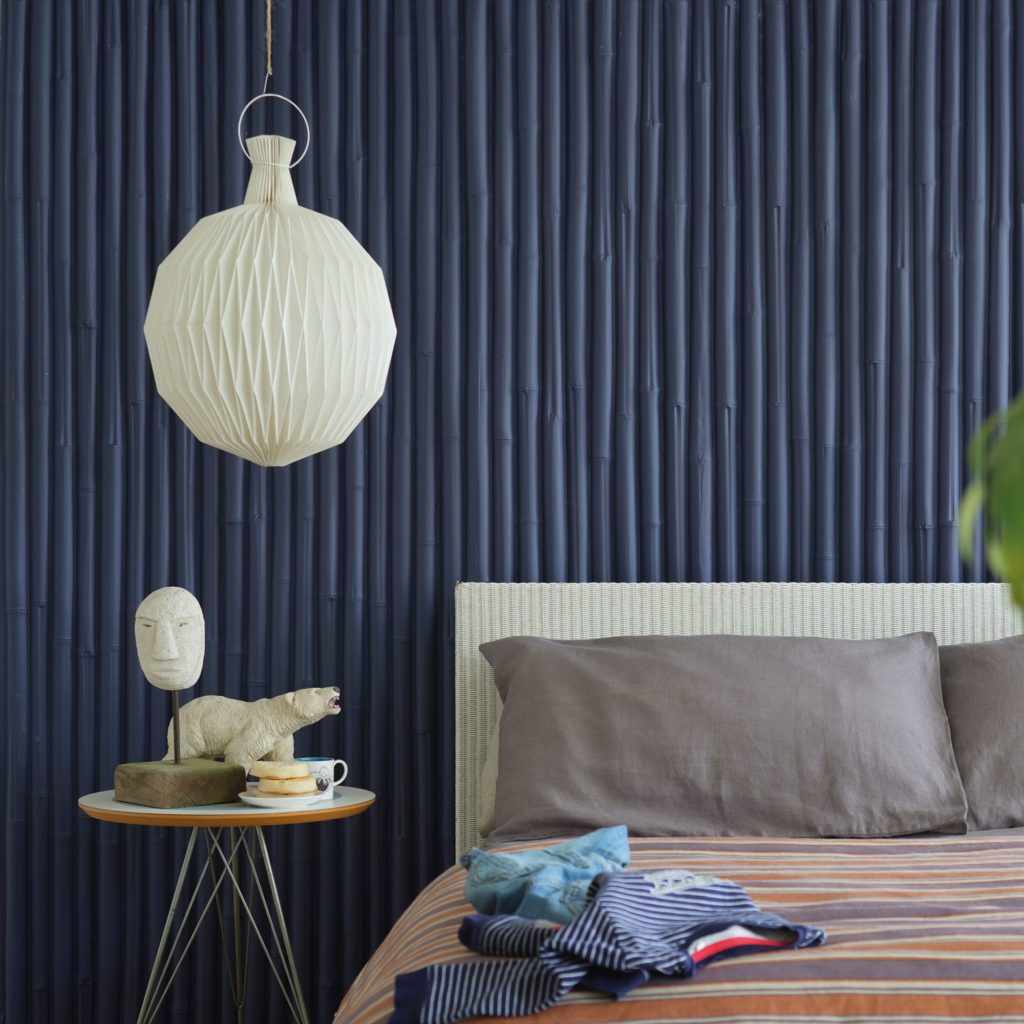 Conclusion
When choosing a paint color for your kitchen with oak cabinets and white countertops, you should consider the overall design of your home. Do you have a traditional home or a modern home? This information will help you determine the colors that will work in your space and the colors that should be avoided.
Before committing to any color for your kitchen, purchase several samples of paint colors that you think you want to use in your kitchen. Paint sample squares in different areas of your kitchen and look at them for at least one week. Ask yourself does the color enhance or deter from your kitchen.