Full slab backsplash is a growing trend and will continue in 2021 and beyond. For many designers or homeowners, the thought of looking for the perfect tile backsplash is daunting and that is why more and more homeowners are opting for a full-height backsplash as we call it in the countertop trade.
In this article, I am going to show you some amazing examples of full height backsplash or also known as a slab backsplash.
What Is A Slab Backsplash
A slab backsplash is one solid piece of countertop material that flows from your countertops up your wall using the same material as your countertops. It is continuous which makes it seem seemless. Some people use a different material for this but I recommend going with the same material.
Why Choose A Slab Backsplash For Your Kitchen
The easiest choice is a full slab backsplash because of how easy it is to clean and the modern look that this style gives any kitchen. It can be used in any style of kitchen.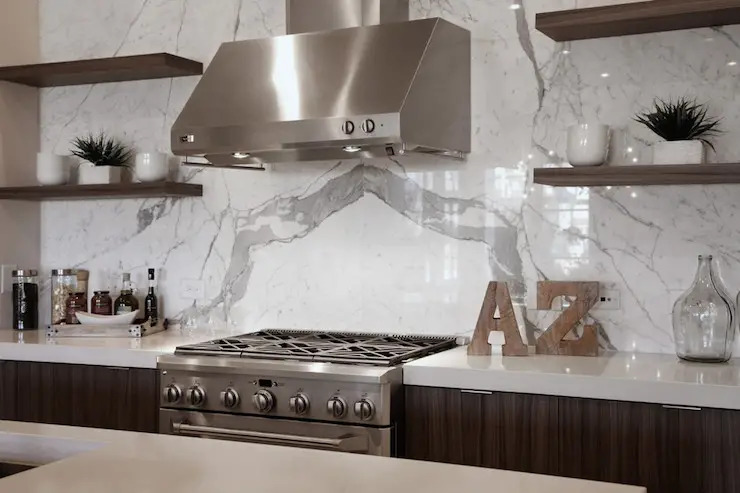 Can You Use Quartz As A Backsplash
Quartz is a great material to use for backsplash. Some quart manufacturers even produce a tile that is made from the same material.
This is great because the same style can flow throughout your kitchen and walls making it a more warm and inviting design depending on the color you choose.
Slab Backsplash Cost
The cost of adding a full slab backsplash will be in the form of extra square footage. You will likely just pay whatever you are paying per sq ft for the full height slab backsplash. This is the same material and if I was charging my customer I would only add the sq ft price to the job.
Can You Tile Over A Slab Backsplash
You can tile over your full height slab backsplash but I don't recommend this. If you are trying to make a design in a section like the above the stove then ask your countertop fabricator to leave out a section or a square section so that you can have tile added there.
There are many designs you can include in this square section. You may need to build out the wall to keep the tile flush with the granite but I have seen inset designs like this and they look amazing.