Mont Blanc Quartzite Design Ideas
I am in love with the beautiful Mont Blanc Quartzite and every time I see this material I start to consider the various areas in my home that I can use it. With this in mind, I decided to create this article with 5 Mont Blanc Quartzite design ideas with pictures.
Mont Blanc pairs beautifully with a plethora of flooring options, cabinetry colors, and design elements. Due to Mont Blanc's neutral colors, you can use the quartzite in almost any home, including modern and traditional inspired kitchens and bathrooms.
Each slab of Mont Blanc is uniquely different. Your countertops will be book matched to ensure a continuity of the veining and coloration. The colors in Mont Blanc quartzite can vary from pale tans to taupe, silvery grays, and dark gray. These variations make it easy to coordinate with different colored cabinetry.
Mont Blanc and White Cabinets
Create a stunning home by pairing Mont Blanc quartzite with white cabinetry, stainless steel appliances, and chrome light fixtures and cabinetry hardware. This combination allows you to change the look of your kitchen or bathroom by merely opting for a new accent color.
The 123 inch by 77 inch quartzite slab allows you to create a large island so your friends and family can congregate together, complete homework, or enjoy a glass of wine while you are cooking a meal for your friends and family in your beautiful kitchen.
Mont Blanc and Gray Cabinets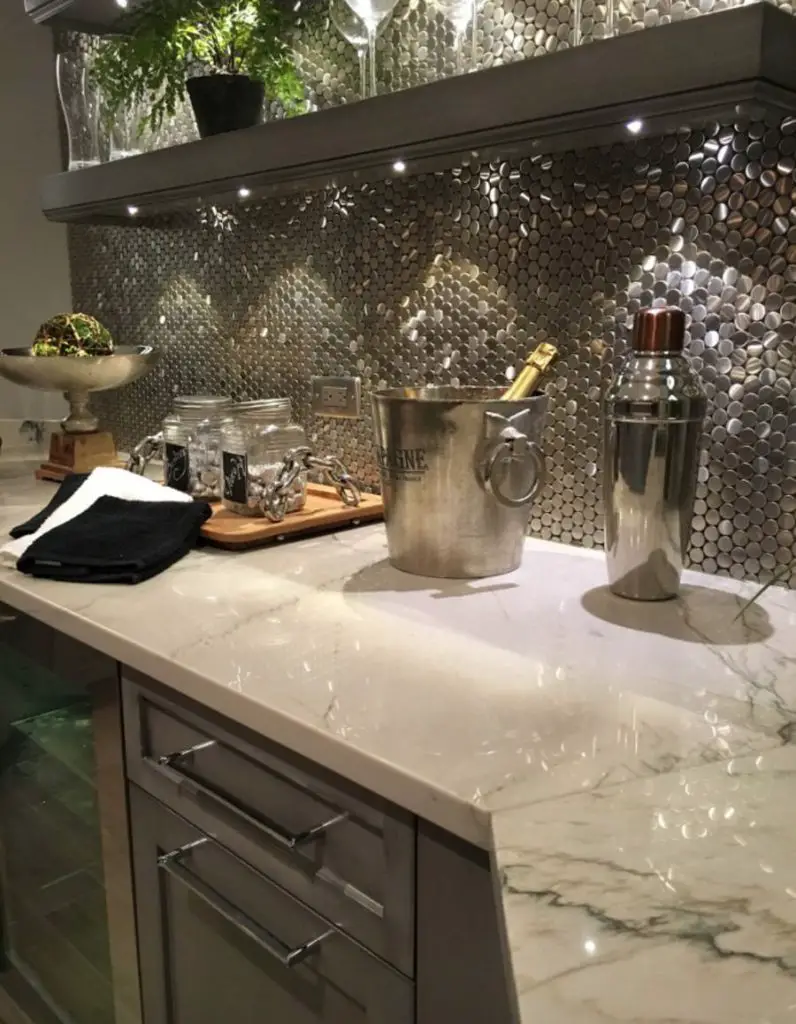 Do you want to create a glamourous bar area in your home? You can create a 1920s inspired luxurious bar by combining Mont Blanc quartzite with stainless steel bar accessories, a metallic silver backsplash, and gray cabinetry.
Downlights, LED rope lighting, and spotlights add sparkle to your bar. Polished Mont Blanc quartzite reflects light, adding interest to the area. Wooden serving trays and green plants add warmth to create an inviting bar for you and your guests to enjoy.
Mont Blanc Fireplace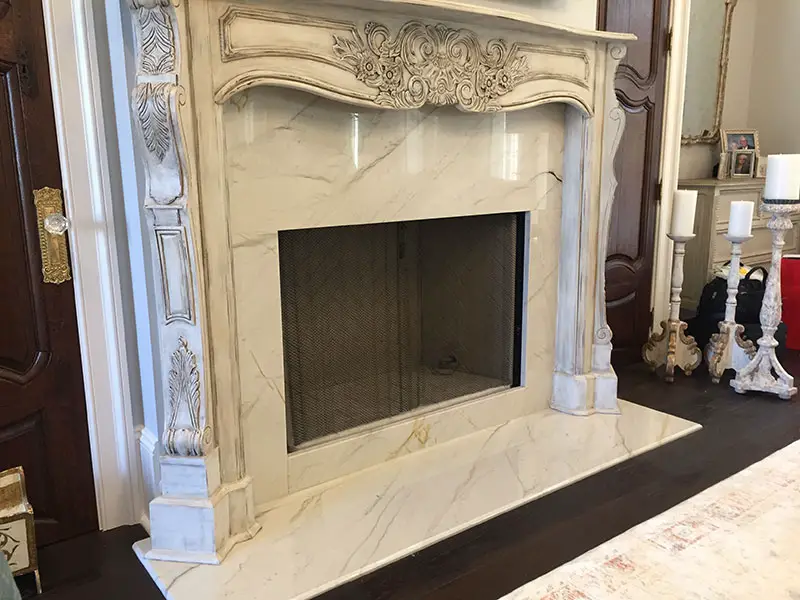 Mont Blanc can be used to clad your fireplace. The natural stone reflects the firelight into your room, creating ambiance in your living room, family room, and dining room. The swirling and veining of the quartzite create depth to the stone.
Mont Blanc can be used to create a sleek modern fireplace, or it can be used to create a traditional fireplace. For modern homes, clad the entire wall with the quartzite. In traditional homes, adding a chunky wooden mantle provides you with the perfect place to decorate.
Mont Blanc Vanity with Dark Brown Cabinet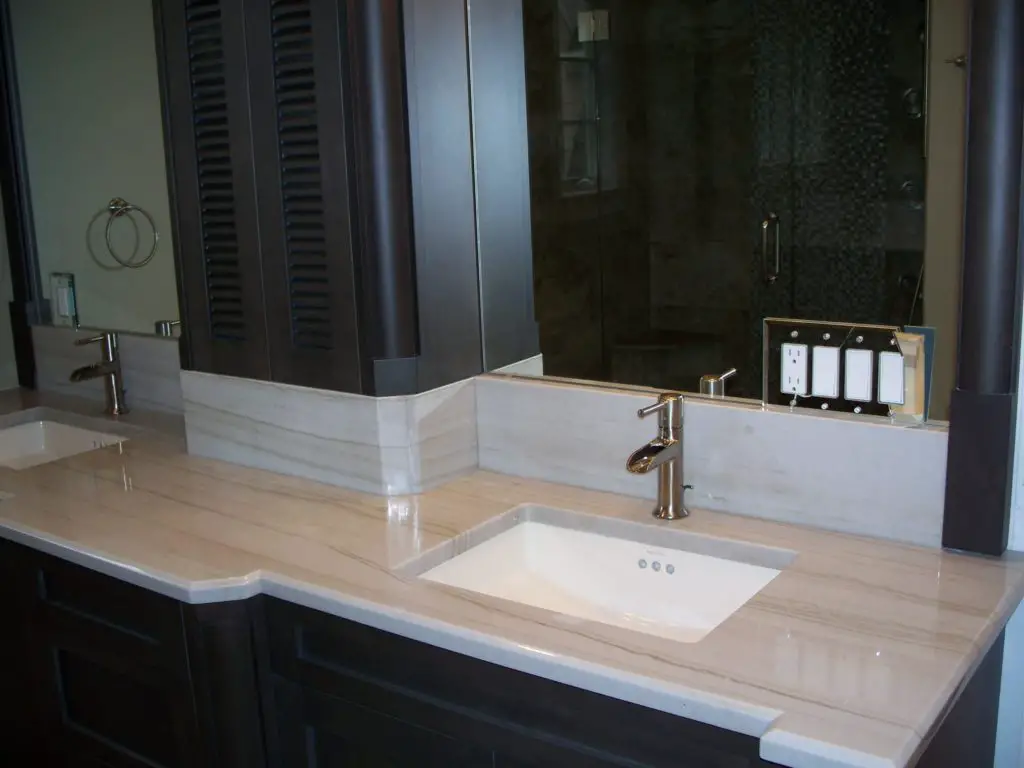 The creamy white background of Mont Blanc quartzite looks spectacular when installed atop dark brown cabinetry. The dark cabinetry brings out the taupe veins found in the quartzite slab while highlighting the creamy white of the background of the quartzite.
Natural stone countertops allow you to install undermount sinks for a sleek, contemporary look. Couple undermount sinks with chrome waterfall bathroom faucets create a spa inspired, elegant bathroom.
Mont Blanc Countertops with Wood Cabinet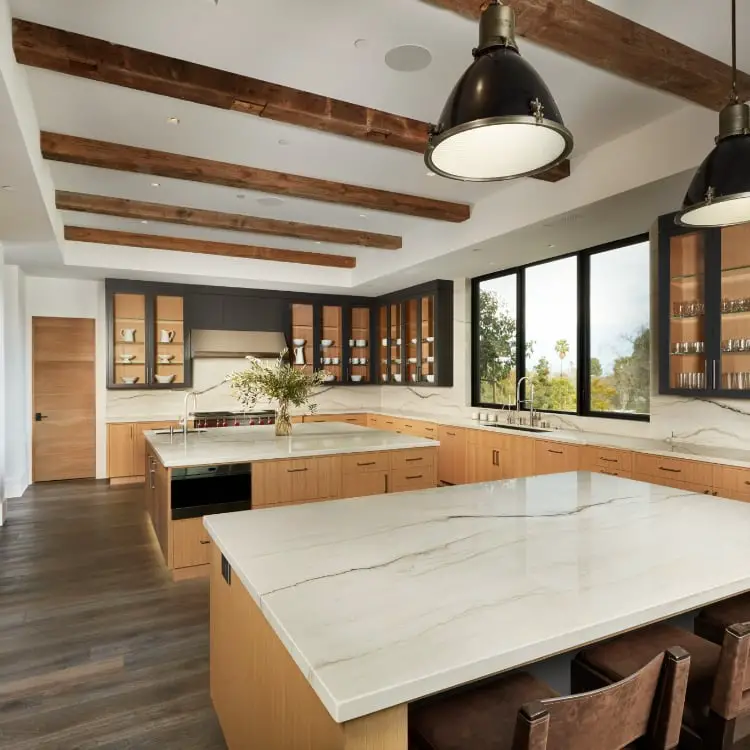 Do you have beamed ceilings and wood cabinetry? If so, you can update your kitchen using Mont Blanc's natural quartzite. The warm wood tones pair perfectly with the creamy white and taupe found in the quartzite.
Create a modern farmhouse design by removing your cabinet fronts and replacing them with glass cabinet fronts or removing your upper cabinets and replacing them with open shelving. To complete the look, add large single dome farmhouse pendant lights over your kitchen island.
Why Choose Mont Blanc Quartzite for Your Design?
Beautiful and luxurious Mont Blanc quartzite provides you with the look and feel of marble countertops, wall cladding, and flooring without the maintenance and worry associated with marble. Quartzite is durable, etch resistant, scratch resistant, and stain resistant. The low maintenance natural stone allows you to create the home you have always dreamed of.
Mont Blanc is a polished quartzite. During the polishing, stone professionals apply resin to the quartzite to fill in the natural fissures, cracks, and pits that naturally occur in quartzite. The polished finish pairs beautifully with stainless steel and polished silver.