Kitchen backsplashes protect your walls from the unavoidable splashes of water, grease, and food. They prevent water damage, and any mold and bacteria from multiplying in the same place you prepare your meals.
But aside from this very practical purpose, kitchen backsplashes can also serve as a major design accent. They add style and color to an otherwise plain wall. Even if you only have a small kitchen (or a small decorating budget) the right backsplash can help it look bigger, brighter, and more beautiful.  
Get inspired by this ultimate guide for kitchen backsplash. Let's look at your choices for materials, and some beautiful examples of each. Then, check the latest kitchen backsplash trends to see how interior designers are turning the kitchen wall into works of art.
Ceramic or Porcelain Tile Backsplash
This is one of the most popular materials, because of the price and the variety and availability of designs. You can spend as little as 50 cents per square foot, or splurge for fancier tiles with rarer designs.  
There are tiles in every color and finish. You can pick a neutral shade that matches your countertops, for a sleek and clean look. The monochromatic palette will also make your kitchen look bigger since there are no jarring lines that break the line of vision.
But if you prefer to make a bolder design statement, there are also tiles in bright colors, which you can mix and match in interesting patterns. You can pair a color with accent tiles and edge or border treatments.
Design Inspiration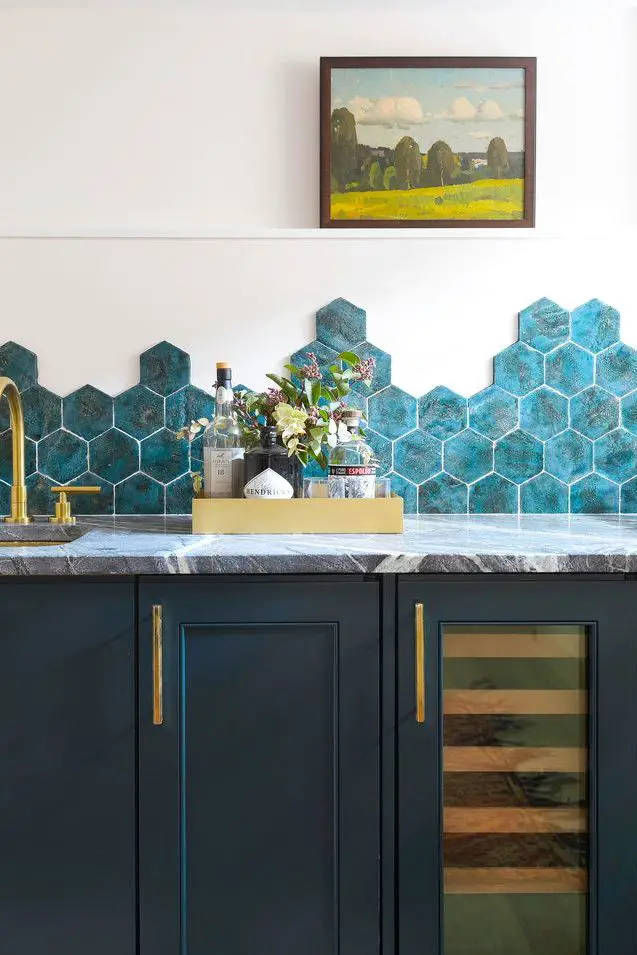 Marble Backsplash
In many cases, a marble countertop is matched with a marble backsplash. It's a bit more expensive than other materials, but it will last for a long time.
However, marble is more prone to scratches and staining than tiles or other stones. Clean it frequently with soap, water, and a soft rag or sponge.
Marble tiles are usually sold in 4x4 and 3x6 sizes, or interlocking tiles that can be arranged into different patterns. You can also find marble tiles in different shapes, like hexagons and penny rounds
Design Inspiration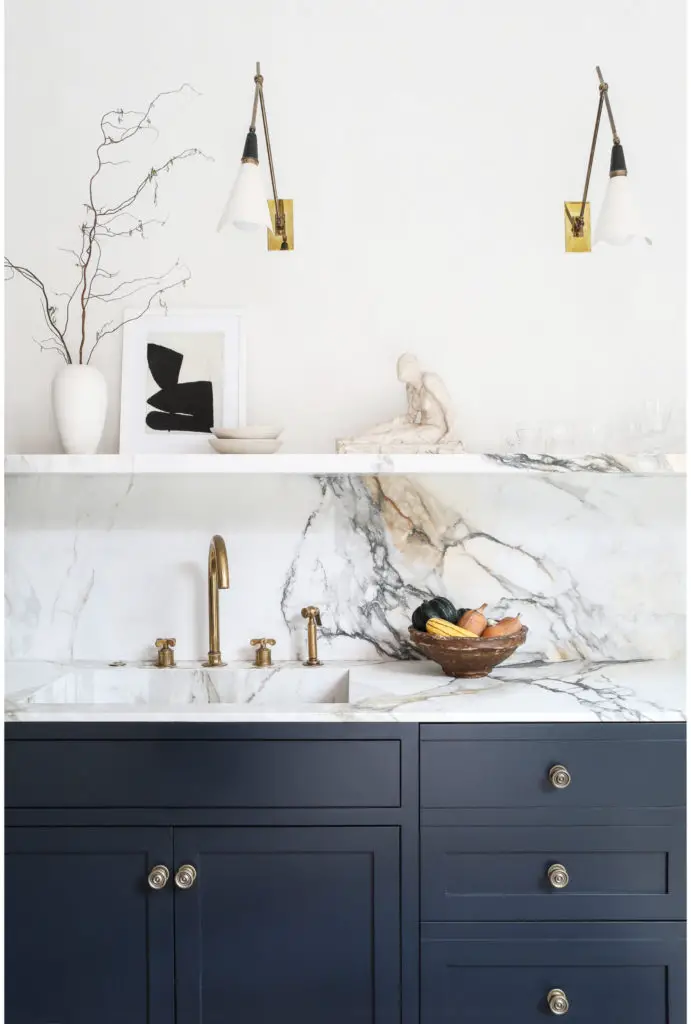 Glass Tile Backsplash
Glass tiles tend to have very vibrant colors. Combined with its naturally reflective surface, this material will immediately brighten your kitchen.
Glass is also very durable and easy to maintain. Unlike linoleum, the colors never fade even when it's hit by strong direct sunlight. Since it's non-porous, you don't need to get it resealed to prevent absorption of oil and bacteria. However, you do need to treat the grout between the tiles.  
If you're going to use the glass behind your oven, make sure that it's tempered glass so it can withstand the higher temperatures.
Design Inspiration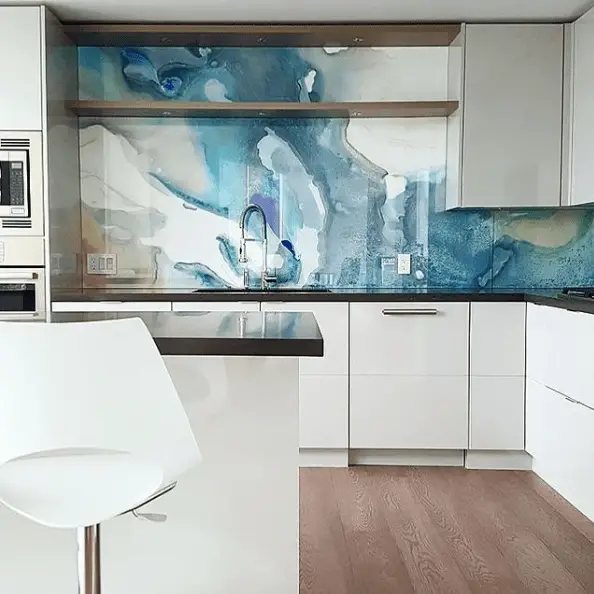 Granite Backsplash
Like marble, granite tiles can be made from the same material as your kitchen counters and floors—instantly unifying your kitchen's look while adding to the sense of space.
Granite is also very durable. It resists scratches and can withstand contact with acidic ingredients. That includes strong household disinfectants, but do take note that oven cleaner and other strong chemicals can break down the protective coating.
Once that happens, water, oil, and bacteria can enter the porous material. While it won't damage the granite, it will increase the risk of staining, and mold and bacteria growth.  So, it's better to wipe your granite backsplash regularly with a mild cleanser, rather than scrubbing it down to get rid of hardened dirt and old stains.
Design Inspiration
Travertine Stone Tile Backsplash
This type of material is often used in a Tuscan-style kitchen or any home inspired by classic, Old-World architecture. It can also be used in modern-style kitchens to add an "organic" touch that balances metals or bold colors.
Travertine stone tiles also have a lot of texture, which adds visual complexity to the tile even when you are using very plain colors like white or cream.
Design Inspiration
Latest Kitchen Backsplash Design Trends
Before, backsplashes were pretty straightforward: just match whatever material you used on the counter. They were just a practical background.
But interior designers have been pushing the envelope and turned the backsplash into a design element in and of its own. Here are some of the latest (and prettiest) designs in 2020.
Kitchen Backsplash Ideas - Ceiling-Height Tile Backsplash
Before, backsplashes were just high enough to protect any part of the wall that could be hit by water or grease. But today, you'll often see entire walls covered with tiles. That allows the tile pattern to take center stage and create a focal point. It also makes your ceiling look higher!
Kitchen Backsplash Ideas - Storage Niches
Small kitchens don't have a lot of space for cabinets and shelves. The solution: recessed storage niches in the backsplash – perfect for holding frequently used oils and spices.
Kitchen Backsplash Ideas - Mirrored and Metallic Finishes
Years ago, everyone was going crazy over glass black splashes. While people still like that shiny finish (especially for modern homes), the trendiest tiles are made of metals or mirrors.
These backsplashes are at their most stunning when they are hit by natural light, or when they are extended to ceiling height. You should also install light fixtures strategically, so their beauty still "shines" at night.
Kitchen Backsplash Ideas - Gold Accents
Sometimes, all a kitchen needs is a touch of gold.
Kitchen Backsplash Ideas - Bold Patterns, Colors, And Shapes
Go beyond the subway tile! Experiment with different colors, shapes, and patterns. You can cover the entire wall with one tile, or use tiles with different designs (or even material) for contrast and texture.
Make a Design Splash
As you can see, there are so many ways you can use different kinds of tiles to create a beautiful backsplash.
You don't have to spend a lot of money: tiles come at different prices, and with a little creativity you can turn a few $1 tiles into a truly unique and eye-catching design.
But whatever kind of tile material you use, make sure you use tile. Kitchen stickers may mimic the look, but can't give the same kind of protection and hygiene. They're nothing more than coated paper, which will absorb all the water and oil. If it's near your oven, the accumulated grease can also pose a fire hazard.
Tile may be more expensive, but they will help protect and beautify your kitchen, and with proper care, will last for decades.
Note: All images are copyright their respective owners. Credit was given for each image.