Epoxy is a durable surface; however, it is not impervious to scratches. When scratches occur, it can cause the countertop surface to lose its beautiful gloss. Fortunately, the process of polishing epoxy countertops is very easy. Our proven technique ensures you will get perfect results. In just a few simple steps you will have lustrous polished epoxy countertops.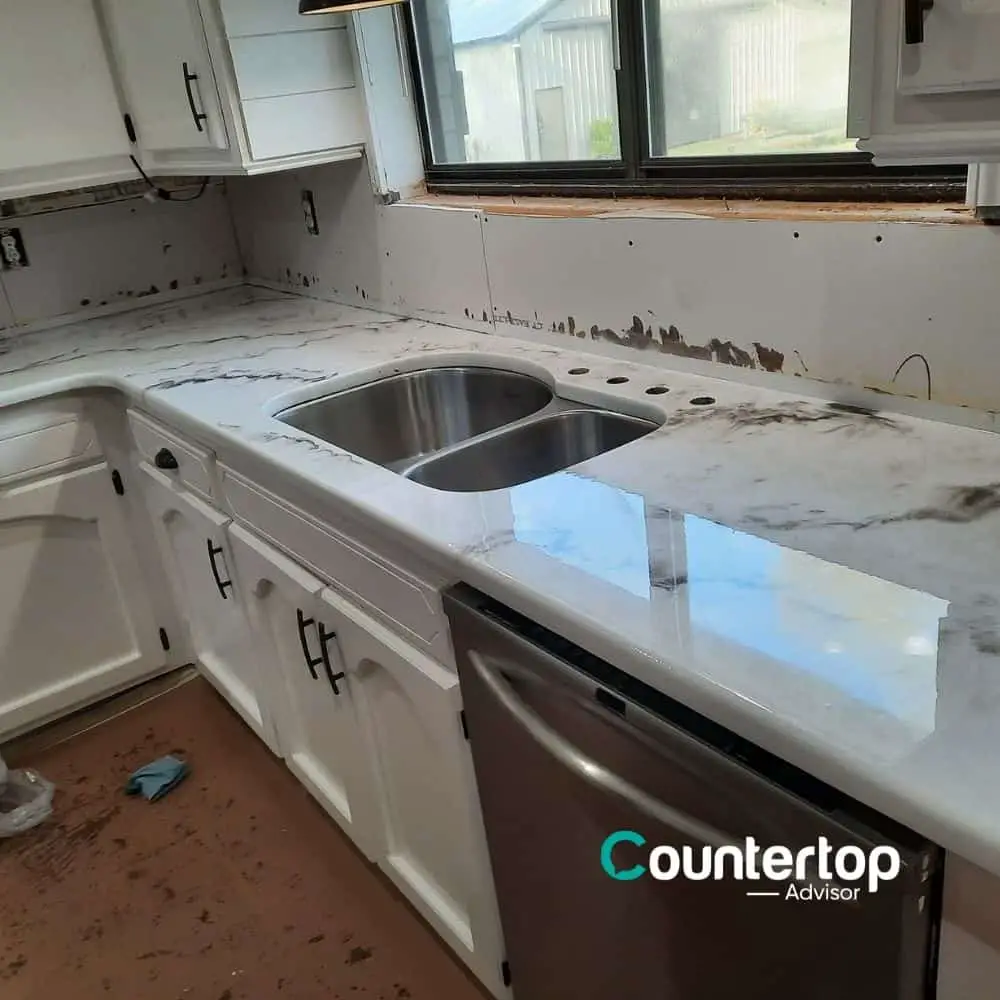 Step One: Prepare the Epoxy Countertop for Polishing
Sanding your epoxy countertops removes surface scratches and readies the surface for polishing. We recommend starting your wet sanding with a coarse wet sandpaper like 120 grit wet sandpaper and moving toward a 1000 grit wet sandpaper.
Place water in a fine misting water sprayer or a small bowl.
Dip the wet sandpaper into the water or moisten the countertop surface with water.
Sand in a circular motion, overlapping each past for a smooth surface. You can either sand by hand or use an orbital sander for this step of the polishing procedure.
After sanding with each grit of sandpaper, wipe up the milky colored water with a soft cloth.
Look carefully at the countertop to ensure the scratches have been removed between passes. Any deep scratches left from the previous sanding cannot be removed later.
Once you have sanded from 120 grit to 1000 grit sandpaper, wipe up all excess water, and then, using a clean damp cloth, wipe the countertop down to ensure all dust particles have been removed.
Pro Tip: When sanding your epoxy countertop, make sure to wear a mask to protect your lungs.
Once you have completed step one and the surface is flat and smooth, it is time to move on to the actual process of polishing your epoxy countertop.
Step Two: Polish Your Epoxy Countertops
A polishing compound has a finer grit than sandpaper; however, it is not as fine as a buffing compound that will be used with a polishing wheel. Apply a small amount of the polishing compound with a clean, dry cloth, rubbing vigorously onto the countertop surface. Allow the polishing compound to remain on the countertop until a fine haze forms. Then, use a clean, dry, soft cloth to buff the surface of the countertop.
Pro Tip: Buff in a circular motion to avoid streaking.
Step Three: Polish Using a Polishing Machine
After you have hand polished your epoxy countertop, it is time for the final buffing using an epoxy countertop buffer polisher. Apply a small amount of polishing compound to pad and polish the countertop.
Pro Tip: Work in small sections to ensure the entire countertop is adequately buffed.
Step Four: Clean Your Countertop
The final step involves cleaning your countertop. Choose a cleaning formula designed to remove all traces of the polishing compound. Wipe the surface completely and allow it to dry. Then, use a damp cloth to wipe the countertop down a final time and buff dry using a clean, dry soft cloth.
Pro Tip: Choose a food safe cleaner designed to be used on epoxy countertops.
Choosing the Correct Supplies
Polishing epoxy countertops is easy; however, you must choose the correct products to ensure success. You will need some polishing compound, soft, absorbent cloths, countertop cleaner, and a polishing machine.
Epoxy Countertop Polishing Compound
One of the most important factors when it comes to polishing epoxy is to purchase a suitable polishing compound. The polishing compound is designed to buff out fine scratches and create a beautiful, lustrous shine.
Epoxy Countertop Cleaning Cloths
When shopping for cleaning cloths for polishing epoxy countertops, you want soft, absorbent cloths. We recommend using microfiber cleaning cloths for washing and buffing. For a lustrous final finish, a microfiber window cloth should be used.
Epoxy Countertop Cleaner
When choosing an epoxy countertop cleaning spray, look for one that provides a streak-free formula. In addition to this, you want a cleaner that is food safe and designed to clean food preparation surfaces.
Epoxy Countertop Polishing Machine
A polishing machine is designed to help polish large surfaces like countertops or floors. The polishing machine moves in an elliptical movement rather than exact rotations. The benefit of this type of movement ensures that the shine across the entire surface is even.
Final Thoughts
Epoxy countertops are durable, long-lasting, and beautiful when properly cared for; however, they can become scratched and dull over time. Polishing your epoxy countertops removes surface scratches and restores you're the brilliant shine to your epoxy countertops.