Is your house known as the gathering place for your friends and family? Would you like to take your home décor to the next level? Look no further than gemstone countertops. These natural stone countertops will be the talk of the town, especially when they are lit with an LED backlight kit.
Backlit countertops can be made from several different types of gemstone countertop options, including tiger eye, agate, carnelian, and amethyst. When placed atop LED backlights, these translucent countertops create a beautiful and unique glow. In the past, backlit countertops could only be found in the top restaurants and pubs around the world; however, with the advances in the LED light industry, homeowners can now choose to have these beautiful gemstone countertops installed in their homes.
Gemstone Countertops Add a Wow Factor to Your Kitchen or Bathroom
Gemstone countertops come in a range of colors, including reds, blues, purples, whites, browns, and blacks. Gemstone countertops can help you create a sophisticated kitchen or bathroom, or if you prefer, these sound countertops can help you create a party ready countertop.
When gemstone countertops are lit from the underneath, they will add visual interest to your room. Don't believe us, Let's take a look at some of the different gemstone countertop options than can be backlit.
Carnelian Gemstone Countertops
Carnelian is a dazzling reddish orange semiprecious gemstone. When the carnelian is backlit, it has a fiery brilliance, unlike any other gemstone countertop. This extremely durable stone can be used in high traffic and damp areas of the home, including bathrooms and kitchens.
Carnelian countertops feature both large and small sized rocks, depending on the chosen slab. The beautiful red stone will add interest and instantly become a focal point in your home.
Carnelian is a highly sought after semiprecious gemstone. The stone's reddish orange color is perfect in kitchen areas that often feel cold and sterile. Once the natural stone countertop is lit, it creates a beautiful glow that instantaneously adds warmth to your interior spaces. In fact, many homeowners comment that backlit carnelian countertops look like they are blazing from the inside out.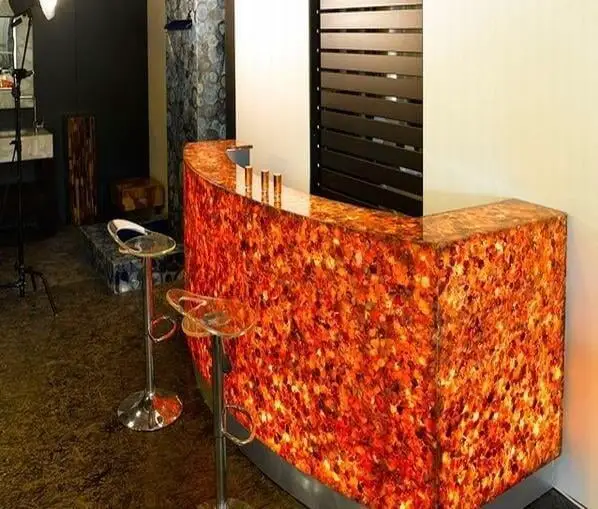 Amethyst Countertops
Treat your guests like royalty with gorgeous amethyst countertops. Amethyst is a stunning semiprecious gemstone that gives a sense of opulence to the interior spaces in the home. The purple tones found in this brilliant countertop is redolent of the monarchs who helped shape history.
Amethyst is prized for its beautiful deep purple color; however, it can also contain pale lavender and violet. When used as countertops, amethyst will create a sense of opulence in your kitchen and baths.
Although today, amethyst is considered a semiprecious stone, it was once treasured by ancient people and was called the gem of fire and was more valuable than diamonds. An amethyst countertop adds a touch of whimsy while providing a luxurious look.
Amethyst slabs can have varying shades of violet, as well as beautiful silver or gold veining. When amethyst is installed atop LED backlights, the intricate colors of the stone will shine through. There will be areas of light and dark purple as well as gold and silver veins, and white specks.
Agate Countertops
Do you want a unique countertop? Are you looking for a gemstone countertop that adds depth and dimension to your kitchen and bathrooms? Look no further than agate countertops. These natural stone countertops come in a variety of colors, including blue, gold, yellow, red, gray, white, green, and brown.
Agate countertops are very easy to incorporate into any design scheme, including traditional, contemporary, and industrial design options. When an agate countertop is backlit, the variations in color will add depth and dimension to your countertops and have your friends and family members enthralled.
Agate countertops feature numerous round agates in a variety of colors. Each stone will have varying shades of color throughout. The highlights created by a countertop backlighting kit showcase the various colors present in the natural stone, making it an excellent choice for vanities, kitchen countertops, and bar tops.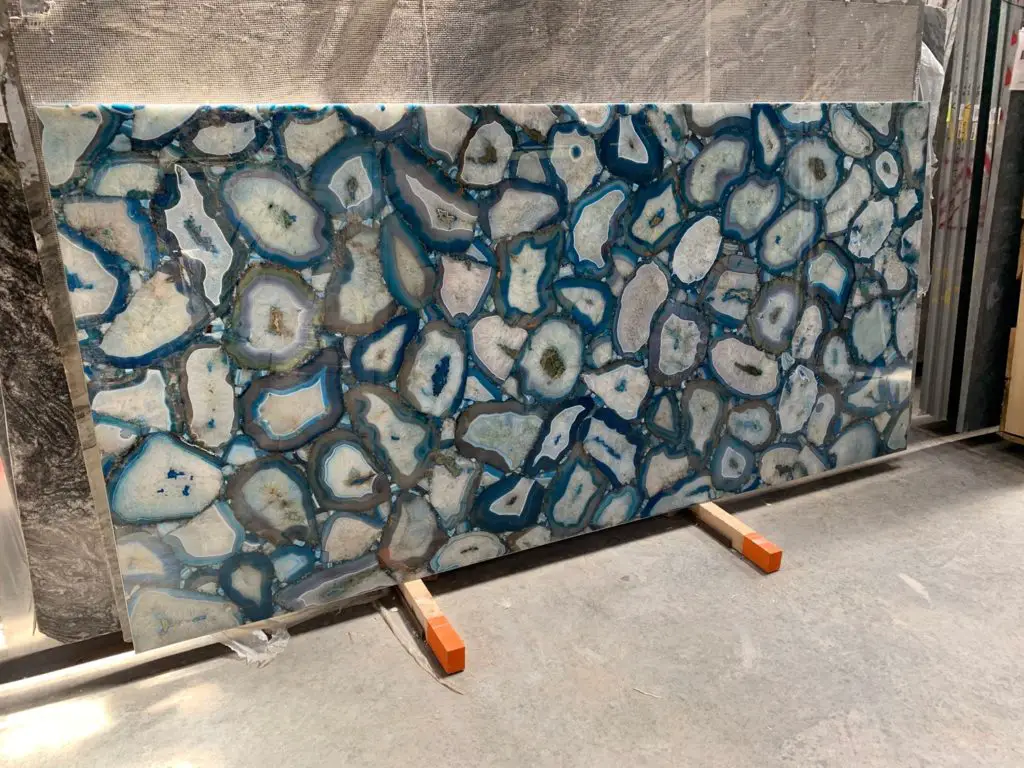 Tiger Eye Countertops
Tiger Eye is a gorgeous semiprecious gemstone featuring gold and brown earth toned hues. This beautiful gemstone goes great with all types of home design. The exotic natural stone provides interest in your interior design by adding unique textures and colors to your kitchen or bathroom. A tiger eye stone features horizontal and vertical marking throughout the countertop.
When tiger eye countertops are backlit with LED backlight kits, the undulating textures shine through. When the backlights are not on, the countertop is reminiscent of a butcher block countertop; however, when the countertop is lit from underneath, a whole new countertop emerges – one with beautiful shades of yellow, gold, and brown.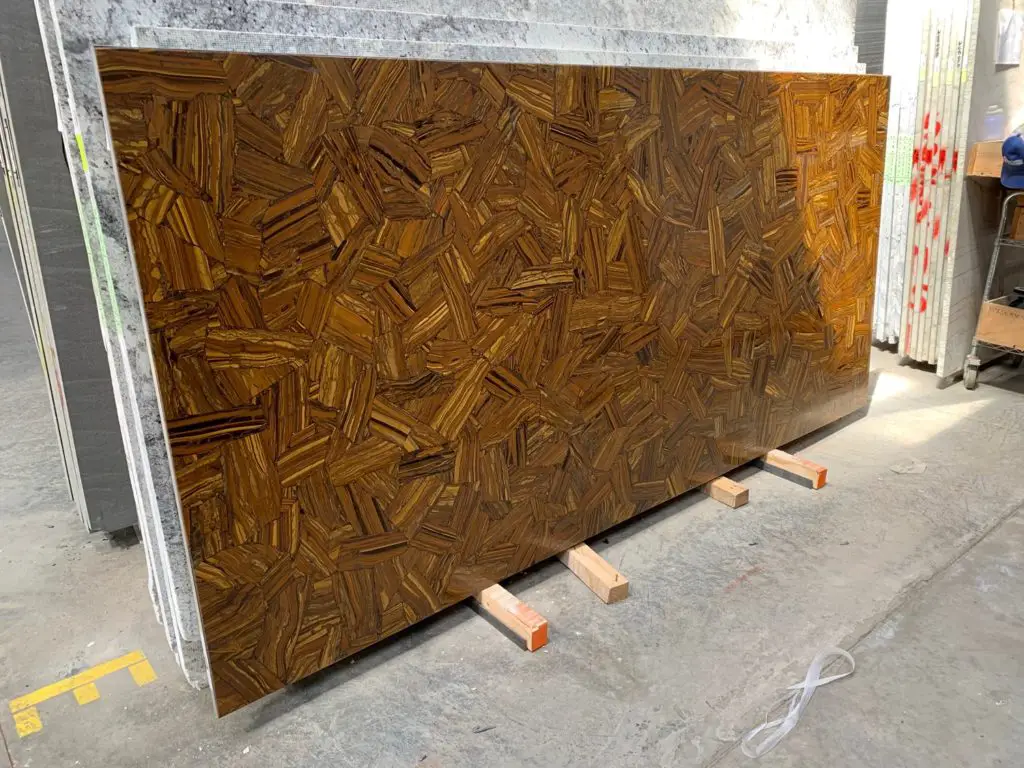 What Is an LED Backlight for Translucent Gemstone Countertops?
LED light panels are created by embedding LEDs in acrylic sheets. Due to the thinness of the LED sheet, the edges of the light panel must be adequately supported to prevent the acrylic panel from flexing or shifting when the natural stone countertop is placed on top.
It is recommended that the LED light panel is placed atop one half an inch or thicker MDF or plywood. The screws used to attach the plywood to the cabinet base must be countersunk to ensure a flat surface free of debris. A level should be used to ensure the surface is level.
The light panel will then be installed atop the substrate. Once it is installed, the countertop will be installed atop the light panel. Once installed, you can use the remote control to turn the LED light panel on and off. Most light panels can be dimmed to change the overall look of the backlit countertop.
Which Edge Profile Should You Choose for Backlit Gemstone Countertops?
Although several edge profiles can be chosen for gemstone countertops, the best edge profile for backlit countertops is a mitered edge. Mitered edge countertops allow the maximum amount of light to be transferred all the way to the edge of the stone. Double edged profiles prevent the stone from traveling to the face of the countertop, resulting in a beautifully lit top and an unlit countertop face.
Why Should You Choose a Gemstone Countertop?
Gemstones countertops are available in an almost countless number of textures, colors, and styles. These beautiful countertops can be tailored to your needs and can be combined with a number of natural stones for a unique countertop. Using the latest in LED technology, you can create countertops that glow from the inside for a gorgeous focal point in your kitchen or bathroom.