A good option for a high-end countertop would be black slate countertops. First of all, it's rare to see this in a kitchen or bathroom and second, it is an amazing material.
Slate is usually durable but can be brittle on the edges if it is not higher quality material. The more you pay for your black slate countertops the higher the quality. Always choose a high-end countertop provider when working with this material.
Black Slate Countertops White Kitchen Cabinets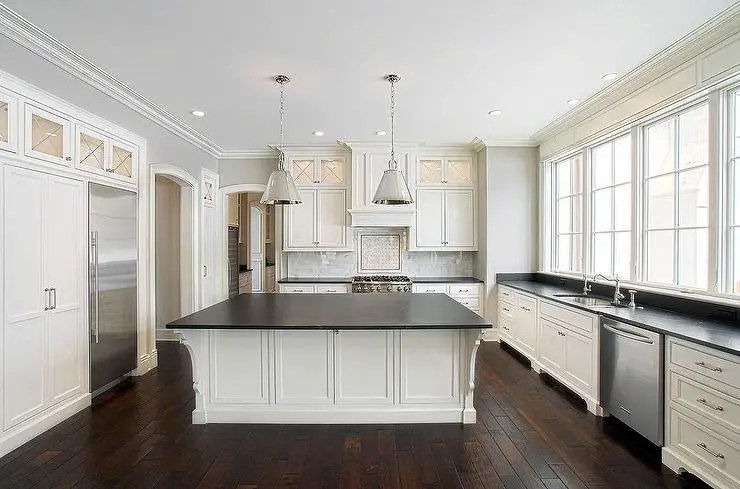 This is a beautiful combination for slate and probably the most likely choice for anyone using black slate countertops in their kitchen.
Black slate countertops match perfectly with a beautiful white cabinet, dark brown hardwood floor, and marble backsplash. When deciding on your appliances always go stainless steel. Look at the sheer beauty of this modern kitchen.
I also think black slate countertops work well with dark kitchen cabinets but be sure to keep that stainless steel look going.
Black Slate Countertops With Subway Tile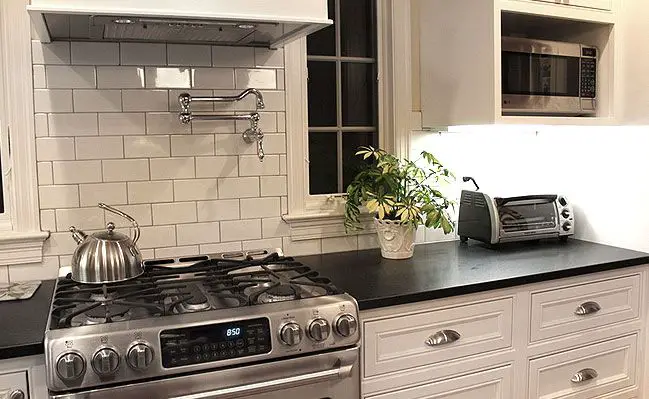 Black slate countertops and white subway tile is a beautiful collaboration between two very popular materials. Your black slate countertops will dominate the white subway tile and this bold look will guarantee compliments from your guests.
The stainless steel appliance also looks great with this style. A touch of green from the plant in the above image also makes this modern kitchen pop.
How To Clean Black Slate Countertops
Cleaning your black slate countertops is super important. Cleaning with the right products is even more important. I want to share the products I recommend and the types of products that I urge you to stay away from with black slate countertops.
Pro Tip: Keep 5 to 10 microfiber towels handy in your kitchen to keep your black slate dry and free of debris. Watermarks are easy to see on a black slate countertop.
Cleaners to Avoid When Cleaning Black Slate Countertops
Anything with acid
Lemon juice
Windex
Bleach
Wax
It is best to stay away from anything acidic and no scented sprays with lemon or orange juice. These things will etch the finish of your black slate countertop. It is ok to use if it is made specifically for slate.
Windex is not as terrible of a product for slate but I don't recommend using windes on any countertop surface. This is a surface that food may touch from time to time.
Bleach is obviously not something you want to use to clean black slate as it is harmful to you and can soak into your countertops. Just stay away from bleach on any countertop surface.
Wax products can cause your countertops to have dull areas and potential staining. Steer clear of anything made with wax.
What Products Are Good For Cleaning Black Slate Countertops
There are a few products that are great for black slate countertops but my number 1 recommendation is the Clarks product. It is a protection product that seals and restores your black slate countertops' original color. It also protects your black slate from stains.
Natural Stone Daily Cleaner and Wax Care Kit –Set Includes Soapstone, Slate, & Concrete Wax, (6oz), Spray (12oz), Applicator, Microfiber Towel & Buffing Pad, Enriched with Lemon & Orange Extract
CLARK'S SOAPSTONE KIT INCLUDES: CLARK's Soapstone and Concrete Finish (6oz) - CLARK'S Large Block Applicator - Buffing Pad - CLARK'S Daily Stone Cleaning Spray - Non-abrasive microfiber towel
PROTECTIVE BARRIER – More Carnauba wax and beeswax means no more greasy finishes. CLARK'S protects your soapstone, slate, and concrete contertops from stains and spills giving them a uniform patina.
NATURAL INGREDIENTS – Specially formulated mix of beeswax, carnauba wax, mineral oil, lemon oil and orange oil. More carnauba wax than other brands to form a tougher layer of protection.