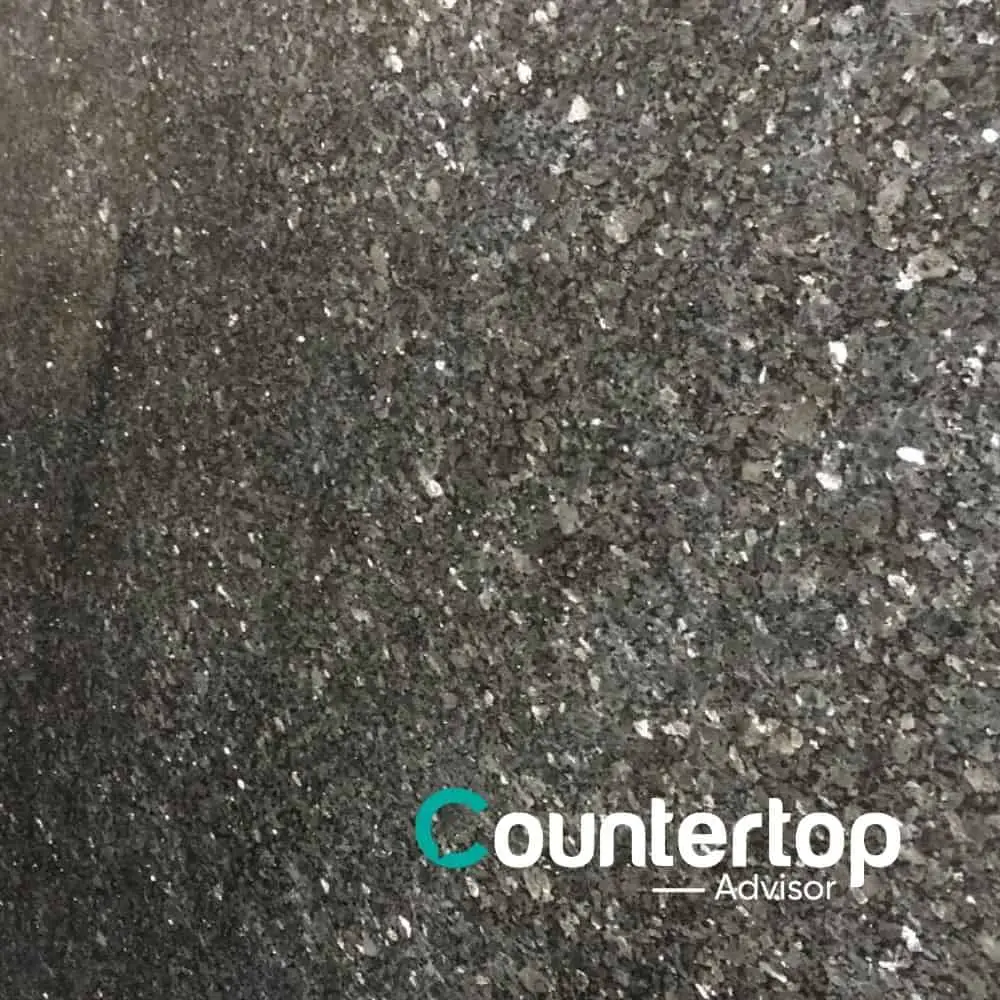 Blue Pearl granite is a blue-gray Norwegian granite loved for its beauty and durability. Blue Pearl is a finely textured granite with a bluish-gray undertone with flecks of black, white, and brown quartz crystals.
Blue Pearl granite pairs wonderfully with stark white cabinets and stainless steel appliances. It also looks great with light-colored wood cabinetry like maple, hickory, or white oak. Finally, Blue Pearl can be used atop brightly colored cabinetry like green or blue cabinetry, but what are the best backsplash options for Blue Pearl granite countertops?
Hexagon Marble Tiles
Carrara white marble-honed hexagon tiles are unpolished and feature a classic hexagon shape. Each tile is four inches and features a white background with gray veins running throughout. The honed tile brings the quartz crystals in the Blue Pearl granite countertops to life.
[amazon box="B018F6XQ0G" template="horizontal"]
Sea Glass Tiles
Are you looking for a backsplash that looks great with your Blue Pearl countertops and provides you with a coastal-themed kitchen? The Artistic Mosaic Tile featuring blue and green sea glass and stainless steel tiles looks great when paired with white countertops. Each piece of sea glass is beveled to make them glisten and shine like a diamond.
[amazon box="B075F82ZH6" template="horizontal"]
White Marble Subway Tiles
Venatino Polished marble subway tiles are three inches by six inches and perfectly showcase your Blue Pearl granite countertops. The timeless subway tiles are polished and feature a rectified edge treatment so you can use thin grout lines for a seamless look.
Gray Marble
Create interest and dimension with Stone Center's Bardiglio Gray Marble Hexagon Mosaic Tiles. The various grays in these one-inch hexagon pieces blend seamlessly with Blue Pearl granite countertops. Each mesh tile sheet features fourteen rows by twelve columns of hexagon tiles. The polished finish and flowing veins help create a timeless, traditional backsplash.
[amazon box="B079H2WL4R" template="horizontal"]
Mosaic Tiles
Do you love French Country inspired design? Then, look no further than Mosaic Tile Outlets six by six-inch distressed porcelain mosaic tiles. The bluish-gray design on a white background compliments Blue Pearl granite. The matte finish is the perfect finish for Old World charm in modern-day kitchens.
[amazon box="B07GX5CYG4" template="horizontal"]
Black Marble
Are you looking to create elegance in your kitchen? Black polished two-by-two-inch marble tiles with fine white veins and grains create a timeless elegance that will provide you with years of enjoyment. This beautiful black marble tile brings out the black and white quartz flecks found in Blue Pearl granite.
[amazon box="B078JRHYRQ" template="horizontal"]
Brick Backsplash
Looking for a kitchen full of charm? A brick backsplash paired with Blue Pearl granite countertops is the answer. When choosing brick for your backsplash, opt for reddish-orange bricks rather than bricks on the brown spectrum. The reddish-orange bricks pull out the beautiful blues in the granite, while a brown brick backsplash will make the kitchen appear dull and lifeless.
Metal Backsplash
If you do a lot of cooking in your kitchen, you may want to choose an easy-to-clean metal backsplash like stainless steel or copper. Stainless steel can bring the quartz flecks to life while copper will bring out the beautiful shades of blue in Blue Pearl granite.
Final Thoughts
Blue Pearl granite countertops are the perfect addition to any kitchen. This gorgeous bluish-gray granite countertop pairs beautifully with a variety of backsplashes, including white, gray, or black marble, stainless steel, copper, and brick.