Are Epoxy Countertops the Right Choice for You? Find Out by Learning about the Advantages and Disadvantages of Epoxy Countertops.
Epoxy countertops are created by mixing a hardener with resin and applying the mixture to the countertop's substrate. Most people have heard of using epoxy on top of their existing countertops; however, you can order custom-created epoxy countertops just like ordering granite, quartz, or marble countertops.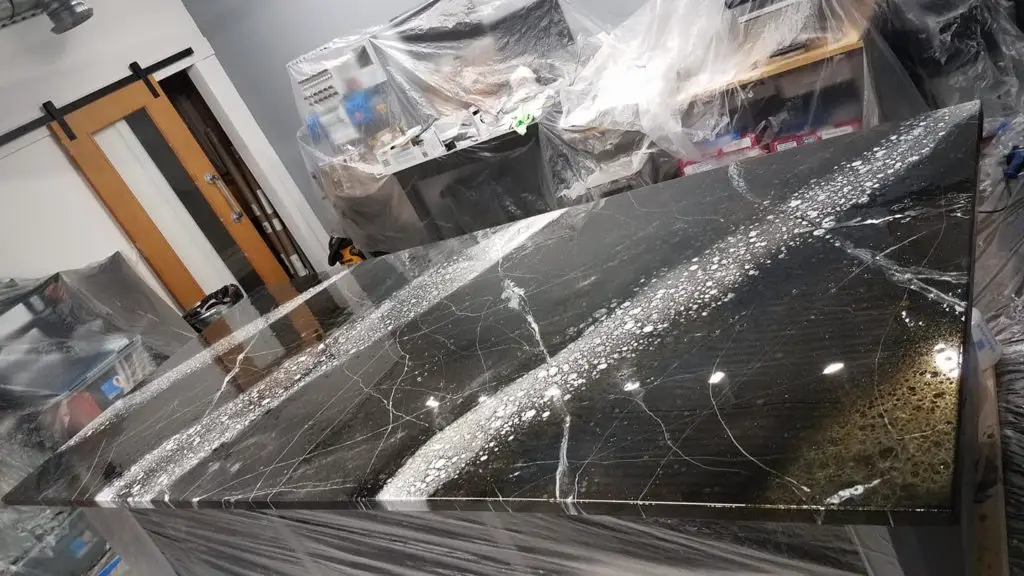 Your imagination and budget only limit epoxy countertop color, texture, and pattern options. Whether you want your countertops to look like natural stone countertops (granite, marble, soapstone, etc.) or you want a bright, bold colored countertop, epoxy countertops have you covered. When the epoxy countertop is created, metallic powders can be added to bring a lustrous shine to your countertops.
If you are shopping for countertops for your kitchen or bathroom, you need to know everything you can about the different types of countertops. Each type of countertop has its own set of pros and cons. Some countertops are nonporous, while others are porous. Other countertops are heat and stain-resistant.
When deciding on a countertop, you must determine how your countertop will be used. Will the countertop need to be able to handle the demands of a busy family who enjoys cooking often, or will you only be using the epoxy countertop from time to time when you are entertaining friends or family? Answering these questions will help you know what to look for when shopping for a countertop for your kitchen or bathroom. We have compiled a list of the advantages and disadvantages of epoxy countertops to help you make an informed decision.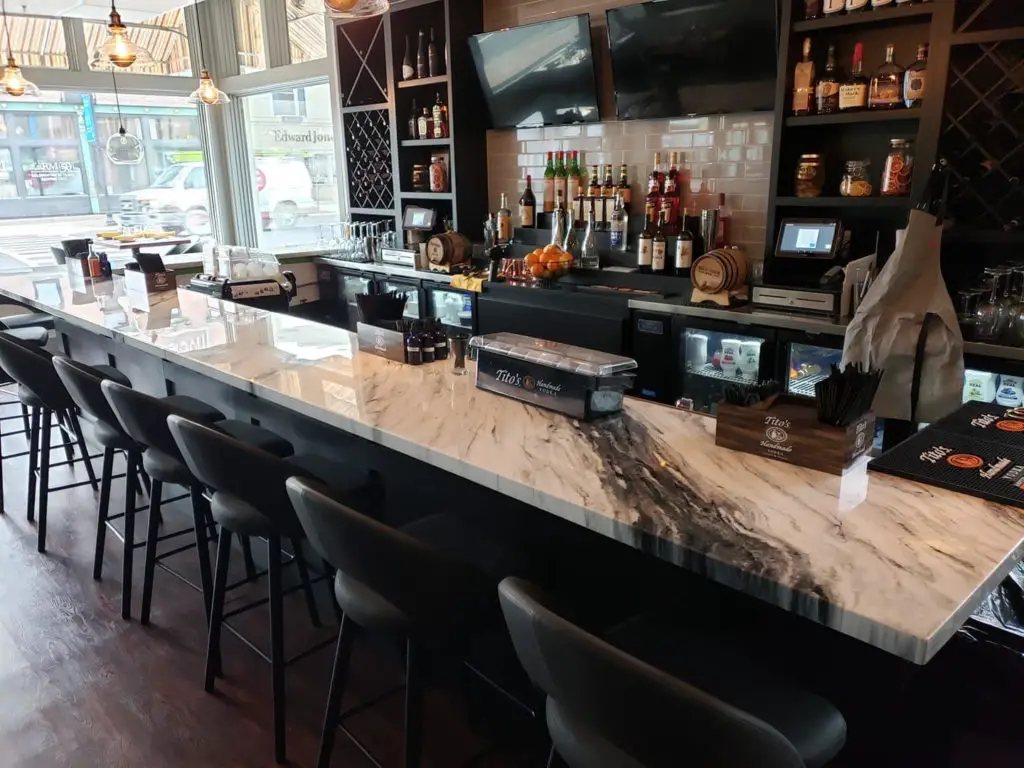 Advantages of Epoxy Countertops
Durable – Resin countertops were developed to be used in laboratories. These countertops were created to withstand the demands of a laboratory setting. Epoxy countertops are impact resistant, chemical resistant (to a certain extent), and UV resistant. Furthermore, epoxy countertops can withstand heat; however, hot pots cannot be placed directly on the countertop. Epoxy countertops provide homeowners with a durable countertop that can withstand the demands of a busy household.
High Gloss Finish – Epoxy countertops have a beautiful high gloss finish. This finish reflects light back into the room. The high gloss finish creates interest in the kitchen and bathroom areas of the home. The glossy finish not only reflects light, but it also makes the countertop easy to clean. Every pore of the countertop is closed for a sleek, smooth finish.
Nontoxic – Epoxy countertops are nontoxic once the epoxy fully cures. These beautiful countertops resist bacteria, germs, molds, and mildews. Absolutely nothing can penetrate the surface of the epoxy countertop, which means microbes cannot enter the countertop and contaminate your countertops. To remove surface microbes, wipe the epoxy countertop down with vinegar and allow the surface to dry. Always ensure you are using food safe cleaners on your kitchen's epoxy countertops.
Easy to Clean – Clean up is a breeze. All that you need to clean your epoxy countertops is a damp cloth, and a mild detergent like dishwashing liquid to power away stuck-on food. Avoid using sharp items like putty knives to loosen stuck-on food. Additionally, harsh cleaners and bleach should be avoided as these items can damage the finish of your epoxy countertops. Instead, use a steam cleaner to power away stuck-on food. [amazon link - https://amzn.to/2t3JIii]
Heat Resistant – Epoxy countertops are heat resistant; however, they are not steam proof. You should avoid setting hot pots and pans directly on the surface of the countertop. In addition to this heat-producing appliances, including slow cookers, pressure cookers, countertop ovens, and fryers, should not be placed directly on the countertop. Use a hot pad or a trivet to protect the countertop surface.
Affordable – Epoxy countertops are quite affordable; however, the cost is dependent on the pattern and colors you choose. A single color epoxy countertop can cost you as little as $25 per square foot while a multicolored epoxy countertop can cost upwards of $100+ per square foot. Furthermore, the countertop design, number of cutouts required, and the finish of the countertop (natural stone look, metallic additives, and edge profiles) affect the overall price of epoxy countertops. Contacting a countertop specialist and getting an in-home cost estimate can help you determine how much your epoxy countertops will cost.
Maintenance Free – Unlike natural stone countertops, epoxy countertops do not require sealing. Epoxy countertops rarely become damaged, allowing you to have a virtually maintenance-free countertop. When properly cared for, your epoxy countertop will provide you with many years of beautiful, glossy countertops. All that is needed is a damp cloth to keep your epoxy countertops looking great. Applying a food-grade mineral [Amazon link - https://amzn.to/2RuIaqS] every month or two will keep your countertops looking great.
Unlimited Design Options – Epoxy countertops are created by mixing resin with a hardener to create a durable countertop. When the epoxy is mixed with hardeners, pigments are added. The colored epoxy can be manufactured to replicate natural stones at a fraction of the price. For those who want the look of natural stone without the upkeep and maintenance necessary to keep natural stone countertops, epoxy countertops are the answer.
Disadvantages of Epoxy Countertops
VOCs – Before the resin and the hardeners fully cure, volatile organic compounds, abbreviated VOCs, are released into the air. If a homeowner has a countertop specialist apply an epoxy finish to their current countertops, proper ventilation is required to ensure the VOCs are removed from the room. The kitchen or bathroom where the epoxy countertops are installed should be avoided for approximately one week to ensure all VOCs have dissipated.
Quality Issues – An expert craftsman is needed to create pristine epoxy countertops. Because the epoxy dries so quickly, air bubbles can become trapped in the surface of the countertop. Manufacturers have vibrating machines that help level the epoxy and remove the bubbles; however, flaws can still occur. Furthermore, because epoxy cures so quickly, the countertop can have smears and imperfections if the countertop specialist tries to smooth out the surface as the epoxy begins to harden.
Stains – Although epoxy countertops are very durable, they can stain. If a food item or liquid is allowed to remain on the countertop surface, a stain can develop. To help prevent stains from occurring, you must wipe up any spills immediately. Once the spill is wiped up, flood the countertop with water and wipe again. Next, add a drop or two of dishwashing liquid to some hot water and wipe the countertop to remove any remaining traces of the substance. Finally, use a clean wet cloth to remove all soapy residue and allow to dry.
Not Repairable – If your epoxy countertops become damaged, there is little that can be done other than refinishing the countertop. For this, the countertops specialist must sand the epoxy countertop until the surface has a matte, almost white appearance. Doing this step will ensure a fresh coat of epoxy will adhere to the surface of the countertop. When the new layer of epoxy is applied to the countertop, the specialist must work fast to ensure an even thorough coat.
Not Heatproof – Although epoxy countertops are heat resistant, excess heat can damage the epoxy surface. In fact, heat can melt the resins in the countertop resulting in an uneven surface. If a hot pot or pan is placed on the countertop for an extended period of time, scorch marks can appear on the surface.
Scratches – Although epoxy countertops are incredibly durable, scratches can occur. Luckily, many surface scratches can be removed. You will need to apply a polishing paste specially designed for epoxy countertops [Amazon link - https://amzn.to/37xhETw]. In addition to this, you will need a variable speed grinder and diamond polishing pads. Apply a small amount of polishing paste to the scratches. Attach a diamond polishing pad to your grinder and buff the surface to remove scratches from your epoxy countertop. Always use circular motions to help prevent further scratches from forming. Polish the entire surface of your countertop and then use a soft, absorbent cloth and water to wipe the excess polish from the epoxy countertop.
Conclusion
Epoxy countertops are beautiful, durable, and affordable. The sleek look of epoxy countertops looks great in modern kitchens as well as traditional kitchens. Epoxy countertops are available in any color imaginable. In fact, a skilled countertop specialist can create an epoxy countertop that rivals the most exquisite stone countertops on the market.
As a homeowner, you must understand the pros and cons of epoxy countertops. How well the epoxy countertop performs is often based on the quality of the epoxy countertop. A high-quality epoxy countertop will provide you years of enjoyment with minimal upkeep and maintenance. Simply wipe the countertop daily with a soft damp cloth. To ensure your countertop remains glossy, wipe the countertop with mineral oil and buff dry using a soft cloth.
Epoxy countertops are great for kitchens and bathrooms; however, care must be taken to keep your countertops looking beautiful. Because damage can occur when the countertop is exposed to excess heat, always use a trivet or hot pad to prevent scorching or melting your countertops. Finally, a cutting board is recommended when chopping vegetables.