White cabinets are probably the most popular cabinet choice used in homes across the world.
For white cabinets, there's a wide variety of granite color patterns to go with. From the natural white-on-white, black-on-white style choices to the lively and harmonious river white here is a look at white cabinet granite countertop color combination ideas:
1. Alaskan White Granite
A fresh combination of frosty white, dark brown veins with icy gray patches that's good for painting using a limited palette. Warm neutrals with onyx hues bring visual complexity that transforms that white-on-white kitchen into a stunning space.
Up close, Alaskan White Granite is bright white owing to its dominant white base. Within this striking backdrop lies patches of gray in varying sizes and attractive patterns; White cabinets accentuate the dark-brown veins drawing the eye to the natural gray islands.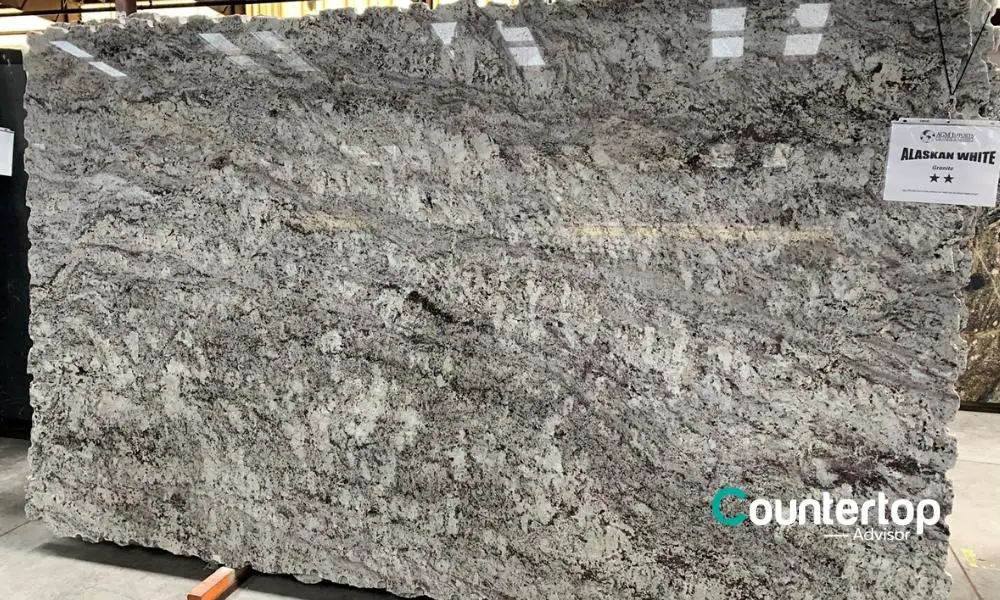 2. Black Pearl Granite
Black with a subtle sparkle! This mix of deep black and gray is sometimes referred to as Black Labrador or Silver Pearl. It's imported from India and available in a polished and brushed finish. It's suitable for designing that professional-looking black and white kitchen.
What's unique about Black Pearl Granite is its consistent mineral structure and uniform look that limits variations when painting a large countertop surface. You can also add dark wood stains such as cherry for a unique appearance.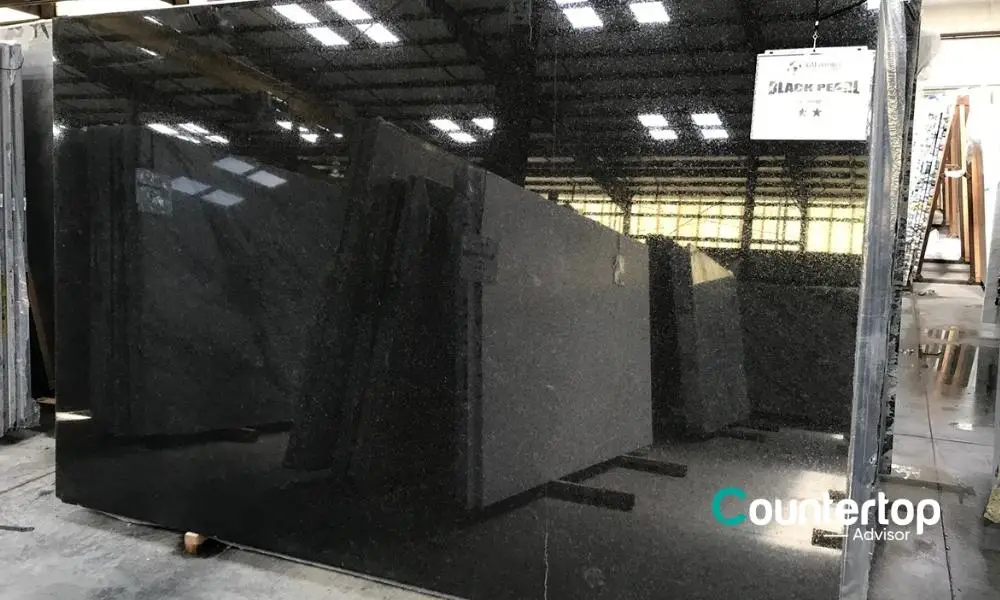 3. Black Marinace Granite
Add a twist to your classic black and white kitchen space with this dramatic granite polish from Brazil. It's sometimes referred to as Black Mosaic Gold Granite, Aquarium Granite, or Black Morgan Granite. Black Marinace Granite polish has a black background with thousands of pebbles, each with unique colors and shapes.
4. River White Granite
A light-colored granite quarried in India. The paint is predominantly off-white with burgundy specks and gray sweeping lines. It easily pairs with light and dark cabinet style choices.
What's cool is you can stretch the river white design along your kitchen work surface to give the illusion of a longer cabinet than it actually is.
5. Kashmir White Granite
Wiping your granite countertop clean is a must, but sometimes those small countertop messes won't just disappear quickly, and we're pressed for time. That's why you need a color that will hide those little messes.
Kashmir Whites salt and pepper appearance blend perfectly with various kitchen color and design ideas. The dominant color varies from white to light gray, speckled with red to cranberry flecks and hints of peach. To find the best Kashmir White Granite for your countertop, visit your local fabricator with your drawer in hand and compare how it performs when set against the Kashmir white granite slab varieties available.
6. Ivory Fantasy Granite
Ivory Fantasy has a beautiful, creamy background with pinkish tones making it easy-on-the-eyes. Expect an overall warm feel from the blending of peach and butterscotch hues.
Ivory Fantasy granite is an excellent alternative to Kashmir White if you want a cabinet that not too grey. There's movement in its pale cream hessian background. Still, unlike Kashmir White, here movement is refined, making Ivory Fantasy suitable for people who get turned off by color patterns that appear "too busy."
7. Moon White
Treat your blank cabinet canvas to amazing swirls using Moon white granite. Moon white granite is a medium pattern polish of a creamy ivory base speckled with light grey and browns to add warmth to your kitchen.
8. Blue Pearl Granite
A durable granite polish from Norway with shades of beige, blue, and gray that pair well with white cabinet countertops into a soothing combination. Though not a screaming color combination, Blue Pearl Marble gives your kitchen an airy feel. Plus, backsplashes can be used to play up various aspects of the granite color for a traditional or modern kitchen look.
9. Volga Blue Granite
A subtle yet intriguing stone filled with sparkling black and gray medallions. This granite color compliments your fine china and stainless-steel appliance. When rays reflect off the blue labradorite coins, it does wonders for your kitchen lighting, livening even the downcast spirit.
Volga blue granite is useful when going for a simple yet intriguing kitchen design choice. On white countertops, Volga blue granite color creates impressions of a transparent sheet of water. It blends classicism with an innovative edge, giving your countertop the feel of timeless luxury.
10. Steel Grey Granite
Going for that industrial age rugged look? Steel grey granite, imported from India, is the best choice. It's a low-variation granite; that is to say, patterns vary from gray to a lighter gray.
Steel grey granite is available in polished, brushed, or leathered finish. White countertops accentuate the rugged industrial-age charm.
11. Giallo Ornamental Granite
A simple palette granite that's useful for creating that retro kitchen look. Giallo Ornamental Granite is a simple palette: A golden beige background with creamy, black, and brown specks. It has a medium- pattern making it the best color choice for both kitchens with and without much natural light.
White cabinet color pairs well with the speckled golden tones of Giallo Ornamental Granite to bring the feelings of a warm, calm sunset. The cream tone, too, marries well with light cabinets. A Giallo ornamental granite countertop will remind you of the kitchen of your childhood.
12. Silver Waves Granite
A simple yet bold combination of grey, black, and silver waves that are sure to make your cabinet the center of attention. Silver Waves Granite blends well with any kitchen setting you choose to go with and is guaranteed to impress. You are going to love how the grey and white veins swirl incredibly over the black background leading to a classy look.
13. Delicatus White
Delicatus White Granite has a cream-white background that will blend perfectly with a white cabinet and creamy brown, gray, deep blue, and black quartz deposits that create lovely stylish contrasts.
Use Delicate White to treat your cabinet to a gorgeous look. The quartz deposit will give your white cabinet a magnificent look even from afar, and when you step closer, you will see those black biotite crystals will give your cabinet a stunning pristine look.
You can also get Delicate White granite that features deep blue mineral deposits that, when hit by light rays, give your cabinet a shiny, luxurious appearance.
14. Ice White
A predominant white background with pale blue features. The ice-white background will blend perfectly with your white cabinet, while the stunning grey and blue veins will add a complementary tone to your kitchen space. The result is a magnificent regal-looking cabinet that adds to the warmth of your home.
To accentuate the grandeur even further, combine Ice White countertops with white ceramic sinks for a warm welcome. If you like the appearance of Ice White, you should also check granites such as Bianco Antico and Alaska White.
15. Colonial White Granite
A combination of pale grey and cloudy silver with black speckles accenting and dark rose quartz deposits are suitable for a white-on-white kitchen design style choice.
Colonial granite countertops bring out the opulence and elegance in white countertops. The slight cream granite tone and the stark white cabinet complement each other without making the kitchen space appear too clinical. Colonial white also warms up the room, and the dark rose minerals form a constellation that stands out against the cool, grey background.
16. Calacatta Macaubas Quartzite
Treat your white cabinet to a marble elegance and beauty with this beautiful Brazilian quartzite rock polish. The deep smoky-gray veins complement the white background of your cabinet to create incredible movement.
You can use the Calacatta Macaubas Quartzite, your white-walls-marble-counters European kitchen design dream to life.
17. Golden Lightning Granite
Make a strong statement with the colorful and striking pattern of golden lightning granite. This beautiful green Italian granite has brown and gold veining that'll surely add a dramatic twist to your otherwise blank cabinet canvas.
Use dramatic backsplashes that reach up behind the cooktop and clad the entire kitchen cabinet — bold granite color pairs well with white and dark wood cabinets.
18. Antico Cream
Add elegance to an otherwise bland cabinet design using Antico cream. It features an off-white background speckled with gold and shimmery brown flecks that stand dramatically against stark white and of your kitchen cabinet.
Pair Antico cream-colored light cabinets with medium-toned natural wooden floors for a warm welcome.
19. Nevasca Mist Granite
Nevasca mist on-trend greiges, beiges, and grey swirls create a perfect kitchen or bathroom cabinet. This is an eye-catching granite color with soothing swirls and a beautiful natural palette.
20. Aspen White Granite
Give your cabinet an elegant and dramatic facelift with high-variation Aspen white that combines crisp whites and greys with hues of warm gold. Aspen white granite cabinets can be used to add interest to traditional and modern kitchens. In a white-on-white kitchen setting, it softens up the edges and adds warmth.