Most homeowners renovating their kitchens will look at granite, marble, and solid surface countertops. Each of these countertops is found in homes across America. However, what type of countertop should choose if you want a unique countertop that adds a touch of elegance to your kitchen or bathroom?
Onyx countertops are very rare in homes. This stone surface typically has a pale background with pastel colors swirling across the stone.
Onyx countertops are translucent, allowing light to pass through it, which is why many people backlight the countertop.
Onyx is a soft, calcium-based stone. In order to keep an onyx countertop looking great, you will need to be diligent to protect it and keep it looking good.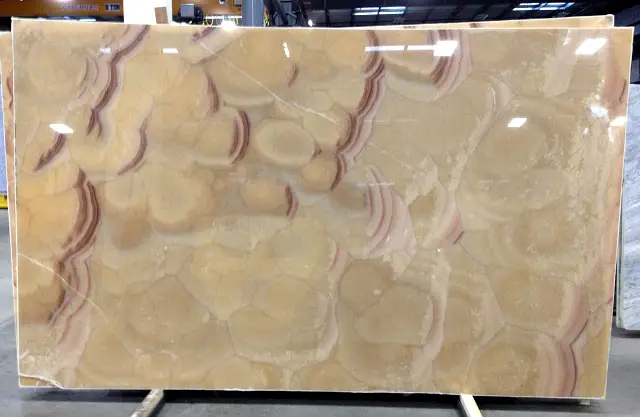 Onyx Countertop Colors
Many people think that onyx countertops are black like a semi-precious gemstone; however, nothing can be further from the truth. Onyx countertops come in a range of colorations, including:
Honey Onyx – Honey Onyx countertops provide a neutral backdrop for kitchens and bathrooms. The Honey Onyx has a beige background with taupe and tan swirls.
Ice Sugar Onyx – Ice Sugar Onyx is a darker onyx countertop with varying degrees of brown colors.
Light Green Onyx – The pale green beige countertop features mottled white flecks with red veining.
Light Pistachio – Light Pistachio onyx countertops are white countertops that are reminiscent of opals with its white and pale greenish beige swirls.
Norm White Onyx – Homeowners who love marble will adore Norm White Onyx with is pale beige background with white and pale gray swirls.
Onice Avorio – Onice Avorio is perfect for those who love the outdoors. With its green background with swirls of pale yellow, white, and light gray, it will look perfect in contemporary homes.
Onice Smeraldo – Contemporary kitchens will look marvelous with Onice Smeraldo. This countertop features pale pink, white, and bright green spidery webbing for a beautiful and exciting countertop.
Onice Smoke Onyx – For those who desire gray countertops with a breathtaking pattern, look no further than Onice Smoke Onyx. The wavy gray striations remind you of looking into a pool of water.
Onice Stratos – Onice Stratos is a pale countertop with black, brown, and pinkish-tan lines traversing across the surface of the countertop.
Onice Tanzania Dark – Onice Tanzania Dark features a white background with undulating waves of yellow gold and purple.
Onice Tanzania Light – Suggestive of Grecian marble, Onice Tanzania Light features varying shades of reddish tan and white swirling patterns.
Rainbow Onyx – Rainbow Onyx features vertical striations of deep brown and pure white.
White Onyx – White Onyx features varying shades of brown with a bright white background.
Pros and Cons of Onyx Countertops
Although onyx countertops are stunning, they can be challenging to care for and maintain. It is imperative that you consider all of the advantages and disadvantages of onyx countertops.
The Advantages of Onyx Countertops
Rare – Onyx countertops are extremely rare. If you want a countertop that is unique, onyx may be exactly what you are looking for in a countertop.
Beautiful – Onyx is incredible to behold and comes in a number of colorations. The contrasting colors and remarkable veining makes onyx countertops a sight to behold. When light hits the countertop, it is reflected back into the room. Furthermore, you can backlight onyx countertops and create a marvelous glow in your kitchen or bath not produced by any other type of countertop.
Color Choice – Onyx countertops come in a number of colors. Certain onyx countertops feature beautiful greens, pinks, purples, and golds, making them the perfect choice for homes. Simply choose one of the naturally occurring contrasting colors as an accent color to bring your entire room together.
The Disadvantages of Onyx Countertops
Fragile – Many homeowners assume that all-natural stone countertops are durable and rock hard. However, this is not always the case. For example, onyx requires extra care when used as a background. Onyx usually has a fiberglass backing compound to help strengthen the onyx slab and ensure it remains together.
Smaller Slab Size – The fragile material of onyx prevents large slabs from being mined from the earth. Therefore, homeowners should expect slab sizes to be much smaller than other natural stone countertops like granite or marble.
Soft – Onyx contains high amounts of calcium, making it a softer countertop material. If pots or pans are moved around, or you cut directly on the countertop, it can scratch the surface. Furthermore, acidic liquids like citrus juice or vinegar can etch and dull the countertop surface.
Maintenance – Onyx countertops require a lot of maintenance. A specialized stone cleaner should be used to minimize the risk of scratching and etching. In addition to this, onyx must be sealed to reduce the porosity and increase the durability of the onyx countertop.
Expensive – Onyx is an expensive countertop. The size of the countertop and the quality of the onyx can affect the price of your onyx countertops. You should expect to spend between $40 and $250 per square foot. Furthermore, the installation costs are greater. Stone specialists must exercise care during installation to prevent damage.
The Physical Characteristics of Onyx Countertops
Onyx countertops are soft and smooth to the touch. This natural stone countertop has an inner glow that lights up a room. The beautiful finish reflects light back into the room better than other countertops. In addition to this, the translucency of onyx allows it to be backlit, creating a soft, romantic glow.
Onyx Countertop Care and Maintenance
In order to retain the beauty of your onyx countertops, you must seal your countertops at regular intervals. In addition to this, the countertops should be polished occasionally to keep your countertops looking great.
If a liquid is accidentally spilled on your onyx countertop, it should immediately be wiped up. Then, the countertop's surface should be cleaned using a cleaner specially formulated for onyx countertops. Although onyx countertops require regular care and maintenance, they will provide you with many years of enjoyment and beauty when properly cared for.
Cleaning Your Onyx Countertops
It would be best if you clean your onyx countertops daily with a cleaner specially designed for onyx. Do not use detergents, glass cleaning products, all-purpose cleaners, or abrasive cleaners as they can cause damage to the surface of the countertop.
A great daily cleaning product for onyx countertops will have a neutral pH formula. One of the preferred onyx countertop cleaners is Weiman. Apply the cleaner to a soft, absorbent cloth and then gently buff the cleaner into the countertop. Do not apply directly to your Onyx countertop as this prevents absorption which could be trouble in the future.
If a spill occurs, blot the liquid up with an absorbent cloth immediately. Onyx countertops are very porous; therefore, you must act quickly to reduce the risk of staining. Use the Gel Gloss cleaner to clean your countertops once the spill has been absorbed.
Polishing Your Onyx Countertops
An onyx polish like MB Stone Care Granite, Marble, and Stone Countertop Polish increases the shine of the countertops while decreasing the risk of stains and etching. Find on Amazon here! Apply the stone polish using a soft cloth. Always spray the cloth with the polish rather than the countertop. This method will reduce the risk of streaking. Once the cloth is damp with the onyx polish, wipe the countertop using circular motions.
How to Disinfect Onyx Countertops
Traditional disinfectants cannot be used on onyx countertops; however, this does not mean you cannot disinfect your onyx countertops. The recommended disinfecting method for onyx is a UV wand. This wand works by producing UV-C light that destroys bacteria, viruses, and mold.
Hospitals and laboratories have been using Ultraviolet light to disinfect tools and instruments for more than 60 years. A portable UV-C producing wand kills 99 percent of all bacteria and germs on hard surfaces in seconds. The Verilux Clean Wave Sanitizing Travel Wand is easy to use and lightweight. Simply wave the wand across your onyx countertop to destroy germs, allergens, bacteria, and odors. Find it on Amazon here!
Sealing Onyx Countertops
Onyx countertops require a special sealer. This sealer is created to maximize the durability of the countertop and to ensure the luminous shine is maintained. Because sealing your onyx countertops is so vital to the longevity of your countertops, you should leave the sealing process to an onyx countertop specialist.
Onyx countertops are rare; therefore, there are not many stone specialists who understand how to care for onyx countertops properly. If the wrong sealer is used, it can damage the surface of the countertop.
One of the most revered sealers used for onyx countertops is Aquamix Sealers Choice Gold. Find on Amazon here! This premium sealer is designed to reduce the porosity of onyx and provide protection against stains and etching by penetrating into the onyx. When shopping for an onyx countertop sealer, look for an impregnator sealer designed for onyx. A fluorocarbon aliphatic resin is best for onyx countertops. Silicone-based sealers should not be used on onyx.
After the countertop has initially be sealed, it will need to be sealed every one to three years. The frequency of sealing will be based on how much the countertop is used, the type of onyx cleaner used, and the color of the countertop. Lighter-colored onyx countertops will need to be sealed more often to reduce the risk of staining.
Onyx In The Kitchen and Bathroom
It takes a special type of homeowner to have onyx in the kitchen or bathroom. In order to keep your onyx countertop looking great, you must be willing to clean the countertop daily, polish the countertop monthly, and seal the onyx countertop every one to three years.
Kitchens and bathrooms are filled with liquids and substances that can stain or etch the surface of the countertop. If you decide to install onyx countertops in the kitchen or a bathroom, you must keep onyx cleaner handy and immediately wipe up any spills.
Onyx countertops will transform your kitchen and bath into a luxurious room. It will take an ordinary room and transform it into an extraordinary space that you will love for many years. Furthermore, onyx countertops increase the value of your home tremendously.
Onyx Countertop Costs
Onyx is a rare stone surface that is luxurious. However, because of the rarity of the product and the degree of skill necessary for installation, the cost of the countertops and the installation costs of onyx countertops are higher than other types of countertops. Low-end onyx countertops will run approximately $75 per square foot, installed. If you choose a higher-end onyx countertop, you can expect to pay over $300 per square foot, installed.
Conclusion
Onyx countertops come in a variety of colors, allowing you to create a visual masterpiece in your home. These countertops will become the centerpiece of your kitchen or bathroom, especially if it is backlit.
Backlighting an Onyx countertop brings out the numerous colors found in a slab of onyx. Onyx can be used on the cabinetry throughout your home, on a fireplace surround, as a decorative accent wall, or as a backsplash.