Bentley Slab View
*Click image to see larger!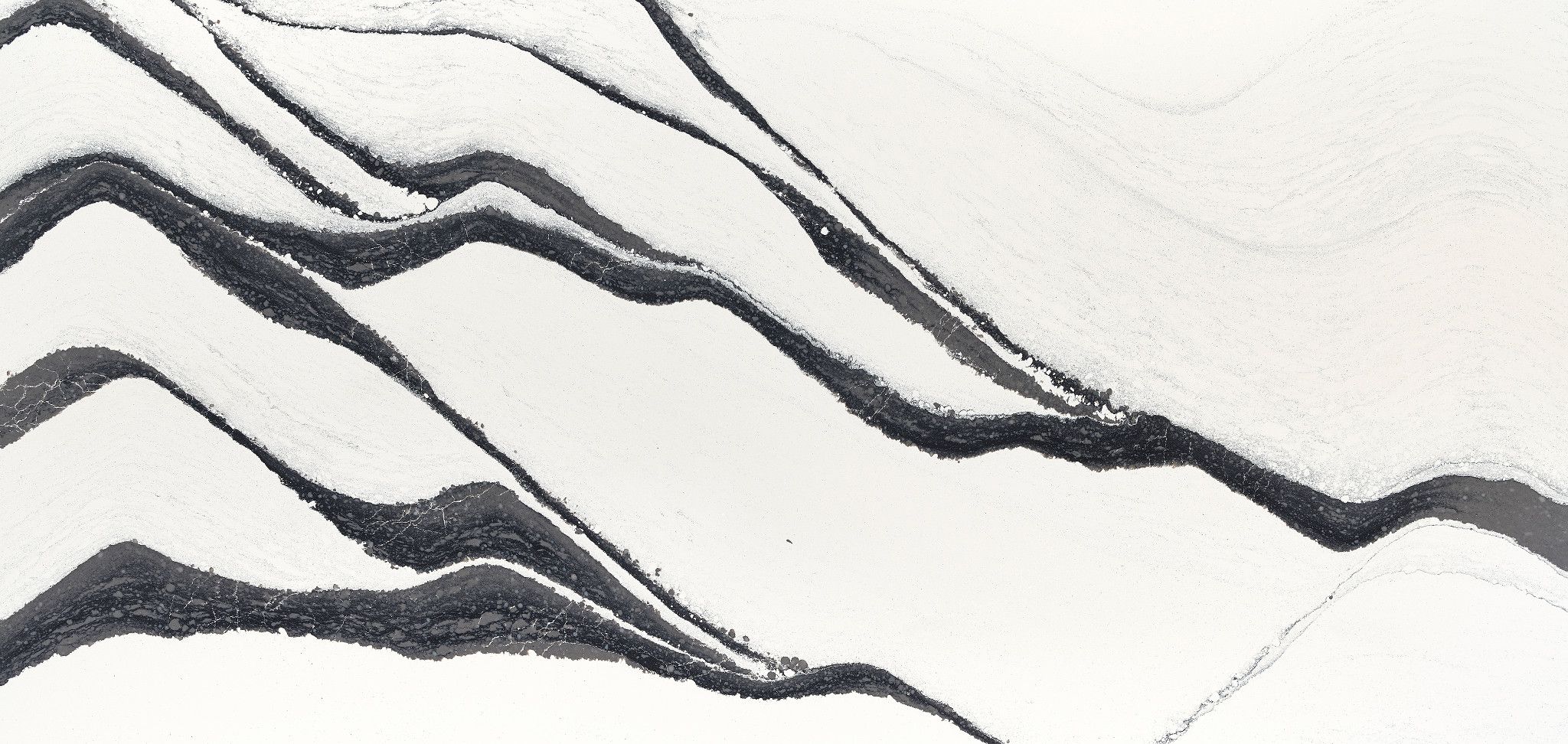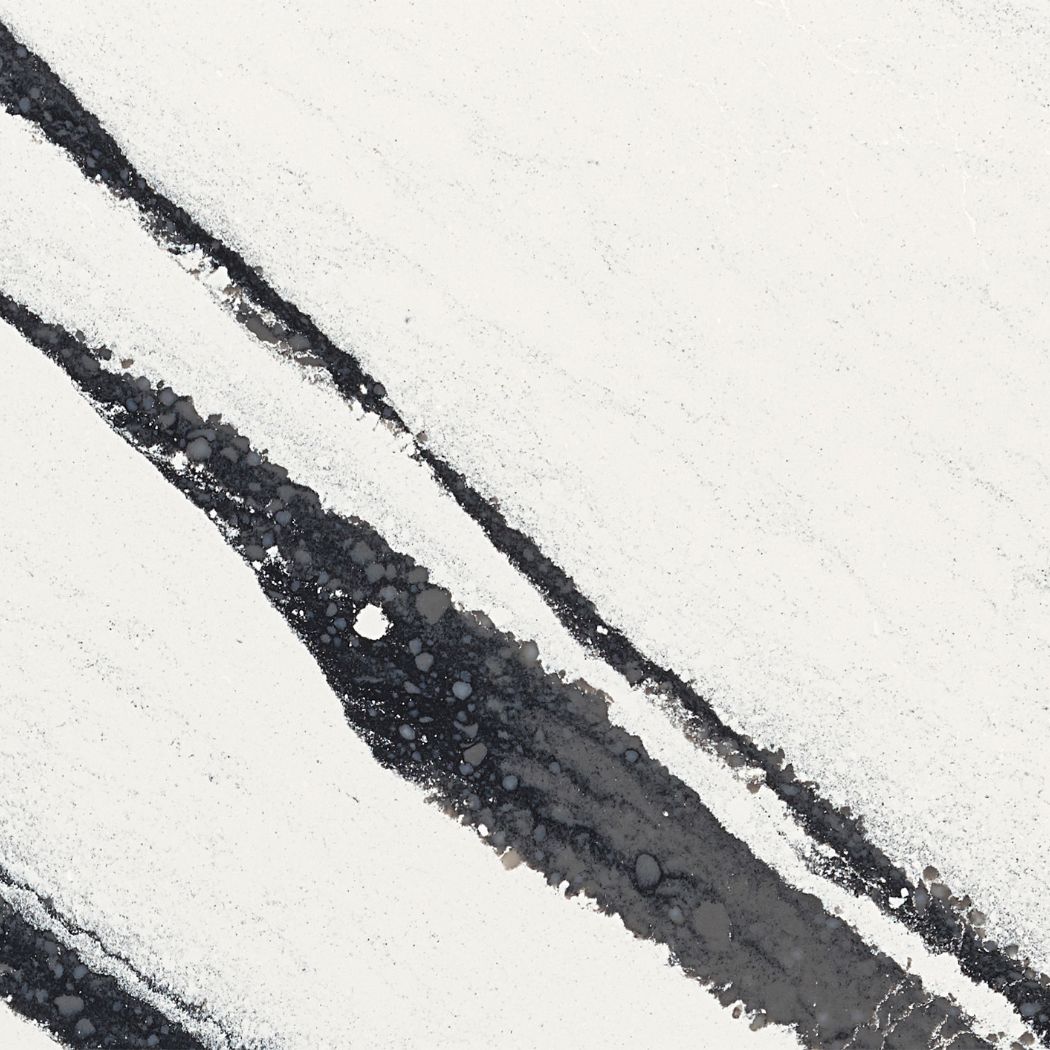 Bentley Quartz by Cambria
Technical Information
Bentley is a beautiful light white-veined quartz material by Cambria. This slab features a light white main color with black and dark gray veining. 
Finishes Available
This quartz material is available in High Gloss and Matte
Slab Size Available
132″ x 65.5″ Large
Thickness Available
2.0 cm
3.0 cm
Applications
Countertops
Cambria Bentley Quartz
Cambria Bentley is a low maintenance, marble-like material. The quartz material features bold, black streaks on a white background. If you look at the waves up close, they resemble brush strokes on a water painting. The graduating shades of black and the way they merge with white truly make it an artistic creation.
The bold veining is speckled with muted gray and intertwined with charcoal veining, giving it a cohesive look. The black is so vibrant that it stands out, adding prominence to the bold veining. The material demands attention, so be sure to give it the center stage so it can perform at its best.
Pair your Bentley counter with black cabinets and black fixtures. Combine that with a white backsplash and light oak flooring to ensure you don't take away from the material. Bentley's white background, when set atop black cabinets, is further accentuated. All attention automatically diverts to the dramatic movement on the counter.
To add a bit of color to the room, you can choose a beautiful gray-blue color like that of Cambria Bridgewater, for the wall and flooring. Combine that with white cabinets and black fixtures, and you have a Pinterest worthy space.
Cambria Bentley works particularly well in contemporary kitchen design. Pair the counter with red brick backsplash and black cabinets to create the ideal look for any bachelor pad. Add gold fixtures to the mix, and you have a beautiful and exotic place that is perpetually party-ready.
You can create very trendy looks with Cambria Bentley. Incorporate a fully functional double waterfall edge island in your kitchen with concrete flooring. Keep the natural color of the concrete to bring out the charcoal gray veining in the counter. Pair the two with light oak wooden cabinets and gold fixtures and exposed beams to create an elegant industrial look.
You can even use Bentley as a backsplash paired with Cambria Blackpool Matte counters. Combine the two with blue-gray cabinets and silver light fixtures to develop a calm and composed look. To pull the look together, opt for Cambria Ella for flooring, and you have a pristine and trendy space.
Other colors that pair well with Bentley include:
Emerald green
Purple
Burgundy
Olive green
Charcoal gray
Chocolate brown
Light oak
If you want to incorporate a feature wall in your living room that will demand attention, then choose Bentley. The material is available in three thicknesses:
It can be used not only as a counter but also as a tabletop and wall cladding. Incorporating a Bentley topped table and a feature wall in your living room can create a modern designer inspired look. Add a gray cloud couch with a white fur throw blanket and white rug to pull the look together.
Whether you use it in your bathroom, kitchen, living room, or office, Cambria Bentley will not disappoint. Here are a few performance characteristics of the material:
| | |
| --- | --- |
| Scratch Resistant | Yes |
| Low Maintenance | Yes |
| Hygiene Friendly | Yes |
| Durable | Yes |
| Stain Resistant | Yes |