White quartz countertops are among the most popular go to when updating your kitchen countertops. In this article, you will see the top 10 white MSI Q Quartz colors available.
Quartz countertops are durable, sleek, and beautiful. Because of their durability, you can expect your quartz countertops to last for many years to come, which is why you should opt for a neutral countertop, such as white. MSI Surfaces offer numerous white quartz countertops, including white quartz countertops that mimic natural stones like granite and marble. Let's look at the top ten white quartz colors offered by MSI Surfaces.
MSI cares about their customers and the environment. The company has received numerous certifications, including NSF food safe certification, GreenGuard indoor air quality certification, and US Green Building LEED accreditation. Furthermore, MSI quartz is certified Kosher. MSI quartz countertops are food safe and will not release volatile organic compounds into your home once they are installed.
Alabaster White MSI Quartz
Alabaster White quartz countertops are absolutely stunning. The white countertop features long gray veins running through its soft white background. Alabaster White quartz provides homeowners with the elegance and timeless beauty of marble without the upkeep and maintenance that marble requires. Alabaster White quartz countertops by MSI Surfaces help homeowners create an opulent kitchen or bathroom at an affordable price. Alabaster White coordinates beautifully with painted and wooden cabinetry. The soft white tones will provide you with years of enjoyment. Alabaster White quartz countertops are a breeze to keep clean and offer you a nonporous, stain resistant surface.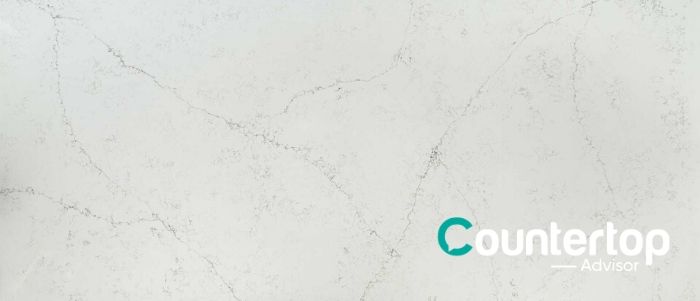 Calacatta Alto MSI Quartz
Calacatta Alto provides homeowners with the look of Italian Calacatta marble without the worries of etching and staining associated with marble. The low maintenance quartz countertop features a crisp white background with thin gray veins running throughout. Available in a polished finished, Calacatta Alto by MSI quartz is available in both two and three centimeter thicknesses, allowing you multiple edge profile options for your kitchen and bathroom countertops. The low variation in coloring helps to create a cohesive, sophisticated countertop. Calacatta Alto looks great in both traditional and contemporary homes. Homeowners love how easy this quartz countertop is to maintain. All that is required is daily cleaning using a damp cloth and mild detergent.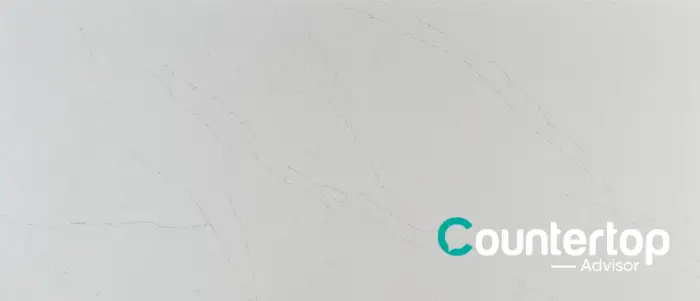 Carrara Grigio MSI Quartz
The warm white background with its soft clouds of gold and small gold veining of Carrara Grigio can be used to create a warm and inviting space. Carrara Grigio quartz countertops by MSI looks gorgeous when paired with cherry or painted cabinetry. The quartz countertops are easy to clean and durable. Homeowners enjoy the minimal maintenance required to maintain quartz countertops. Carrara Grigio quartz features a high gloss polished finish that is reminiscent of marble countertops. The beautiful quartz countertop is available in two and three centimeter thick slabs.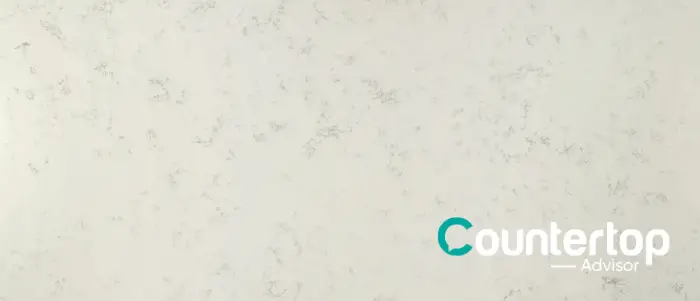 Fairy White MSI Quartz
Fairy White quartz countertops by MSI Surfaces features a brilliant white background with gorgeous dove gray and sterling silver veining throughout. This fashion forward quartz countertop is stain resistant and nonporous to keep your kitchen and bathroom areas looking stunning. No bacteria can enter into the countertop surface, which means once your countertop has been wiped down, your family is protected. The classic white countertop looks fantastic when paired with wooden as well as painted cabinetry. The polished finish of Fairy White quartz countertops reflects light to help create a brilliantly, clean look.
Frost White MSI Quartz
Frost White quartz countertops are absolutely stunning and are perfect for homeowners who want to create a clean, white appearance in their kitchens, baths, and bars. The gorgeous quartz countertop features a white background with pebble shaped pale tan and off white stones scattered throughout the countertop. MSI Surfaces offers this beautiful quartz countertop in standard, jumbo, and prefabricated slab sizes. The polished slabs are available in both two centimeters and three centimeters thicknesses. Frost White quartz countertops offer almost endless design possibilities. When this quartz is placed atop maple or oak countertops, it creates a beautiful and works great with all design styles.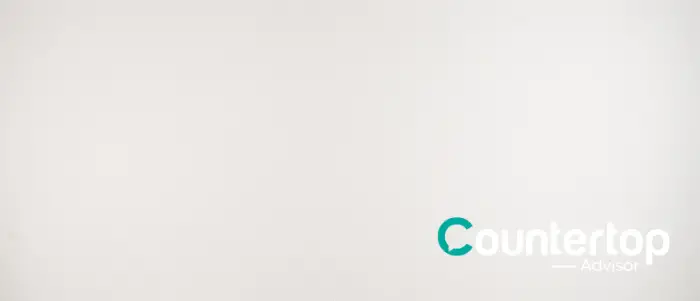 Pelican White MSI Quartz
If you are looking for a low maintenance quartz countertop that gives you the appearance of marble without the upkeep, look no further than Pelican White quartz countertops by MSI Surfaces. This gorgeous quartz countertop will provide you with years of enjoyment and beauty. Pelican White quartz features a soft white background with subtle swirls of pale gray throughout the slab. The patterns used in this countertop creates visual interest, especially when placed atop charcoal or black painted cabinetry. Pelican White quartz looks great in modern kitchens, featuring stainless steel appliances, plumbing fixtures, and drawer pulls.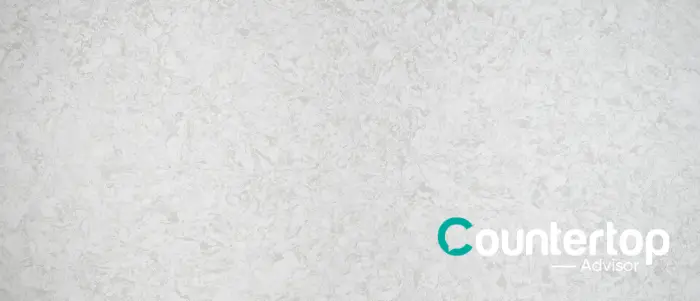 Premium Plus White MSI Quartz
Premium Plus White quartz countertops by MSI Surfaces feature a monochromatic pure white that pairs beautifully with gray or charcoal cabinetry. The pure white quartz allows you to change the look and feel of your kitchen and bathroom areas by merely changing your accent colors. Whether you want to create modern or prefer old world inspired kitchen or bathroom areas, Premium Plus white quartz has what you are looking for. This quartz is the perfect choice for discriminating homeowners. The light and airy feel of Premium Plus will look fantastic for many years to come.
Snow White MSI Quartz
Snow White quartz countertops are a dream come true for homeowners wanting an easy to maintain countertop that will last for many years to come. Snow White quartz features a pure, snowy white background with tiny crystals throughout the slab. The crystal flecks add brilliance to the quartz countertop, making it an excellent choice for residential kitchens, bathrooms, bar tops, and laundry rooms. In addition to this, the nonporous surface keeps the quartz countertops looking amazing. Snow White quartz countertop looks stunning when placed atop cherry or maple cabinetry.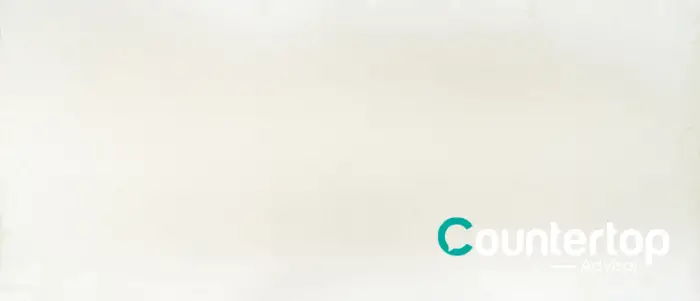 Sparkling White MSI Quartz
Sparkling White quartz countertops feature a white background with sparkling white specks that add interest and movement to kitchen and bathroom areas. The polished finish highlights the icy flecks and gorgeous white background. If you're looking for an elegant white countertop for your home, this premium quartz is low maintenance, stain resistant, and durable. Sparkling White Quartz by MSI Surfaces is available in two and three centimeter slabs as well as two different two centimeter prefabricated slabs for your convenience. Pair Sparkling White quartz with white cabinetry for a classic look.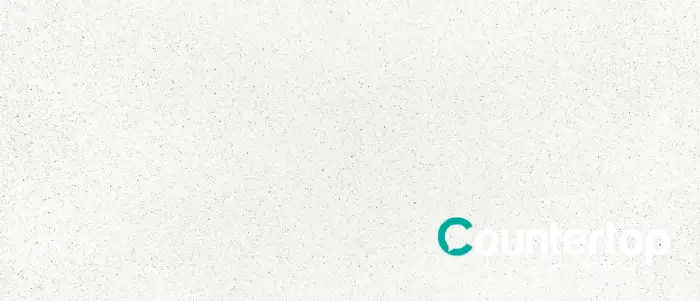 Statuary Classique MSI Quartz
Do you love the look of marble and wish you could have it in your kitchen or bathroom, but you do not want the required upkeep? Statuary Classique quartz by MSI Surfaces is the answer. The gorgeous white quartz features delicate gray veins across the entire countertop surface for a classic, yet elegant look. Statuary Classique quartz is virtually maintenance free and will provide a lifetime of enjoyment for homeowners. Statuary Classique quartz countertops enhance the look of any cabinetry; however, it looks exceptionally beautiful when installed atop mahogany or cherry cabinetry.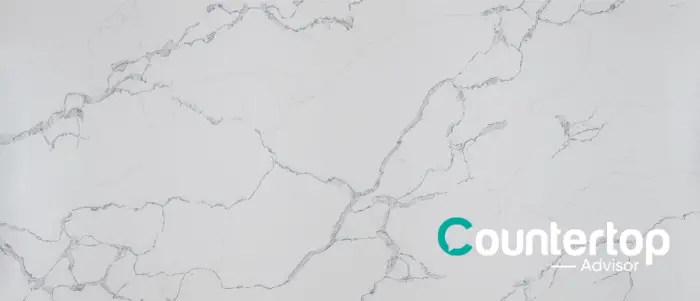 Conclusion
MSI Surfaces offers more than twenty different white quartz selections. We have covered the top ten white quartz available today. White quartz countertops are the perfect selection for traditional and modern homes. Quartz countertops can be used in entryways, laundry rooms, kitchens, bathrooms and more.